How do you get started as an actor?
Expert tips on how to kick-start your career.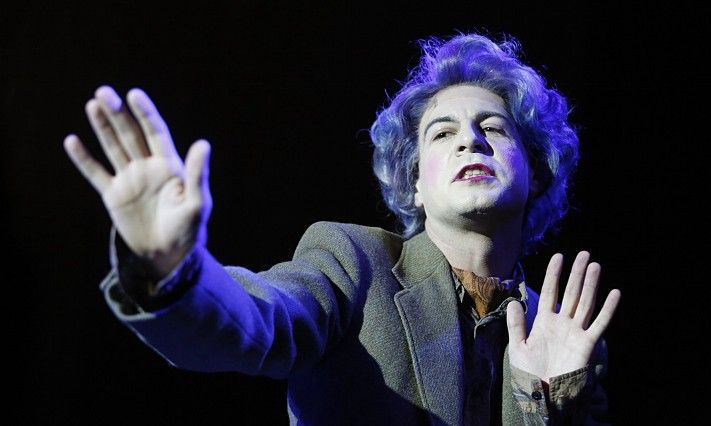 Mark Farrelly decided to become an actor after playing Hamlet while at Cambridge.
We caught up with him for a bit of career advice on how to get started in a life on the stage.
Learning the trade
"I didn't go to drama school, mainly because I was 24 when I left university and had had enough of being taught…" explains Mark. "I've nothing against drama schools, but it's important to be super-realistic  –  you're paying a huge sum of money for something that might make no material difference to your career whatsoever. I've known several people who went to RADA and never got a single day's professional work."
"I couldn't believe the savage, almost feral brutality of it…" adds Mark, when I asked him about his initial experiences of working as an actor. "It was nothing whatsoever like what I had expected. There's so little work – what little there is often is so unfulfilling. I remember going to Pinewood Studios with several other actors to meet Stephen Poliakoff, who had us lined up like an inspection parade and barked a few random questions at a couple of us before picking someone for whatever the role was. It was disgusting. I had a breakdown when I was 31 because I was allowing it to rip my self-esteem to pieces. Be assured of one thing  -  it will drive you insane. And maybe back again, if you're lucky.
Heroes and inspirations
"A solo actor called David Benson inspired me hugely…" says Mark, when our discussion turns towards actors that inspire him. "I saw one of his shows when I was 19. I loved the spareness, the bravery of being alone on stage with just a chair and the audience's imagination."
"I love certain individual film performances…" continues Mark. "Anthony Perkins in Psycho is something else. Every performance in Jaws is deeply truthful. Most of John Hurt's work is an object lesson in the two qualities any actor needs  –  courage and vulnerability."
Turning pain into art
"Heartbreak!" exclaims Mark, when I ask what pushed him to begin writing and performing his own work. "I lived in a menage-a-trois for a time, and was deeply in love with both of them. It ended very badly, none of us have ever spoken to each other again, and I found myself living alone, in every sense, for the first time."
"Stripped bare, distraught, no distractions  –  truth started seeping out of me and onto the page…" continues Mark. "Good writing is a form of comfort, and you have to have been riddled with pain, your heart undefended and shot to pieces, to be able to offer that comfort. You need to have suffered profoundly and not dodged your way out of it. Most people suffocate their beautiful pain behind a fixed grin and a glass of Chablis. If only they knew what a friend their pain could be."
"To become a successful actor, you must know yourself incredibly well, and have discovered your own authenticity…" explains Mark. "You must be able to stand still and look yourself and other people in the eye, and speak from the depths, and the heights. You must have a strong sense of self-worth, so that you don't base your happiness on being employed. You must believe that truth and authentic communication are the human race's only priority  -  all other good stuff flows from that. You must be one of those divine fruit-loops who believes that one great performance is worth ten years of security in a more traditionally safe job. Not many people are like that, and there's no shame in realising that that's not you."
"You must have no interest in fame and acclaim whatsoever…" adds Mark. "Laurence Olivier always said that to be an actor, you need the body of a god and the voice of an orchestra – that's also true."
Mark Farrelly is currently touring his show about Quentin Crisp – in September he'll be performing in Birmingham
Follow Mark Farrelly on Twitter
Mark Farrelly (image supplied)