How do you masturbate? Jordan Getter
A bit of quality me-time.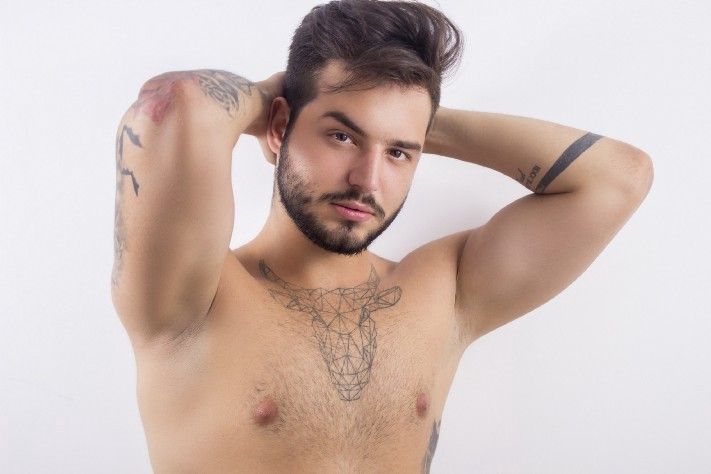 I caught up with Jordan Getter from GayMate.Live and asked him a few personal questions.
Can you remember the first time you jacked-off?
I still remember bits and pieces — it happened at the beginning of my puberty, when I started having all those wet dreams. I used to wake up hard, and one morning I decided to touch myself and play with myself.
How did you feel when you first jacked off?
I still remember the sensation I had when I was about to cum, but I didn't know how to react so I got scared and stopped.
Did you talk about it with anyone?
A few hours later, I got the courage to talk a few close buddies of mine and they started to share their own experiences. It was quite interesting and it was the pass from childhood to puberty.
Did you try any different techniques in those early years?
After my first experience, I started to play more with myself. I tried spit, hand cream, and you know how guys are, we share ideas — not all of them were smart. It wasn't until years later that I heard about lube.
How has your jack-off style evolved over the years?
I was afraid to cum when I first jerked-off — I liked the feeling but didn't exactly know what to do with the sticky situation. So, I started to jerk off more. Of course, I was able to cum. I'm not sure when exactly I did that, after my second or third attempt. I started to play a lot. I became quite kinky, I used to play with myself wherever I got the chance — outside, in my bathroom.
I don't think you can say that the jerk-off method evolved — I just got to know myself better and got used to the speed, and I would set the friction and speed to cum quicker or last longer.
What's your preferred way to jack-off currently?
I'm an old-fashioned type of guy. I still prefer to do it on the couch, watching porn, thinking of someone. Lately, with my kink, both — together, at the same time — moaning and teasing each other.
What jack-off hints or tips would you give a young guy just starting to explore his sexuality?
Explore as much as you can and don't be afraid to get to know your body.
Follow Jordan Getter on GayMate.Live
Follow Jordan Getter on Twitter