How do you start a queer family?
Be Longing is a play that explores the complicated choices that a same-sex couple has to navigate. See it at the Vault Festival in London.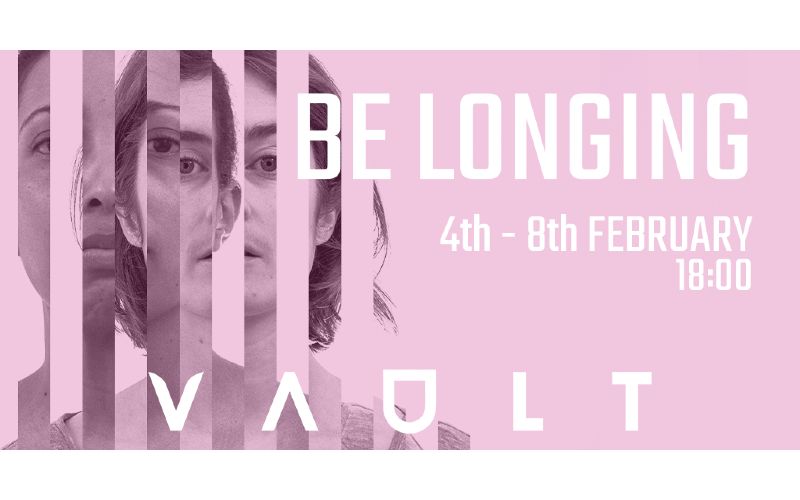 What if making a baby were as simple as ticking a box? In the not-too-distant present, gene splicing has taken the queer family to a whole new level.
Sigrid and Jim are a normal couple – they laugh, they fight, they make up. But when it comes to starting a family, will their relationship stand the test-tube of time?
Be Longing is a play written by Lauren Gibson, following these two queer womxn as they navigate the edges of morality in a dystopian tale of genetic engineering, baby showers and losing love. The production stars Lauren Gibson and Keagan Carr Fransch.
I caught up with Lauren Gibson for a behind-the-scenes look at the play.
What was your initial inspiration for this play?
My idea for this story came from my fascination with the idea of family. How we as humans have created these structures to better understand ourselves and others, and the way we relate to one another. Whether it's family by blood, religion, proximity or things in common, we have built ourselves into these categories of understanding. I wanted to explore where the queer family sits in that, and how it's constantly being redefined and legitimised by exterior forces. When traditional hetero ideas rub up against the advancement of biological science, what shape could queer families end up taking?
The story definitely stemmed from my own experience of a curated family – my mum, stepdad, friends, neighbours, local shop owners. My partner and I have also discussed what it would mean for us to have children of our own. We've contemplated how to navigate the biological, legal and emotional journeys, both for us and the child, and what a complicated procedure that all is. Jim and Sigrid are just one version of a very multi-layered experience.
This is your debut as a playwright – how have you found the process of writing and developing a play?
First time caller, long time listener. I've really enjoyed developing the play and have begun to realise how difficult it is to finish telling a story sometimes. With every draft there have been new ideas and changes that have made me want to take the story in different directions – I've had to be strict on myself about staying true to the original idea. It's also taken a village, and I couldn't have done it without the whole team who have been working on it.
What are some of the challenges that you're navigating acting in a play that you've written but being directed by someone else?
It was difficult to separate my two roles out initially in the R and D period, but the creative team have been so supportive in allowing me the space to just focus on the writing during that time and trusting me. It was important to me to have a queer, female team who could bring their own perspective and experience to the process. It's very much been a collaboration between Lizzie, the director, Keagan, my fellow actor, and myself. Because there have been multiple perspectives in the development of this, that has opened up avenues I never would have thought of exploring on my own.
As a writer, I prefer to workshop things in the room and am open to changing things on the go. Recently, we made a rule that when we're in the rehearsal room, the 'writer' is absent but has given permission for us to play and interrogate the text as much as we like. This allows both Lizzie and Keagan to approach the play from their angles and not feel like I'm an ominous presence, waiting to tell them they've got it wrong.
What's the point of view of this play?
This play examines one direction the Queer Family could eventually go in, if genetic science continues to develop at the rate it currently is. With the advancement of IVG – in-vitro gametogenesis – same-sex couples are rapidly heading toward a future of reproduction using their own genetic materials. While this is very exciting, this could put queer families in a strange new position. The Queer Family sits at an interesting intersection of biology, technology and society. It's commonly legitimised by hetero standards, but Queer in itself cannot be defined by these, so how do we go about redefining the development of the Queer Family?
As the two characters grapple with what it means to them to create a family, the option of a genetically engineered child appears to solve a lot of questions around identity, biology and belonging. However, it also opens the floodgates to a whole new set of problems.
Is there life for the play beyond these performances in London?
Here's hoping! We're actively looking for a way to continue the life of this piece later in 2020 or early in 2021. We always thought of the Vault Festival run as being a development season, and now that we've started rehearsals we already have new ideas forming about what to do with the show next.
Vault Festival is great, because it comes at a time of year when you often need a kick in the creative ass. The energy that this show is stirring up for us is exciting and we can't wait to leap into the next project.
What do you hope that people feel when they're watching Be Longing?
I hope that they feel a connection to the struggle that Sigrid and Jim are having.
At the heart of the story are two people who are trying to make their relationship work, against all the obstacles that society, science and love can throw at them – queer or not, starting a family is a complicated business.
It's a complex thing to unpack as responses will be unique to a person's own experience, but I think the desire to belong to something or someone is innate.
An interesting space is created when this desire comes up against societal and personal expectations of what a family should look like, and I hope that people leave re-examining their own ideas about family and what it means to belong.
Be Longing is playing at the Vault Festival in London: 4-8 February