How to explore your fetish fantasy
You like that?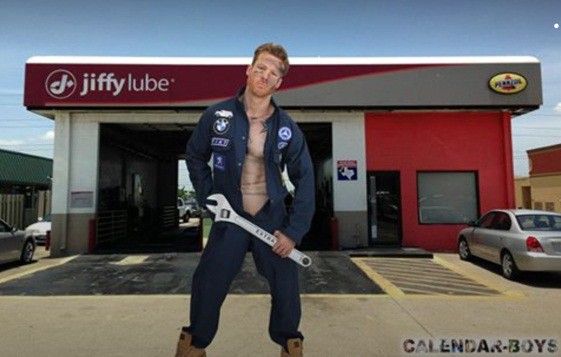 I caught up with Will Kane from calendar-boys to talk about the art of fetish photography.
When did you discover and start exploring your passion for photography?
From as far back as I can remember, I was always into photography. I remember going on school trips at primary school and always making sure I had a camera with me. Back in the 80s, I was always very clear about what I wanted to shoot and who'd be in the shoot — making the tall kids stand at the back, and getting lots of heckling and shouts of 'hurry up' — but I'm a bit of a perfectionist, and this was back in the day where you had to leave your film with the chemist and wait a week to get them back to see if you had decapitated anyone.
I think I probably got a new camera every year for Christmas. My first camera had the 110 film, then I remember getting the disc camera which was super slim and deemed revolutionary at the time, then I went through a stage of disposable cameras because they were cheap and I'd then get them printed on CDs so I could edit and save them.
About 10 years ago, a colleague at work inspired me to a Canon camera. It's so fancy — it has so many features that I don't even need or use, but it allows me to capture the images I need before I manipulate them into the finished product.
What drew you to specialise in fantasy fetish-wear photo-shoots?
Who doesn't love a man in uniform! I love a fancy dress party, either throwing them or attending them, but either way I take my costume very seriously. As a result, I've ended up with about 10 cool uniforms that I acquired from eBay, Amazon, and various specialist online stores. People always commented on how authentic the outfits were at these various parties, and obviously people always seemed to want a pic standing next to me in whatever outfit I was in.
I began to think I could combine these two things — my passion for photography and my love of sourcing authentic genuine costumers. I thought that there must be guys like me — normal build, shy-ish, non-scene, that most likely don't fit the stereotype of what a fetish-wear guy looks like. I'm not a baldy, bearded, buff bear, but every time I wore the CHiPs outfit from the 70s TV show, I felt incredibly powerful, sexy, and horny.
I'm also a member of fetish app Recon, and I get lots of messages from guys who look at me in some of my pics and are very surprised that someone like me would be into leather and uniforms. My response is always the same — do not judge a book by its cover.
What sort of guys are you interested in commissioning you to take photos of them in fetish-wear?
All sorts — I shoot anyone and everyone! When I see pics of guys in fetish-wear they usually fit the stereotype of being buff, bald, bearded bears. It led me to think — What about us less built guys? What about us shy guys? Also, fetish-wear can be expensive, so I thought that if someone has seen some leather porn and thinks — 'I'd love to get some chaps but wonder if they'd suit me' — this way they can come to my studio and have some cool and hot new pics, and also see how'd they look in leather. A new pair of chaps cost upwards of £200, but my shoots cost a fraction of that.
Shy guys and curious guys are made especially welcome, as I understand their nervousness about appearing in gear. When I first bought chaps and a waistcoat and put it on for the first time, I felt incredibly powerful and horny and sexy but also was aware that to some potentially 'hardcore' leathermen I probably looked ridiculous. I'm part of a group called Leathermen South, which is based in Brighton. They're always encouraging me to don my leathers and attend one of their meets, but it's only me holding me back. It's a confidence thing.
I'm also happy to shoot anyone who is already into fetish-wear. Maybe they have lots of leather and trackies, but want to try on some police uniforms — I have six to choose from. Or, maybe guys want some new pics for various social media or hook up apps, or it could be a gift to a partner, or if you're having a party and fancy some pics for a super cool invite. I've had guys who want to surprise their boyfriend for a calendar for their office so they can gaze at them adoringly 365 days a year.
I'm happy to shoot duos — a couple of mates together, or perhaps a couple. I'm also happy to shoot them in some amorous positions, but I need to make clear that I'm not a pornographer. I have had lots of interest from guys who want to get into porn — I've been able to give them some great shots to send off to porn producers and studios. My studio is very welcoming and very private, and has a well-stocked fridge to ease any nerves.
When I'm scouting for models, sometimes I get guys who have no clue that they have this amazing look and are pleasantly surprised at the end results. I had this one guy who was short and stocky and super sexy. He had a silver crop, so I suggested that he'd look amazing as a skinhead. He'd never thought of that look, but when he donned the gear he looked like a different person and developed this hard-man persona while in gear. The outfits themselves have powerful qualities.
What sort of gear do you have available?
I have over 70 costumes and outfits and props and scenarios to choose from. Within that 70, there are also variations, so even one particular genre can maybe take a good hour to shoot with all the various gear and props I have.
This is something that I discuss with the client before the shoot, to make sure that I have everything in their size and also to make sure they're all washed and ready to wear. I have the usual stereotypical items that us gay guys seem to like — leather, sports gear, suits, and many, many uniforms.
My collection took quite a while to accumulate, as I was getting suggestions from friends and online fetish forums. Previous models I've had have really surprised me in what they've found sexy. A few models said that they really liked the paramedic uniform. I've had so many requests for lingerie. I also have some superhero costumes.
Is the photoshoot itself a sexual thing?
It is indeed! Guys can't help being aroused, so thankfully my studio is very private and not overlooked, so guys can disrobe and parade around naked as much as they like. For those shy guys, I have slippers and dressing gowns for guys to wear between takes and costume changes. My studio also gets quite hot under the studio lights, and I have a TV there with various DVDs if guys need some visual stimulation for 'adult' pics.
There are times when I've had to leave my studio when I've gotten aroused — I've had to go away and 'adjust' myself, as it's not very professional and I'd prefer guys to look into my lens not my bulge. I have had guys message me and ask if I'll be naked for the shoot, or if I'll also be dressed up in fetish-wear. The answer is no — I'm too busy assembling their outfits and props for their shoot.
Because we're much more open these days, we're able to discuss our porn-watching habits more openly and so a lot of guys want to emulate their favourite porno genres — army, builder, boxer, convict, cop, cowboy, doctor, firefighter. The fact that my studio is private and warm also makes guys feel more comfortable disrobing in front of strangers, but also some guys are just exhibitionists. I have a huge full-length mirror, so guys can constantly check themselves out when in gear. I shoot everything against a white backdrop — I then Photoshop the background to match the outfit.
My job is to make everyone feel super-confident and make them look as amazing as I can so that they're not disappointed with the end result pics.
If I was a bit fetish curious, how would I go about organising a photo-shoot to start to explore that side of my sexuality?
Guys get in touch through my website. That way they've mostly already looked at all the different outfits that I have to choose from. I given them a call, and we discuss the outfits that have caught their eye. I ask about what outfits they find sexy on others, what porn they watch — lots of different questions to get a picture of what's going to work best for them. Then, we book the shoot in and we start to bring those fantasies to life.
Dive into the world of calendar-boys