How to get social media right
Topher Taylor: "Just because you're attractive doesn't mean you're interesting…"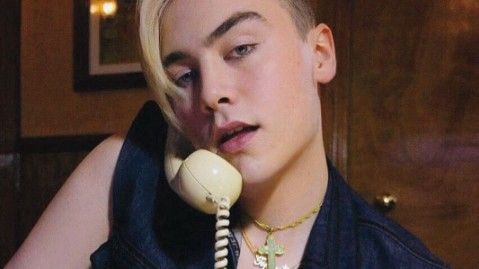 I caught up with Topher Taylor to talk social media, awards, and sex toys.
You won Best Social Media Personality at the recent Prowler Awards, how did that feel?
I honestly wasn't expecting it, so it was a genuine shock to me. I couldn't think of anything eloquent to say, as I was so taken aback — and my corset was squeezing my midsection, probably blocking the blood-flow to my brain.
I was backstage when it being announced, so didn't even know what was going on. It wasn't until after the awards that I realised how many people had voted for me. I had so many messages and emails from people saying they'd made a point of voting. Madness. I had a few days of euphoria.
Also, I got to accept the award from Chi Chi La Rue, who's an industry role-model of mine. It felt fucking good.
Did you set out to become a social media personality, or is it something that happened by accident?
I definitely didn't set out to promote myself. Absolutely not. But I've always used social media.
When I was a teenager I got internet-famous on a website called Myspace, and used to always try and one-up myself with new images and 'looks.' One day, I snapped — I realised how lame it was, and deleted my account. I enjoyed the ride but I couldn't find a discernible talent to be known for, so I always felt frustrated and slightly embarrassed. Also, people can never pronounce my name when they meet me, so I was tired of being known as Toffer Taylor.
My work with Clonezone is much more about 'Clonezone' with just my personality behind it. I've never wanted to make it the Topher Taylor show. The award should have had Clonezone written on it really.
What are some hints and tips for getting social media right?
Just be yourself, and hope for the best. Contrived behaviour is always revealed to be bullshit eventually. Be honest, talk to people how you'd want to be spoken to, and don't let a follower count affect your ego, because that will ultimately be your undoing. Keep it organic.
Just because you're attractive doesn't mean you're interesting. Just because you're educated doesn't mean you're interesting. Find what makes you different, and convey that honestly. If you find yourself thinking — 'Should I post that? Is it too much? Am I being too honest?' then you should probably post that.
Also, don't drunk post.
What are some common mistakes that people make on social media?
I spot a lot of casual racism, misogyny, and confused politics when browsing the feeds, and I find it really disheartening.
But with that in mind, I think it's important to know when to be offended and when to just roll your eyes, click block, and move on. You can't expect everyone to be on the same wavelength as you, as that's unfortunately how the world works. By all means, fight for what you believe in, and educate, but I see a lot of time dedicated to retaliating to 'village idiots' — it's like screaming into a void, just place that energy elsewhere. If I replied to every negative comment about Clonezone, I'd never get my work done.
Spend more time in the real world, because it gives you more to contribute to the world of social media — it's all about content, content, content.
How did you get into testing male sex toys?
I've worked in the adult industry for ten years now — I began in a sex shop in Soho as a retail assistant, and just did really well, really fast. I've always been very fine-tuned with my understanding of my own sexuality and sexual pleasure, so I knew how to communicate with people.
When I began working for the company that owns Clonezone, I got close with the team at Nexus toys — we share offices with them — and was eventually brought in for product development discussions because I was always open and honest. This just kind of snowballed into being a toy tester. Now, I have brands speaking to me all the time about ways to improve their product, packaging, and marketing strategies.
A couple of years ago, I was approached by QX to write a monthly column for their magazine QX Men. Each month I write an honest review about a toy I'm currently enjoying. It's a hard life.
My favourite internal toy of all time is the Nexus Revo Intense Prostate Massager — which I actually named. This is a rotating prostate gland massager, which vibrates, and has been designed at an angle to lock into place. This toy is absolutely fucking incredible and I recommend it to anyone that'll listen. You'll cum like a pig.
My favourite external toy is the Doxy Massage Wand. The strength of those things is mind-blowing, and incomparable to anything else. The owner of the brand, Will, is a friend of ours and works so hard to make these massage wands the best on the market. Plus, they're British-made so if you're a patriotic pleasure-seeker from England — then grab one of these. Again, you'll cum like a pig.
Can we talk underwear?
I have drawers full of underwear. Most never opened, as I don't get the chance to wear things. I wear skinny jeans every day to work, so wearing a jockstrap doesn't work because my ass is big on my frame, and the strap marks are really obvious. I know some people find it sexy, but I'm sure the commuter behind me on the escalator doesn't want my bubble in their face at 8:45 AM.
Pouches are so important to me, as I've always had a larger bulge — if I'm slipping out the side it's not only uncomfortable but it makes me self-conscious in public. I find that Marco Marco and Andrew Christian have the most forgiving pouches.
My favourite type of underwear is a thong. It surprises me how provocative that people find that. I find them so comfortable and if you're like me and have big bum cheeks, it's usually easier to have no fabric on them as I'm constantly battling VPL — visible panty line — with my ass cheeks popping out of briefs. Thongs feel good, look good, and work perfectly with all types of trousers and shorts. Or on their own.
When I work out, I wear briefs to stop my bum bouncing if I'm being really physical. I use them as a sports-bra-for-the batty. Boxers are a last resort for me, and if I wear them they have to be skin tight.
On other guys I prefer no underwear.
What are some of your goals and ambitions for the remainder of 2018?
I'm moving to solely focusing on PR, brand and events at Clonezone now, so I'm spending time educating myself on all sectors of the LGBTQ scene and finding appropriate ways for us to be involved. The last thing I want to do is look like the 'brand that wants your money' — I want it to be sincere and for the collaborations to be authentic.
I support a huge amount of charity raffles, nights, and individual groups, and looking to expand that. I want people to feel safe when Clonezone is mentioned, and not for us to be thought of as a money-grabbing corporate entity. I'm going to make sure that we're giving back, as our customers have always been so supportive of us. It's a slow-process, as I juggle many balls, but I've always been good with balls.
I've been invited to listen to Elton John speak at the Diana, Princess of Wales HIV lecture, due to my support of National Aids Trust through Clonezone. I'm completely mind-blown — how does white-trash like me, end up somewhere like that?
We have Pride in London, UK Black Pride, and Fetish Week London coming up, and I'm so excited. I feel like it's three Christmases on the way and I'm waiting to unwrap my presents. Pride in London is without doubt my most stressful weeks of the year. It includes a huge amount of logistics planning, as well as back-and-forth with different companies — it has to be perfect.
Personally, I just want to be healthy and happy — with more sleep and more sex.
Follow Topher Taylor on Twitter
Originally published at www.mainlymale.com on December 13, 2018.