How to teach new tricks to an old drag queen?
Tucked is a film by Jamie Patterson that explores love, loss, and friendship.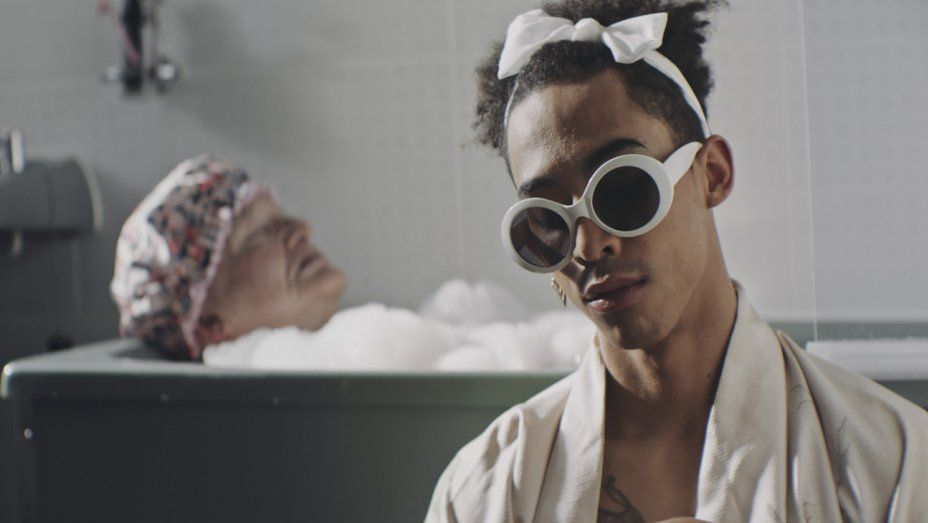 Tucked, from filmmaker Jamie Patterson, gives us the story of Jackie (Derren Nesbitt), an ageing drag queen who forms an unlikely friendship with Faith (Jordan Stephens), a younger queen, both struggling with their own issues of gender identity and mortality.
Also in the cast are April Pearson (Lily), Steve Oram (Daryl), Lucy-Jane Quinlan (Josie), Joss Porter (Alex), and Stephanie Starlet (Mollie).
With the film now available on DVD, we caught up with Jamie Patterson for a behind-the-scenes look at the film.
What was the inspiration for this story?
The idea came from a night out in a great little drag pub in Brighton. It's been there for years – the decor hasn't changed since the seventies, but that's all part of its charm. It was karaoke night, and there was this incredible drag queen hosting. She must have been close to sixty but she was fabulous. She made dirty jokes and sang cheesy 80's hits. I got up to sing Maggie May and, before I knew it, it was 4 AM.
The last song of the night was 'I Dreamed A Dream' from Les Mes. Half way through the song, this drag queen took off her wig to reveal a beautiful bald head. She started crying, then I started crying, then everyone else in the pub started crying. For some reason she really connected with me. When we were leaving, I saw her packing up her things and just wanted to know more about her. That night inspired this whole film.
What was the production process?
I wrote the film in about three weeks, back in 2014. At that time no one wanted to make it, I guess it didn't have the commercial appeal investors were looking for. I went off to make some more movies and then met Finn Bruce – who has produced the film. I sent him the script and about six months later we were shooting. We shot the film in 11 days.
Tucked is probably the most personal film I've ever made. We shot the whole film in Brighton – where I'm from and currently live. I tried to shoot the Brighton I knew and grew up in. I've known versions of all the characters in the film – from Jackie, to Faith, to Daryl.
What was the casting process?
I wrote Jackie for Derren. I've known him for a good few years now and worked with him on another film called Home for Christmas. There was simply no one else who could have done that role. Jordan actually came in quite last minute – I'd seen him in a show called Glue and was just blown away by him. He had this incredible screen presence, exactly what we needed for Faith. Derren and Jordan didn't actually meet until the second day of filming.
Steve, I've loved since Sightseers – he was always my number-one choice for Daryl, and I've been lucky enough to work with him again since. He's one of the funniest actors I've ever worked with. April, well she was always going to be Lily. She's an incredible actress, I've loved her since I first saw her in Skins, I guess that's why I married her! Joss and Lucy, I'd worked with before and would happily put them in every film I do. They're both such wonderful actors. Stephanie I'd seen out and about in Brighton, she is utterly fabulous and I was so happy when she agreed to do the film.
What does the film tell us about the power of inter-generational friendships?
At its heart, Tucked is a simple film about friendship. The fact that there's over fifty years difference between Jackie and Faith doesn't matter. There are no rules when it comes to friendship, I think Tucked proves that. If it works, then it works.
What do you hope that people feel when watching Tucked?
I hope they leave the cinema smiling. I always wanted this to be an uplifting film, even though we deal with some really heavy subject matters. Life's not perfect but that's okay, it would be a boring world if it was.
Tucked is distributed by Bulldog Film Distribution and is now available on DVD