I'll Miss You Later - poems from a pandemic
James Gaynor has used the Covid-19 lockdown to revisit poems he wrote during the worst years of the AIDS crisis.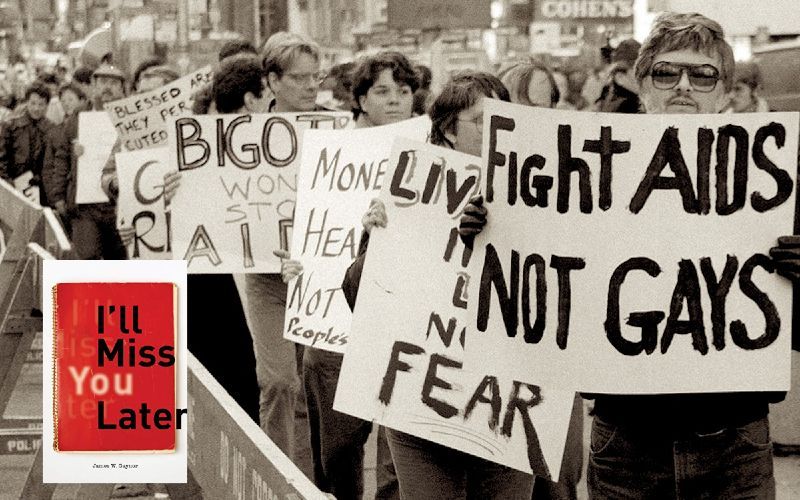 While organising some personal papers during a lockdown spring-clean, James Gaynor came across a pocket notebook – it was a notebook he had written in from 1986 to 1997. Gaynor lived in New York City, and he used the notebook to organise memorial services as he lost friends and loved ones to the AIDS pandemic. The notebook recorded 38 memorial services.
The information contained within the notebook included contact information for relatives, newspapers, venues, florists, ministers, rabbis, a rebel Jesuit, and a Wiccan priestess – as well as scribbled notes about possible poems.
Finding the notebook – 23 years after its last entry – inspired Gaynor to go back and put the poems together in the chronological order they suggested themselves.
The result is I'll Miss You Later – one poem in 20 parts about loss and survival, forged in one epidemic, emerging in a second. It's a record of perseverance and a tribute to the humour that get us through the worst life can throw at us.
I caught up with James Gaynor for a behind-the-scenes look at the work.
How did you feel when you came across the notebook and realised what it was?
COVID awakened something familiar — a sense that every day brings with it a numbing death toll. Also familiar is the rage directed at a government doing the worst job possible, characterised by a callous lack of concern last seen during the AIDS epidemic.
Along with my déjà vu anger and despair is another something familiar, a desire to dig in my heels, a determination to do something, anything. So, isolated in my studio apartment, I decided to prepare for the inevitable — to update my will, look into body donation and to let go of as much non-recyclable detritus-in-waiting as possible.
I had accumulated 40 years of journals and letters in an old wooden box. I began reading and shredding, starting in 1971 with my move to Paris, determined to be a novelist and find love. I returned to New York in 1977, and journal entries became erratic, due to a late-night existence anchored in Studio 54 and The Saint, a pharmacopeia of recreational drugs and as much NSA sex as I could manage. Starting in 1986, everything became about AIDS.
I found a small pocket notebook with a torn red cover, unwinding wire binding. I had kept it during the worst years of the AIDS epidemic as a help in compiling resources and organising memorial services, of which there were 38, the last one in 1997.
There were notations and contact information for relatives, newspapers, gay-friendly venues — many places and business that refused to deal with anything AIDS-related — florists, caterers, ministers, rabbis, a rebel Jesuit and a terrific Wiccan priestess — as well as scribbled notes to self, such as "family is Southern Baptist ODG, get rid of porn"; "F. hated sonnets"; "Sondheim again! write something about Into the Woods and urban mythology".
Some of those notes-to-self eventually became poems, a few of which — much later — made solo appearances in a range of publications. I found 20 short poems I had written over 11 years, based on what I had jotted down while gathering details of my friends' lives. I put them together in the chronological order they had suggested themselves — recreating the context that inspired them. I'll Miss You Later is the result.
With 20 years having passed, were you confident that you were in the right head-space to re-immerse yourself into the notebook?
I'm not sure if I was confident, but I was angry. During the AIDS epidemic I was an early member of ACT UP, took part in demonstrations here in New York and in D.C., worked as a peer counsellor, and was a member of an anonymous support group for advanced cases who had decided to end their lives themselves and needed someone to make sure their exits went as planned.
With COVID, public / private action is impossible. So, rather than watch the news, I put on my poet boxing gloves and went to work. Fighting back, however one can, is a way to survive.
I'll Miss You Later was forged in one epidemic — during an administration that initially did nothing because the initial affected populations were deemed undesirable (gay, Haitian, drug addicts) — and assembled in another epidemic under an administration that initially did nothing because the initial affected population was deemed non-essential (old).
Since I'm now both old and gay, I have no idea how I'm still here. But I've realised poets and epidemiologists have a great deal in common: love and viruses never disappear completely — and they share the disquieting habit of reappearing when least expected.
What was the process you followed to transform the writings in the notebook into this poem?
I had already written what turned out to be 20 poems, but had forgotten about them. I never thought of them as a collection, but all I had to do was update a line or two where I thought it might help a 2021 audience. I then titled each by the year in which I wrote it.
As I assembled the poems, I became acquainted with their subjects as a group, many of whom had never met in life. It was a bit like creating a guest list for a dinner party of friends who would have enjoyed getting together, then going out to dance and prowl — if only they weren't otherwise engaged.
Was the process a cathartic one?
While the storm was raging, I was too busy doing what I could, too angry to be sad. The title I chose – I'll Miss You Later – was a fitting description of that decision. Not exactly denial, but I couldn't let myself realise the enormity of it all. When I read the first draft, I cried for the first time. Twenty years later, but finally, tears.
What do you hope that people feel when they read I'll Miss You Later?
I hope everyone who can will remember fondly a lost generation of their gay friends. And for those too young to have known any of my vanished comrades, I'd like them to read this as a record of courageous LGBT pioneers who disappeared long before their time.
I also hope readers in both groups will experience an occasional smile of recognition occasioned by the essential human truth that whatever the circumstances, life goes on. I can now see that grief — even as it recedes into the fog of personal and collective life stories — can come to encompass sweet memories and gratitude for having lived them, transforming the once unspeakable into tales well worth the telling.