Immerse yourself in the raw sexiness of the darkest fairy-tales
Everyone is invited to a decadent Gothic theatre experience at the Red Palace.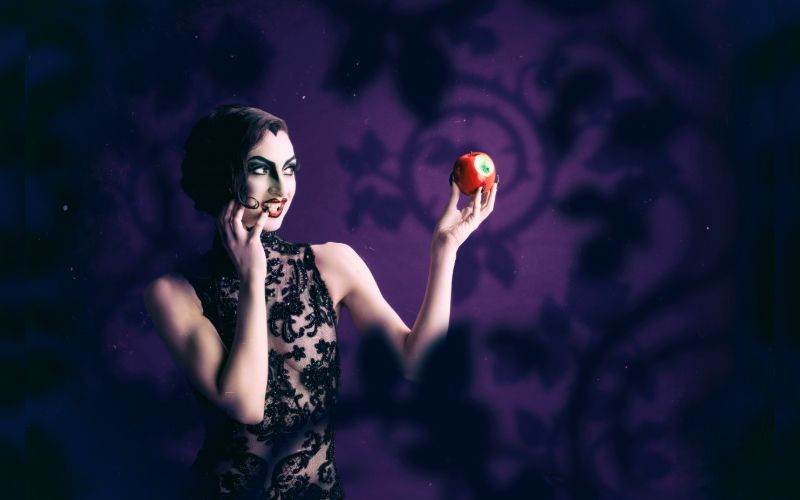 Once a year, the Prince unlocks the doors of his Red Palace for a masquerade of divine proportions. This is an immersive cabaret experience conjured from the darkest, most beguiling and magical folk tales.
We caught up with director Celine Lowenthal for a behind-the-scenes look at Red Palace.
As a director, what was it about this project that appealed to you?
I was thrilled by the prospect of working with my dream team again – my creative soul-mate Laura Drake Chambers [Creative Director of Shotgun Carousel], and the supremely talented Cressida Peever [writer of Divine Proportions and Red Palace]. I just couldn't wait to get the three of us back in a room to create a whole new show!
Then, as the ideas started to come together, the material we were working with spoke to me profoundly – the glamour of Masquerade Balls, the danger of the darker fairy tales, plus a little bit of Edgar Allen Poe, Venice Carnival, and the Brothers Grimm. Starting with such rich source material was so inspiring, as it's all so open to contemporary interpretation, inviting a glorious creative freedom to shape into a show in our own unique way.
At its core, I was attracted by the raw sexiness, the danger, and the images I had in my mind of the jaw-dropping spectacles that we wanted to create. I also always love combining theatre with cabaret, burlesque and circus – being able to add this depth and electricity to the audience's overall experience.
What's the production process for an immersive piece such as Red Palace?
As with any production, a big part of the rehearsal process is breaking the production down into its constituent parts, and building those from the ground up, before combining them into their complex whole. This kind of show also has a uniquely long tech process, due to it taking place in multiple spaces simultaneously across the Vaults.
The Vaults does have its unique challenges! What makes it such a rich and exciting venue is also where its challenges lie – it's a gorgeous space, but it's also obviously not custom-built to be a performance space. They're real old Victorian tunnels! But it is very suited to a production like this, which is just dripping in gothic glamorousness. Damp stone walls
never looked so good!
This show is also being made in a supremely collaborative way – we have a script produced by Cressida, based on a core premise by Laura, and ideas the three of us have thrown around. That's being interpreted by our design team, and will be brought to life with great creative agency by our cast. I'll be working with the cast very closely to build the cabaret, burlesque, dance, and circus elements together, using their own ideas and images to create something that really speaks to them, and their interpretations of the characters, as well as the creative team. We'll be working closely with the brilliant choreographer Daisy Smith on all movement and dance elements, to create really thrilling set pieces to make the hair stand up on the back of our necks!
What was the casting process?
We had a really open casting process, spreading our casting call as far and wide as we possibly could. Due to the hugely wide range of different skill-sets we were looking for – acting, singing, aerial, comedy, acrobatics, cabaret – we wanted to reach as many people as possible in a really wide variety of worlds.
We were lucky to meet an extraordinary range of performers, and were honestly spoilt for choice when making our final decisions about who would make up this very special company. We also worked with the brilliant Queer House, who are an awesome agency for queer artists – I'd recommend them highly to any queer companies or venues looking for performers with a great sense of themselves as artists.
You're working with an all-female/non-binary cast. How does that change the dynamic of a production from the perspective of a director?
I think the most significant aspect of working with this particular cast is being able to start the first day of rehearsals really on the same page. We aren't going to be wasting any time having basic conversations about gender or pronouns, or risk anyone feeling alienated by being challenged on the basis of their gender or identity.
Also, women, queer people, and gender-non-conforming folk are super-humans – so that's useful!
An added element to this production is the food being served. Does that make this a form of dinner-theatre or is it something else completely?
Unlike our last production – Divine Proportions – the food is less deeply integrated into Red Palace. Think of it as a tantalising and delightful bonus!
I honestly don't know where the boundaries between 'dinner-theatre' or 'theatre which happens to also involve eating' lie, and there can be lots of feelings about what can and cannot be called 'immersive', 'promenade' or 'experiential' theatre. But, as far as I'm concerned, if the audience is having a great time, they feel looked after, and perhaps fed, and we can also sneak in some stealthy positive political provocations, everyone is a winner – whatever you label the night!
What do you hope that people feel when experiencing Red Palace?
Alive.
Red Palace is on at The Vaults in London, 24 September – 12 January