Infatuation and fatal obsession as Death in Venice comes to the London stage
Benjamin Britten's operatic adaptation brings the Thomas Mann classic to life in a stunning production by the Royal Opera House.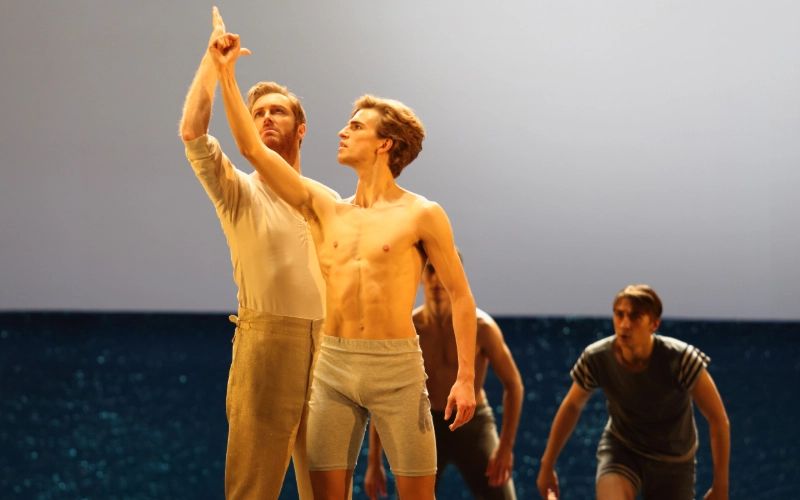 The canals of Venice come to the London stage in David McVicar's stunning new Royal Opera production of Britten's Death in Venice.
Britten adapted this opera from novella by Thomas Mann. It's the story of a burnt-out writer obsessed with youth and desire, while surrounded by pestilence, disease, and death.
The troubled writer at the heart of the story is Gustav von Aschenbach. Aschenbach seeks inspiration in Venice's beauty. As plague threatens the city, Aschenbach becomes increasingly obsessed with Tadziu – a Polish boy staying at his hotel.
This is a brilliant production, and it got a very enthusiastic reception from the Royal Opera House audience on opening night.
In operatic terms, this is relatively restrained storytelling. By channelling everything through the character of Aschenbach, Britten's work draws you in and has you hanging on every word.
In the role of Achenbach, tenor Mark Padmore is remarkable. He has tremendous clarity of diction, so every word is heard, and he makes this man real, authentic, and sympathetic – not an easy feat when you're portraying an ageing writer struggling with a creative block and desires he can no longer repress.
Vicki Mortimer's set design plays a big part in the success of this production. Seamless transitions move us effortlessly through the city of Venice, and the incredibly lifelike gondola journeys are mesmerising.
One of the challenges with Thomas Mann's source material is that Tadzio – the object of Aschenbach's obsession – is described as being a boy who is about 14 years old. However, the casting of Leo Dixon as Tadzio in this production clearly places the character as older than that – still youthful and beautiful, but not quite as problematic as an object of desire.
Britten created the role of Tadzio as one to be danced, not sung. Dixon is a First Artist of the The Royal Ballet and he brings that star power to this role – it's a fantastic performance. While we see quite a lot of dance elements in big opera productions, one of the strengths of Britten's Death in Venice is the way that dance is used as a key storytelling element. Having someone as dazzling as Dixon bringing Tadzio to life on the stage helps us to understand why he caught Aschenbach's eye and quickly came to be his obsession.
Death in Venice is opera at its most intense, grappling with complex emotions and tragedy at its most beautiful. Try and see it if you can.
Mark Padmore discusses Death in Venice
Ahead of rehearsals, I caught up with Mark Padmore – who plays the role of Aschenbach – for a behind-the-scenes look at Death in Venice.
Can you remember when you first read the novella Death in Venice?
I think I first read Death in Venice in my twenties, but must admit that I found it quite a dry read.
It's through reading more widely about Thomas Mann, and in particular his other short stories such as Tonio Kröger and Tristan, that I've understood the richness, depth, and humour of Mann's view of the world.
The character of Aschenbach embodies characteristics such as passionate obsession, restrained will, repressed desire, unrequited love, and fatal passion – is he someone that you identify with at all?
Gustav von Aschenbach is a wonderfully complex character – much of whose story comes from Thomas Mann's own experiences.
Mann himself felt that he had a bourgeois respectable side inherited from his father, and a bohemian passionate side from his mother.
Death in Venice is a story about the battle between the Apollonian and Dionysian urges, and how an artist can negotiate the conflict between the two.
Great literature – and Death in Venice is undoubtedly great – teaches us about ourselves. While there are many things I don't share with Aschenbach, Thomas Mann draws me towards him and an understanding of his passion.
Does having to navigate an elaborate set add to the complexity of a performance?
Vicki Mortimer is a wonderful designer who always seeks to serve the dramatic flow of a piece.
This is a particular challenge in Death in Venice in that Aschenbach is almost constantly on the move – from Munich to Venice, from Venice to the Lido, from the hotel to the beach.
The set therefore will also be constantly in motion. I'm very excited by the prospect of this, and am sure it will help bring the piece to life.
If someone hadn't seen much opera before but was interested in giving it a try, is Death in Venice a good starting point?
Death in Venice is one of the great operatic masterpieces of the 20th Century – up there with Berg's Wozzeck and Stravinsky's Rakes Progress. It's a wonderful story with brilliant music that should have a powerful effect on first acquaintance, but it will probably be enhanced with just a little time and effort to get to know the novella.
How do you hope that people feel when watching this production of Death in Venice?
I hope that people are drawn in to the drama and can feel with Aschenbach as he discovers and discloses himself.
Benjamin Britten was dying as he wrote his final opera, and what we witness is not just the infatuation and fatal obsession of Aschenbach but also the life story and creed of one of the greatest opera composers of all time.
Death in Venice will play at the Royal Opera House in London until 6 December