Intimacy issues and sex-party dilemmas - Simon Amstell has been set free
A stand-up special that explores the emotional roller-coaster of love and life.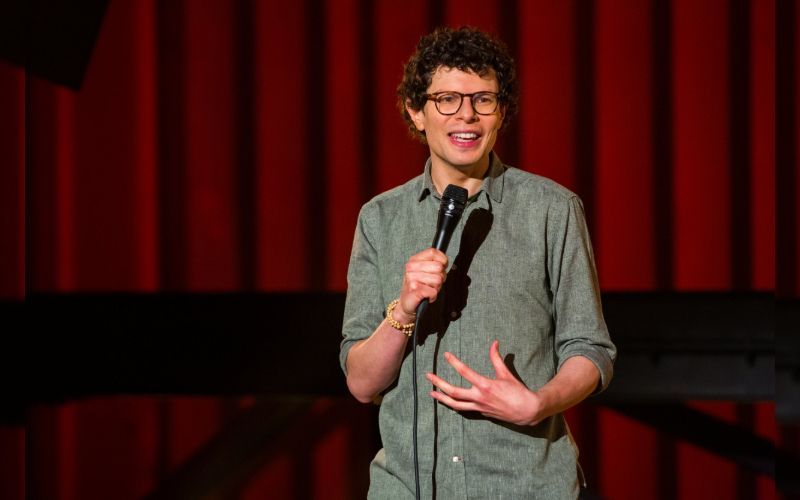 Queer comedian and filmmaker Simon Amstell has his stand-up skills showcased in a comedy special from Netflix.
The special, titled Set Free, enables Amstell to share with us his personal journey, some of the challenges that he's navigated, and how his experiences have shaped his perspective on queer life.
It's an expertly-crafted set that – most importantly – is very funny.
Benjamin
Watching Amstell's comedy set, it was interesting to reflect on how much of his personal experience was also incorporated into his recent film, Benjamin.
Written and directed by Amstell, Benjamin gives us the story of Benjamin (Colin Morgan) who is wracked with doubt that his imminent second film won't live up to the promise of his first. Adding additional confusion into the mix is Benjamin's budding romance with musician Noah (Phénix Brossard).
This is a keenly-observed comedy, but it also delivers a bittersweet depth as these flawed characters try to navigate the ups and downs of life and love in London.
Amstell has rooted this film very firmly in the sights, sounds, and streets of the city. It's clear that Amstell has a deep affection for London and its people, but is also painfully aware of the challenges and shortcomings of trying to establish a deeper connection with the world around you.
"Benjamin is a film inspired by my own painful attempts at love, having prioritised my career over anything else from the age of thirteen…" explains Amstell. "I came to understand that I, like Benjamin, had been seeking the love of an audience, when what was really needed was some actual intimacy. Benjamin shows that journey, forcing a character to confront the limitations of their defence mechanisms and see that without them, they would be free."
One of the strengths of the film is the cast that Amstell has assembled. As well as Morgan and Brossard, Joel Fry, Jack Rowan, Jessica Raine, and Anna Chancellor all shine in supporting roles.
Music also features strongly  -  with original music created for the film by James Righton of the Klaxons.
Benjamin is an intelligent and watchable film, and confirms that Amstell continues to be a queer talent worth keeping an eye on.