Is gender a barrier to going out and having fun?
Meet the women behind a theatre project that aims to help everyone feel part of the night.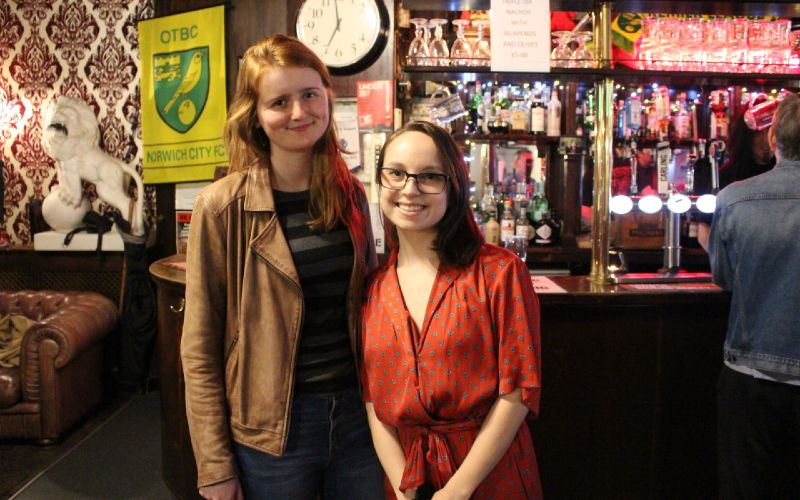 Co-founders of Theatre on Tap – Olivia and Jessica – realised that while they weren't comfortable going to a pub or club alone, they always enjoyed going to the theatre alone. So, they decided to bring the two together. Having spoken to a number of people who identify as female, non-binary, trans, and queer, they found that this sentiment was echoed by lots of people for a variety of different reasons.
Their first event was 24 Hour Play challenge. The project brought together Madeline Gould, Guleraana Mir, and the gig theatre company Burnt Lemon, to create three all new short pieces of theatre.
We caught up with Olivia Munk for a behind-the-scenes look at the project.
How does the 24 Hour Play challenge work?
We challenged some amazing female, non-binary, and queer artists to create three short plays specifically for the Old Red Lion pub in London.
The playwrights had one day to write in the Old Red Lion Pub – taking inspiration from what's happening around them. The next day, the actors and directors rehearsed in the pub, so that they could tailor their staging to their environment.
This creates a performance that couldn't happen anywhere else.
How many people can you accommodate at an event like this?
We capped the audience at 65 people.
You don't have to stay seated in the same place, and the plays move around the pub – there's no one 'best seat' in the house.
Why is there a need to combine the theatre and pub experience in this way?
In recent years, we have seen theatre and nightlife start to trend toward each other. There's more and more demand for unusual experiences – nightlife is getting more theatrical.
At the same time, theatre is become more interactive and immersive – more social. Combining these two forms feels like the natural next step, but it also feels like an opportunity to do better for people who have felt excluded from nightlife in the past.
For Theatre On Tap, we're going back to basics and focusing on storytelling – something both plays and pubs are good for. We actually see it as an asset that the culture of theatre allows for going out alone or with friends. There's a lot of freedom in feeling welcome to go to something by yourself, whether or not your friends are available to go with you, and feeling safe enough to have a good time with the people who show up.
We want to bring the elements of theatre that make it okay to go out alone to the familiar locales where you might meet up with friends for a drink.
How did you select the theatre-makers featured in this event?
We selected the theatre-makers in a variety of ways – some were artists we had worked with before, or whose work we had seen and admired.
For example, director Fumi Gomez was part of Park Theatre's Script Accelerator program the same year that we participated. She was directing a new play called Scum by Tatty Hennessy about Cuba, punk music, and the AIDS crisis, and we loved the way she brought movement, story, and music together to capture a frenetic period of time. When we were putting together the event, we thought the energy and vibrancy that drives her directing would be perfect for a nightlife environment.
Others came to us by recommendation or through artist call-outs. We didn't hold auditions – how do you audition for a character that doesn't exist yet? Instead, we interviewed artists whose work we weren't as familiar with to get of sense of what their artistic ambitions were, what they enjoyed about their past work and what they hoped to do in the future.
When you are making work quickly, it's all about being flexible and bringing your own passions and experiences to the process. One of our actors, Robyn Holdaway, sent us a podcast on which they were a guest and in which they spoke about navigating casting as a non-binary actor. Another, Mia Foo, told us about how her undergrad degree in Design Engineering has shaped her approach to her craft.
As a result, we found a multi-talented, and in many cases, award-recognised line-up of artists.
What do you hope that people feel when attending Theatre on Tap?
We want everyone who attends to feel completely comfortable striking up a conversation with the person next to them.
Pubs are all about camaraderie and sharing stories can help us build this sense of community. We hope you have the same feeling at Theatre On Tap that you would swapping stories with your mates at drinks.
You should feel as comfortable coming to a Part of the Night event alone as you would attending a traditional theatre production solo.
Everything we make is underscored by our ethos that everyone should be a part of the night.