Is it too early to declare Call Me By Your Name a modern queer classic?
At the very least, it's given us a renewed interest in peaches.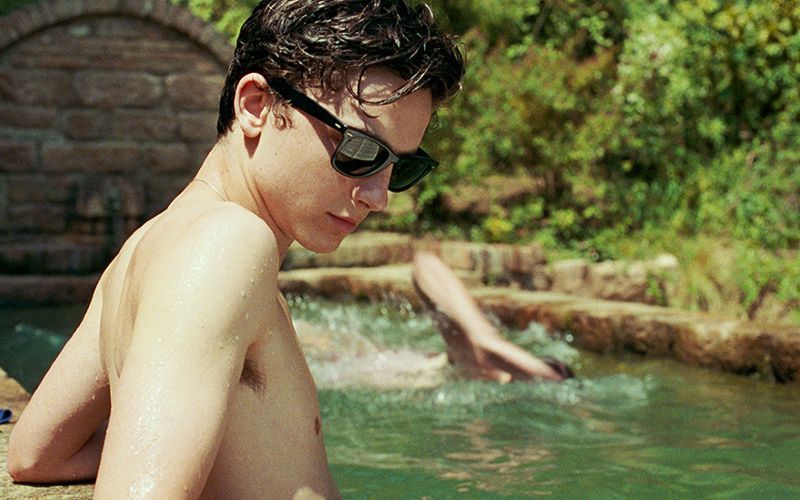 Call Me By Your Name is one of those rare queer films that found mainstream appeal.
James Ivory wrote the screenplay – adapting it from the 2007 novel of the same name by André Aciman. It won the 2018 Oscar for Best Adapted Screenplay.
Directed by Luca Guadagnino, Call Me By Your Name gives us the story of Elio and Oliver. Set in Italy, in the early-80s, the film stars Timothée Chalamet as Elio and Armie Hammer as Oliver.
It's a gentle, coming-of-age love story. Elio is 17, Oliver is 24.
The peach scene
One of the erotic high-points of the film is Elio's encounter with a peach. So, how does Chalamet feel to now always be associated with a peach?
"Fucking awesome!" he says, without missing a beat. "The peach scene felt risqué certainly, in the physical reality of the scene. But it felt more risqué in the idea of like, how can we do this truthfully? How are we going to get this across without it feeling disingenuous? And, even worse, without it feeling underplayed or something?"
Straight actors in queer roles
One of the criticisms of Call Me By Your Name is the lack of queer actors in lead roles. There were also some suggestions that perhaps Hammer and Chalamet were reluctant to play gay.
"This movie is, for some people, a really incendiary topic…" explains Armie Hammer. "There are so many quotes that are so easy to take out of context. Whether it be me saying that I was 'hesitant' to take this role because I didn't know if I would actually be able to perform this. As an actor I didn't know if I could make myself that raw, open and exposed. Because this is so much about the subtlety. And that can easily be taken into 'he was hesitant to take a gay role'. This is not the first time I've done this!"
Hammer has discussed his sexuality previously and identifies as straight, but has played gay characters in movies such as J. Edgar and Final Portrait.
"But, at the end of the day, people have to make clickbait," says Hammer. "I get it, I understand the nature of the beast. If there are people that are upset about it, I apologise. I'm just an actor trying to push myself and trying to see what I can do as a performer."
Chalamet and Hammer have both confirmed that no-one advised them not to take these roles.
"Growing up in the arts, the arts welcomes everyone…" Chalamet explains. "Fortunately, I didn't grow up with a stigma, or these stereotypes. I didn't and don't have the mechanism to really judge sexuality or gender identity, or things of that nature in a positive or negative fashion."
"I was blown away at how beautiful this story was…" adds Hammer. "Just this story of two human beings falling in love in the most raw, honest way. It was just incredible, I don't think I'd ever read a script like this. This is a more extreme film, in the sense of, someone fucks a piece of fruit in the movie! This is a more intense film than anything I've ever done."
The legacy of Call Me By Your Name
How do Chalamet and Hammer feel about having played a part in an important milestone for queer cinema?
"In an ensemble sense…" says Chalamet, "I can maybe get to be another cog in the mission to move this cause forward. It's really moving, a little overwhelming but ultimately very gratifying to think about."
"This is a movie that, hopefully, can affect change or maybe change one person's perspective…" adds Hammer. "Or, make somebody truly look at themselves and go – no wait, is there something that I'm not being honest to myself about? Is there something that I need to acknowledge? Is there something that I really need to really look inside myself and see if I'm happy and see if there's anything I can do to change that? And I think that's a beautiful thing."
Does Call Me By Your Name fuel your fantasies?
If you're into a bit of an age-gap encounter, or the thought of fucking a peach pushes your buttons, then the team at Himeros have got you covered.
They recreated the peach-fucking scene in all its glory.
We caught up with Davey Wavey – the driving force behind Himeros.TV – to talk about the allure of the peach.
When you saw the film, did you immediately think that you wanted to give the peach scene the Himeros treatment?
I really enjoyed Call Me By Your Name. I think it was a brilliant film with some incredible acting. But compared to the novel, I think the peach scene missed the mark. In the novel, Oliver eats Elio's cum-filled peach — which is really central to the story. It seemed like an important detail to leave out, so my wheels started turning. Creating our own explicit peach scene that pays tribute to the film while more closely mirroring the novel seemed like the perfect solution.
Any thoughts on re-imagining other scenes from the book?
The peach scene, in particular, stood out as something that could benefit from a little erotic re-imagining. While I don't think we'll tackle other scenes from Call Me By Your Name, I love the idea of paying tribute to other iconic films — but with more dicks, cum and eroticism.
Are peaches now officially the most erotic fruit for gay men?
Most definitely! I heard that there's a fresh peach shortage, caused by the film. In fact, fans of Call Me By Your Name identify as 'peaches' and I just love it.
Ever incorporated any fruit into your sex life?
Food and sex are my two favourite things. But combining the two is a realm that's still largely unexplored for me. I look forward to meeting a guy who will eat my peach.
What was your casting process for this scene?
For this scene, it was important to find sensual models who were able to embody the deep eroticism of the scene. Like Oliver and Elio, we also wanted to portray the age difference, so we looked for a pairing that would feel a bit inter-generational. Adam Ramzi makes a really sexy daddy figure, and Tom Bentley is very boyish. Watching the two connect was very sexy.
Inter-generational encounters always seem popular for fuelling the fantasies of gay men. Why do you think that is?
Thank God for daddy issues, right? Personally, I love a good daddy-son connection. Age is just such a fun variable to play with in erotica. It's taboo, for one — anything that's perceived to be naughty is even more exciting. Age is also another way to play with power. There's just a lot to love.
Any other film tributes in the pipeline for Himeros?
Yes! Stay tuned.