Israel Folau is back in the spotlight
The Australian rugby player was sacked for homophobic posts on social media but is now signed to play with Catalans Dragons.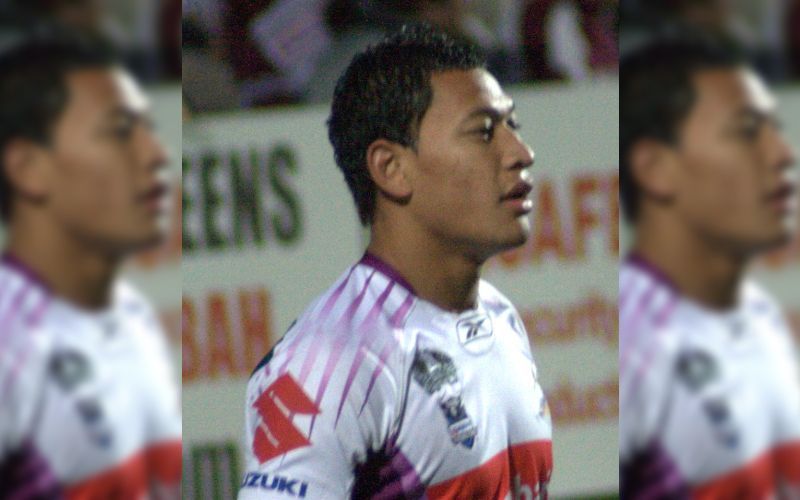 After being sacked by Australia Rugby for writing homophobic posts on social media, rugby player Israel Folau is back in the spotlight with his signing to Super League club Catalans Dragons.
The French rugby league club have signed Folau despite protests from the Rugby Football League and Super League who have said that they "deplored" Folau's previous comments and it was "a difficult decision" to allow him into the competition.
The BBC reports that Super League chief executive chairman Robert Elstone said "strict guidelines are in place" to avoid Folau again making such comments and warned that a repeat would see the player's contract being "terminated immediately". Catalans also face a "substantial fine" if Folau was to do so.
"There is a strong feeling that the decision to sign him lets down many people connected to our sport…" added Elstone. "I made Catalans Dragons aware of those views. However, Super League does not have the authority to veto the registration of players and is satisfied by the due diligence carried out by The Rugby Football League."
"I'm a proud Christian, my beliefs are personal, my intention is not to hurt anyone and I will not be making further public comment about them…" said Folau, responding to the statements by Super League and the Rugby Football League. "I look forward to my return to the great game of rugby league with the Catalans Dragons."
Who is Israel Folau?
Israel Folau is an elite rugby player from Australia. Folau had his contract terminated by Rugby Australia – the governing body of the sport – after his social media posts were deemed as being homophobic and therefore in breach of Rugby Australia's code of conduct.
Folau's attempts to crowd-fund to cover his legal expenses hit a road-block. After quickly raising nearly A$1 million, crowd-funding site GoFundMe shut down Folau's page and refunded all donations because it breached the site's rules by promoting the exclusion of LGBTQ people.
However, Folau received significant support and funding from Australia's religious right.
Folau and Rugby Australia subsequently reached a financial settlement to end their dispute.
Marriage equality
Folau began to express his views in relation to homosexuality during the Australian plebiscite on Marriage Equality that was held in 2017.
During the plebiscite, Rugby Australia publicly stated its support for Marriage Equality. However, Folau publicly dissented from that position, based on his religious views.
The question of religion
Although raised in the Mormon faith, Folau converted to the Assemblies of God Pentecostal church as an adult.
Folau has credited his relationship with God as a reason for his sporting success. In a 2017 article for Players Voice, Folau wrote that he reads the Bible every day and that faith in Jesus Christ is the "cornerstone of every single thing in my life" and "I believe that it is a loving gesture to share passages from the Bible with others. I do it all the time when people ask me questions about my faith or things relating to their lives, whether that's in-person or on my social media accounts."
In social media posts, Folau has repeatedly made references to homosexuals needing to repent or they will burn in hell. Following an Instagram post to that effect in April 2019, Rugby Australia announced its decision to terminate his contract. Following a disciplinary hearing, the termination took effect.
A victory for the LGBTQ community?
While it is sad to see an athlete of Folau's calibre limit his potential due to his public statements, Rugby Australia's decision to terminate his contract because of his anti-gay social media posts was an important moment in Australian sport and the journey towards equality for the LGBTQ community in Australia.
The termination of Folau's contract by Rugby Australia was a clear demonstration that in Australia today, homophobia has consequences. No one is limiting Folau's religious beliefs, or his ability to express his beliefs and his views on homosexuality, but Rugby Australia is making it clear that it views beliefs such as Folau's as homophobic and that it doesn't want to be associated with homophobia.
In a wider context, the case of Israel Folau demonstrates the value of corporate allies. It can sometimes seem a bit over-commercialised to be marching alongside banks and accountants at our Pride celebrations, but Rugby Australia consider themselves to be an ally of the LGBTQ community and this is an example of an ally walking the walk.
It's also worth noting that one of Rugby Australia's main corporate sponsors is the airline Qantas. The CEO of Qantas is Alan Joyce – a proud gay man who has been at the forefront of the fight for marriage equality in Australia.