"It's the pornalisation of society…"
Michael Lucas reflects on 20 years of being on top in gay porn.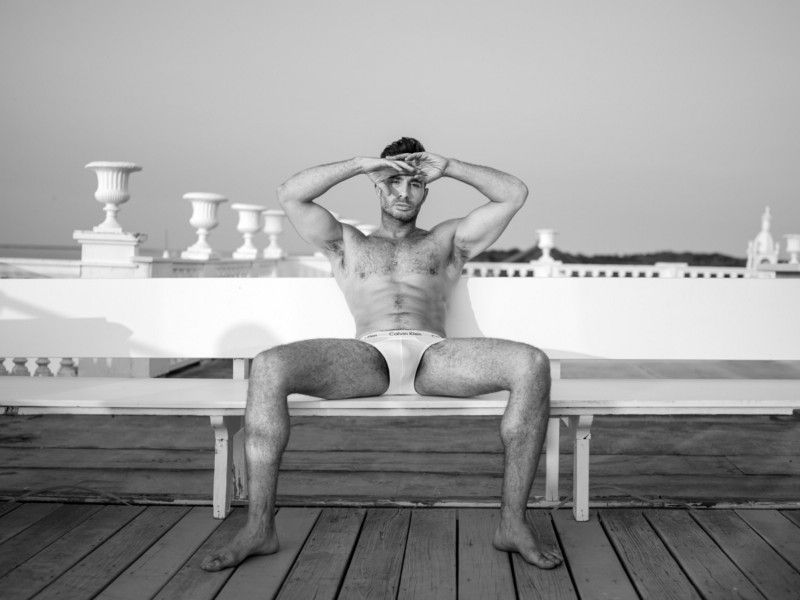 I met Michael Lucas in London. He was in town for the Prowler Porn Awards, and his PR suggested that it would be a good opportunity to reflect on the 20th anniversary of his career in porn.
Lucas has established himself as one of the big names in the gay porn industry — his eponymous studio has been creating porn with high production values for two decades. Unafraid to create controversy, Lucas has a reputation for being difficult to work with. As our meeting was rescheduled several times as he juggled commitments, I began to suspect that the interview wasn't going to happen.
Eventually he arrived at the cafe where we'd arranged to meet. He was charming. Attractive, ebullient, full of energy.
Coffees and a brownie ordered — "I'm addicted to sugar…" he explained, "I just burn it straight off..." — I wanted try and establish the chronology of how he'd built himself into one of the most influential men in gay porn.
"I never felt at home in Moscow, in Russia…" explained Lucas. "I was different. Russia doesn't like anything that's different. I'm gay. I'm Jewish. It's a country that's not gay-friendly or Jew-friendly — it's a country that was very cruel to me. I never blended in, I never wanted to."
Lucas describes his family as loving and supportive. He studied law, graduating from the Moscow Law Academy. After graduation, he immediately left Russia to live in Germany. It was 1995.
I was surprised to learn that it was legendary director Jean-Daniel Cadinot who had been Lucas's introduction into the world of gay porn.
"He called me. I think he'd seen my photo in a catalogue of some kind. He asked me if I wanted to go to Paris to film with him. It was 1996, I was 23. I was very nervous, but it was easy to work with him. Of course, this was in the days before we had Viagra. We filmed in his house. It was fun, low-key. Cadinot is famous because he introduced narrative into porn, but I don't remember the story-line of the film that I was in — I was in a white robe, opening the door to someone. I didn't speak French, so they dubbed my voice — I think I ended up sounding very masculine."
"After that I went to the United States. I fell in love with America and American people. I did several movies in Los Angeles, then in 1998 I started my own company. I was 25."
Not everyone would have had the confidence or the entrepreneurial spirit to start up a business in a country in which they'd only recently arrived.
"I'm good with business. So is my brother - he runs a real estate company in Moscow. I had run my own travel agency while I was still studying — booking Russian tourists on trips to the US, England, Greece, and Turkey. The business was making money, but it was hard to hold onto it — there was a lot of corruption, everyone wanted to be paid. In the end, it was more trouble than it was worth, so I closed it."
Lucas talks enthusiastically, expansively. I tried to draw him back to the subject of porn.
"Do we have to?" he protested. "It's much more interesting to talk about the state of the world."
I pushed him to reflect on how the style of porn that he produces has evolved over time.
"It's changed dramatically, with the internet…" explained Lucas. "Porn is now way too accessible — nobody believes that they should pay for porn."
"It used to be interesting — for both models and directors — we could do something challenging. A lot of models are failed actors — they like a story-line. But today, you can't really be creative. It's all about the search engine results, ticking the boxes of the categories that people are searching for — interracial, orgy, big cocks, bareback. We used to have huge crews for filming and a small staff in the office. Today, we hire a small crew to film, and have a big office staff. I employ 12 people in our office in New York — half of them are straight."
"In my life, I divide people into those that are honourable and those that are dishonourable. This industry is full of people who are not honourable, that's what makes it so often very unpleasant. Every second production there's some horrible incident."
To illustrate the point, Lucas pulled out his phone to show me the heated Whatsapp exchange between himself and a well-known model. A dispute about whether or not pubic hair should be shaved seemed to have escalated very quickly.
"It's self-sabotage…" shrugged Lucas. "He's worked with me for two years. He knew the rules — we don't book models who shave off their pubic hair. He knows better than to try and pull this stuff with me. Now, I won't work with him again."
"I've had a lot of drama. It's jealousy that creates problems. They're jealous that I'm a model who has my own company, that I'm telling them what to do. It's exhausting. I prefer to work with people who go into porn because they think it's interesting and it's a fun job — not because of a failed relationship or to prove something to someone."
As I talk to people in the porn industry, one of the themes that seems clear is that there's no shortage of guys who want to be porn stars, who want to be filmed having sex. I asked Lucas if this matched with his experience.
"Back in 1998 we used to receive one model application per week, if we were lucky. Now, we're receiving 25–30 applications per day. It's no longer such a taboo. Perhaps it's a combination of the gay rights movement and the internet, but there's no shame. I call it the pornalisation of society — you see nudity and porn everywhere. Everyone is filming themselves. When someone has a big dick, I guess they really want to show it."
I pointed out that Lucas himself is not averse to sharing a lot — he's a prolific producer of content for his OnlyFans subscribers, filming his sexual adventures and posting them on Twitter.
"I have a lot of sex…" he shrugged, nonchalantly. "You film it, it's very easy. I was never an exhibitionist, I used to change with a towel at the gym, but it's easy for me now."
To demonstrate, Lucas pulled up his profile on Grindr. He had a lot of messages waiting for him. He clicked on one and showed me how he has a saved response that he uses to reply to anyone who messages him, asking them if they are happy to be filmed, that he could film them wearing a mask or without a mask.
"About 50 percent of guys that I send the message to are happy to film. Most people want to use the mask."
While he was explaining it to me, he received a response from the guy he'd just messaged.
"It's a dream of mine to be fucked by you!" read the reply. "You see…" smiled Lucas, putting his phone away.
I asked Lucas what some of his biggest achievements have been, when he reflects on the past two decades of his career.
"That I made it from one continent to another — from a country that was the complete opposite of the United States. When I was growing up, no one talked about being gay. Yeltsin decriminalised it — it was a time of social change. Putin came in and started looking for enemies. It used to be the West and Jews, now it's gays, Ukraine, and the West."
"When Russia passed those anti-gay laws in 2013, I decided to go and conduct a series of interviews, to make a documentary. I interviewed Vitaly Milonov — one of the most prominent anti-gay politicians behind the anti-gay laws. I'm interested in psychology, as I was interviewing him I realised why he's so full of hate — he has red hair and he's physically very unattractive. Remember, in Russia they don't like difference — growing up, he would have always been made fun of, humiliated. Things haven't got any better for gay men in Russia."
"That's another thing I'm proud of, I was never intimidated by anyone. I have curiosity and guts. I'm proud of that. I'm an independent thinker. It's not that I like to provoke, but I like to speak my mind. I couldn't do that in Russia."
The documentary — Campaign of Hate: Russia and Gay Propaganda — was released in 2014.
"One of the things in my life that I'm most proud of is that I employ people. I offer great packages, complete with full benefits and a retirement plan — not many small businesses do that. It's the American dream, to succeed. I'm doing well."
"I brought my whole family to the US. My grandparents were first — once I got my green card in 2000, they were 80. It wasn't easy, but I made it happen. Then my brother, he was 18 at the time. My parents came the year after. I gave them a great life. My brother went back to Moscow for a job he was offered. My Grandmother, my Babulya, was a huge influence, you give love for love. She died recently, she was 96 — it's very strange that she's now gone."
"You live and learn. I made lots of mistakes. If I knew what I know now, I would do lots of things differently. You have regrets, but I'm very happy with what I have."
Follow Michael Lucas on Twitter
Watch the latest productions from LucasEntertainment
Follow Gareth Johnson on Twitter
---
Show your support for G-TV by grabbing a t-shirt.
Available in a range of sizes, colours, and styles.