Jessica Huras is bringing some Bi representation to the screen with Bing Bang Bi
It's hitting the festival circuit first before getting a general release.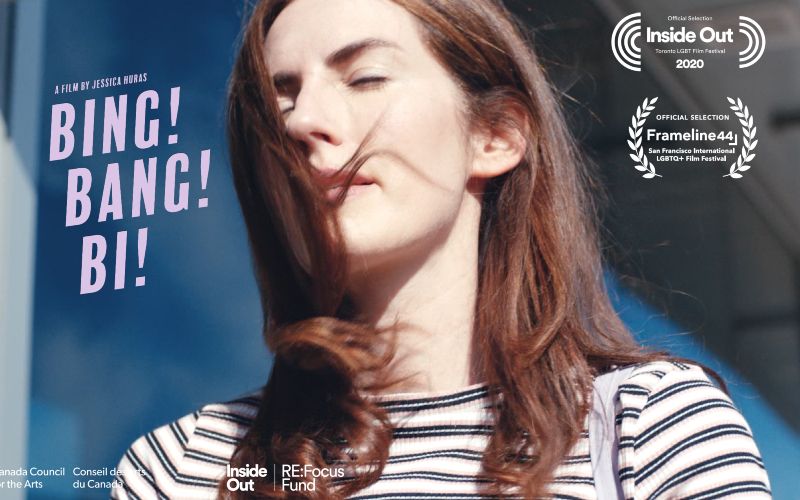 We caught up with Jessica Huras for a behind-the-scenes look at her short film, Bing Bang Bi.
You've talked about wanting to bring some authentic Bi representation to the screen, how difficult was it to write a script that delivered on that objective?
Well, I didn't actually set out to write a script on this subject, and I'm glad – it probably would have been really daunting!
The script actually started out with a kernel of a scene I had observed between two exes, who bumped into each other after not having seen one another for almost 20 years. The experience was so raw and it made me reflect on the fluid nature of relationships, and the story really evolved from there.
The subject of Bisexuality came about later in my writing process, after a year of exploring and learning how to even write a script. I did lots and lots of rewrites, and it was during this process that the themes and subject of Bisexuality really revealed itself.
It also started to dawn on me that I hadn't seen much about the Bi identity truthfully explored in film. I figured that if I was feeling this way, perhaps other fluid/pan/bi people were too, and it might mean something to see aspects of their experience on screen.
One of the challenges with the visibility of Bi characters in film and TV is that when they are present they don't really challenge the assumptions that the audience is likely to be projecting onto them. Your character of Morgan is given the agency to challenge assumptions and educate the audience – what were the key messages that you wanted Morgan to convey?
There are so many stigmas and cliches when it comes to Bisexuality, it was kind of like, where do I even begin?
The first major untruth I wanted to debunk is that being Bisexual is not a legitimate orientation – there's this false idea that a person must ultimately favour either men or women, and that being Bi is simply a testing ground, or a transition period on your way to becoming gay.
Our society's obsession with thinking of everything in binary terms was definitely the first and biggest myth I wanted to challenge.
I also touched on that being Bi isn't about being confused, or unsure of yourself, and it also doesn't make a person more promiscuous because they find multiple genders attractive.
The film is being shown at a number of film festivals, what are the distribution plans beyond that?
I guess the silver lining to playing at festivals during this time is that most of them have switched to a virtual platform, which allows for more viewers than the traditional festival format. Don't get me wrong – I'm pretty bummed to miss the live audience and human interactions.
Frameline Film Festival, where the film is premiering, is accessible to anyone in California from 17-27 September, and Inside Out Film Festival is available to anyone living in Ontario during 1-11 October. So that's pretty cool!
Beyond that, shorts don't usually have the same life as features, so we're working towards having it on a platform for the public to enjoy in the near future when it's done playing festivals.
This was your first film as writer/director?
Yes, it was a lot of firsts! Which was really exciting.
I've been scratching down ideas for years as a writer, so writing has felt like a long time coming and now that I've started, I don't really see myself stopping.
Since writing Bing Bang Bi, I've co-written a feature screenplay which I'm attached to co-direct. I also have a few other ideas on the burner.
I think the biggest challenge was learning how to direct my first film while also being in almost every frame! Thankfully, I had an incredible team around me, and making the film was a highly collaborative effort.
Can we expect to see more from the character of Morgan, or is this the end of her story arc?
I have a loose pitch for Morgan and her group of friends as a half-hour TV series. Working with actors like Jess Salgueiro, Sofia Banzhaf, and Rodrigo Fernandez-Stoll really inspired me to keep developing their characters. But TV writing is a whole other new thing I'm trying to learn!
What do you hope that people feel when watching the film?
I hope they recognise themselves in the characters. If they can't relate to being bi like Morgan, maybe they learn something new or unlearn some assumptions they may have had.
I just hope the story and characters feel relatable in some way, and that their desire for acceptance and connection continues to resonate with the audience after the lights come up.