Kristen Stewart gives us the gift of a queer Christmas movie
Another unexpected move from a woman who always keeps us on our toes.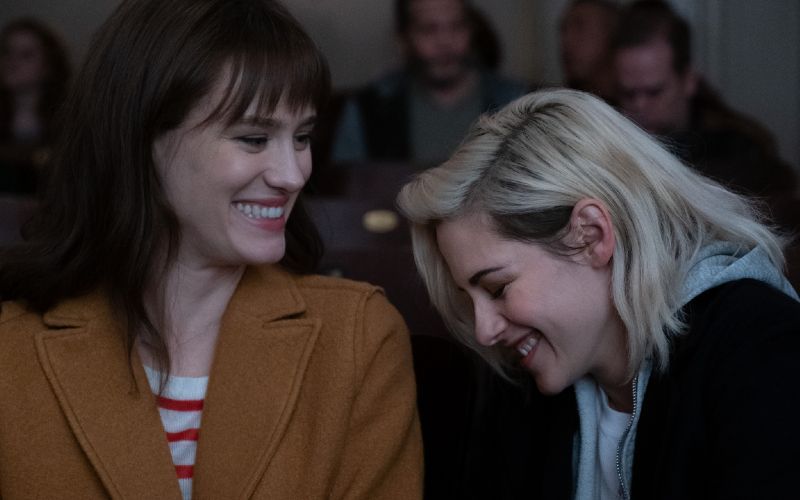 Now on general release is Happiest Season – a queer Christmas movie starring Kristen Stewart and Mackenzie Davis.
Directed by Clea DuVall, Happiest Season gives us the story of Harper (Mackenzie Davis) and Abby (Kristen Stewart). Abby is meeting Harper's family for the first time, and is also planning to propose at the family's annual Christmas dinner. However, Abby quickly realises that Harper's family don't know that she's a lesbian and that she's been keeping their relationship a secret. It's a romantic comedy about queer love, family, and trying not to ruin Christmas.
"They're both people I really felt protective of in different ways…" said Stewart, speaking to InStyle about the film. "I've been on both sides of that dynamic where someone is having a hard time acknowledging who they are and the other person is more self-accepting."
"The first time I ever dated a girl, I was immediately being asked if I was a lesbian…" continued Stewart. "It's like, 'God, I'm 21 years old.' When I see a little kid clearly feeling themselves in a way that they wouldn't have when I grew up, it makes me skip."
"I didn't grow up with a movie that had such expansive ambition, that had two female leads at the centre of a love story, and not in this format…" Stewart told the Guardian, as part of her promotional campaign for the film. "Not to say there hasn't been great queer content made over the years that has been really beautiful, and really important touchstones. But at the same time, it's not something that I grew up with, and I would have loved to. So it feels good to be a part of it."
The soundtrack to the film has already been released. Justin Tranter is the executive producer of the album, and it features songs by Anne-Marie, Bebe Rexha, Brandy Clark, Carlie Hanson, Shea Diamond, Sia, and Tegan and Sara.
Happiest Season will be released on 27 November
Who is Kristen Stewart?
Her big breakthrough was in the Twilight series of films, but since then Kristen Stewart has gone on to star in some great movies and clearly establish herself as a woman to watch.
Career
Born and raised in Los Angeles, Stewart began working as an actress in 1999 – at the age of nine. It was in 2002 when she came to the world's attention when she appeared with Jodie Foster in the film Panic Room.
She hit super-star status playing the role of Bella Swan in the Twilight saga of films – the first instalment of which was released in 2008.
She won the César Award for Best Supporting Actress for her performance in Olivier Assayas's 2014 film Clouds of Sils Maria.
One of our favourite performances from Stewart was her role in Certain Women – a 2016 film directed by Kelly Reichardt.
Her debut as a director came with the short film, Come Swim – released in 2017.
Stewart's recent roles include the reboot of Charlie's Angels, and the deep-sea adventure movie Underwater.
Personal life
Stewart has been navigating her personal life in the public eye – she's been the subject of intense public speculation since the release of the Twilight films.
She always seems to have had almost a zero-fucks-given approach to what people think or say, happily dating both men and women and not responding to any media speculation.
In 2017, Stewart hosted Saturday Night Live. In her monologue she joked about the interest in her dating life and her sexuality, describing herself as "so gay". In subsequent media interviews, she's talked about identifying as bisexual.