La traviata delivers the drama and passion at the Royal Opera House
Verdi's iconic tale of tragic love and sacrifice showcases the power of this extravagant art-form.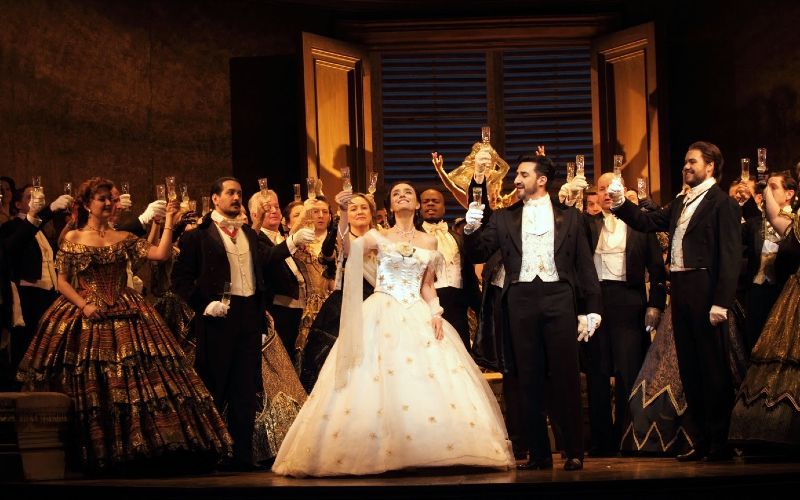 If you want to experience big-scale, big-singing, big-drama opera, then La traviata at London's Royal Opera House ticks all of those boxes.
Created by Verdi, the production being staged by the Royal Opera House was conceived by Richard Eyre.
It's the 25th anniversary of Eyre's production, but it feels as fresh as ever – celebrating the colour, glamour, and splendour of 19th-century Paris, against which the heroine's tragedy unfolds.
La traviata – the fallen woman – was Verdi's operatic interpretation of La Dame aux camélias – an 1852 play adapted from the novel by Alexandre Dumas fils. The story written by Dumas was based on the life of his lover Marie Duplessis – infamous and celebrated in her own right.
Verdi's opera was first performed in 1853, and it's widely seen as one of his best.
La traviata tells the story of the courtesan Violetta and the passionate love she feels for Alfredo Germont – a love that leads her to make the ultimate sacrifice.
Opening on 17 December and running until 23 March, the Revival Director is Andrew Sinclair. Given the length of the production's run, there will be a number of different performers delivering the key roles.
Performing the role of Violetta will be sopranos Hrachuhi Bassenz, Dinara Alieva, Kristina Mkhitaryan, Vlada Borovko, and Aleksandra Kurzak.
Violetta's lover – Alfredo Germont – will be performed by tenors Liparit Avetisyan, Rame Lahaj, Frédéric Antoun, and Ho-Yoon Chung.
Alfredo's father – Giorgio Germont – will be performed by Simon Keenlyside, Gabriele Viviani, Željko Lučić, and George Petean.
Conducting performances will be Daniel Oren, Francesco Ivan Ciampa, and Maurizio Benini.
The review
For opening night, the production was conducted by Daniel Oren.
The cast for this performance was:
Violetta: Hrachuhi Bassenz
Flora: Stephanie Wake-Edwards
Marquis D'Obigny: Jeremy White
Baron Douphol: German E. Alcantara
Doctor Grenvil: Timothy Dawkins
Gastone: Andres Presno
Alfredo Germont: Liparit Avetisyan
Annina: Sarah Pring
Giuseppe: Neil Gillespie
Giorgio Germont: Simon Keenlyside
Messenger: Dominic Barrand
Servant: Jonathan Coad
La Traviata is opera at its most powerful and its most intimate. At times, the entire company is on stage and the auditorium is filled with a glorious wall of sound, but there are also moments were Violetta is almost softly murmuring in her grief as she realises the sacrifices she's prepared to make for her man.
Hrachuhi Bassenz nails it as Violetta. From the sparkling heights of her parties in Paris, to the depths of betrayal and despair, her vocal control is incredible but she also brings Violetta to life as a believable and fully-rounded character.
As Alfredo, Liparit Avetisyan brings a bright clearness to his singing as he expresses his passionate love and his devotion to Violetta.
Framing the action are the over-sized but richly detailed sets designed by Bob Crowley – providing a depth of perspective and authenticity to each scene.
In many ways, this is old-school opera – drama writ large. But La traviata is also surprisingly accessible – you don't have to be some sort of high-brow opera buff to enjoy this – it's a story that's easy to follow and it's impossible not to be caught up in the raw emotion being spilled on stage.
This tragedy of a fallen woman makes for a unique cultural experience that is well worth embracing.
La traviata is playing at London's Royal Opera House until 23 March