Leather Dom Chris Damned Punishes Ethan Sinn in Latest Bound Gods Feature
This is the kind of discipline we can get into.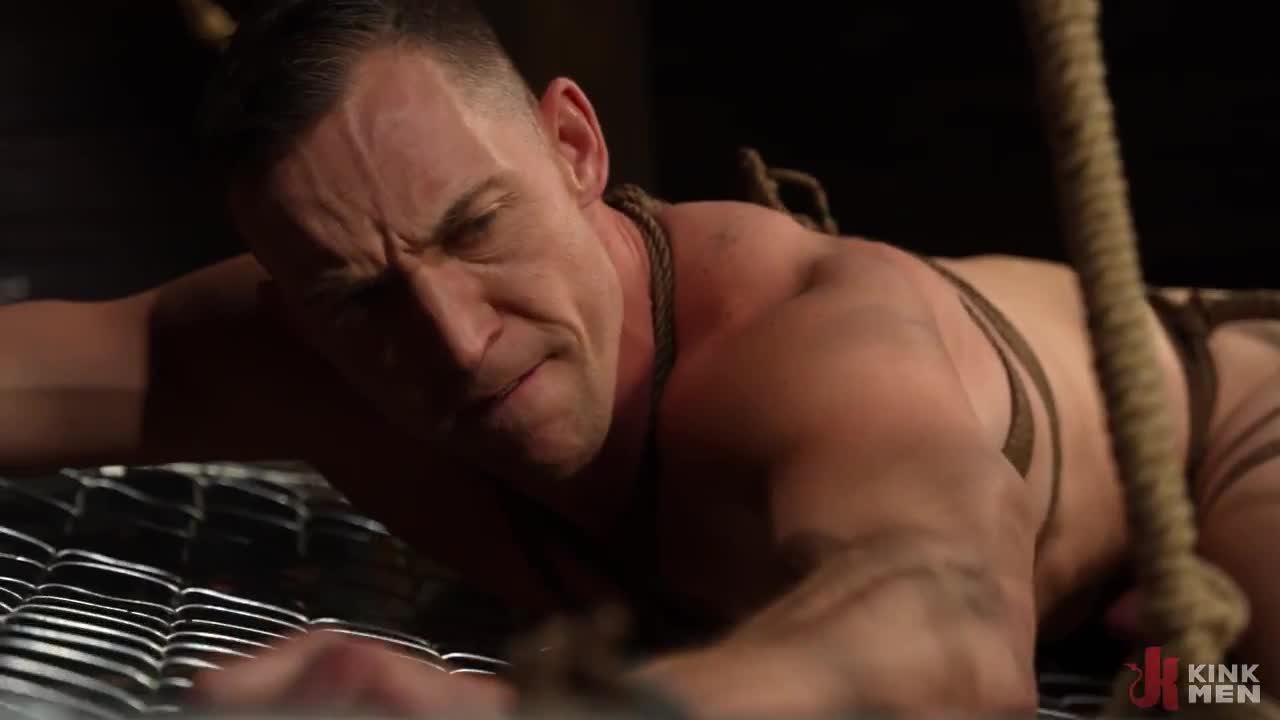 Leather Dom Chris Damned Punishes  Ethan Sinn in Latest Bound Gods Feature
If you want a taste of a variety of kinks, the latest Bound Gods feature on KinkMen will be just what you're looking for. In this kinky adventure, Chris Damned rules in the dungeon and shows you exactly how to treat a willing submissive slut.
In Sinns Of The Damned, Dom Chris Damned, tattooed and leathered up, unleashes his sexy sadism on hot, submissive stud Ethan Sinn. He then takes us on a twisted BDSM adventure including rope bondage, cock and ball torment, foot worship, anal fingering, flogging, paddling, and deep anal. No wonder by the end of it, Ethan's ass is begging for his master's load!
The hot scene starts with Ethan bound on his back to a chain link fence that is suspended in the air. Chris teases Ethan with a bit of tongue down his throat, but the makeout session doesn't last very long. The real torment begins with clothespins on Ethan's skin. Then, Chris grabs a crop and goes to work whipping Ethan's body and balls with precise, hard smacks.
Chris gets a rush from dishing out pain on his willing submissive. He can't help but shove his rock-hard cock down Ethan's throat. He takes his Dom's cock deeply. Ethan has the pleasure of getting his feet worshipped, but then Chris continues to dish out the pain with shocks from the zapper.
In the next scene, Ethan is bent over the chain link fence. Chris has full access to his perfect ass. Chris fingers Ethan's hole with his leather gloves to get it nice and warmed up. After a brutal flogging, Chris plunges his massive dick into Ethan's ass and fucks him deeply.
In the final scene, Ethan is bent over a spanking bench with his body tied up to a suspension point. Chris uses a paddle to turn his submissive's ass bright pink. He fucks Ethan's hole deep with a dildo to get it ready for another round of his huge cock. Ethan gets pounded one last time until Chris finally gives him what he deserves. He blasts his huge load all over his ass. For being such a good boy, Chris milks Ethan's aching cock and drains his balls.
You've got to check this one out with your own eyes, so head over to KinkMen and see the full-length feature.