Leftover porridge pancakes
Frugal, but quite delicious.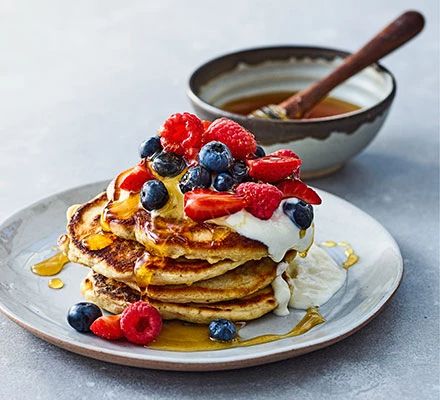 I don't often have any leftover porridge. I generally have porridge for breakfast, and I make the right amount. Groundbreaking.
But on this occasion, I'd made the porridge and then something came up so I had to stick it in the fridge and get on with my day.
The result? Leftover porridge. I'm not sure what else you could do with it, but pancakes is always a good decision.
This recipe is from the BBC Food site.
Ingredients
150g cold leftover porridge
150g self-raising flour
2 tsp baking powder
1 ripe banana , mashed
2 large eggs
100ml milk
2 tsp vegetable or sunflower oil
fruit , yogurt and maple syrup or honey, to serve
Method
STEP 1
Mix the porridge, flour, baking powder, banana, eggs and milk in a bowl. Heat the oil in a frying pan. Drop 2-3 tbsp of the porridge mixture into the pan and cook over a medium heat until the underside is golden and bubbles are popping on the surface.
STEP 2
Flip over and cook for another few mins until cooked through, then keep warm in a low oven and repeat until you've used up all the batter. Serve with the fruit and yogurt and top with a drizzle of the syrup or honey.