LGBTQ Heroes: J. R. Ackerley
The gay man who was a celebrated literary editor.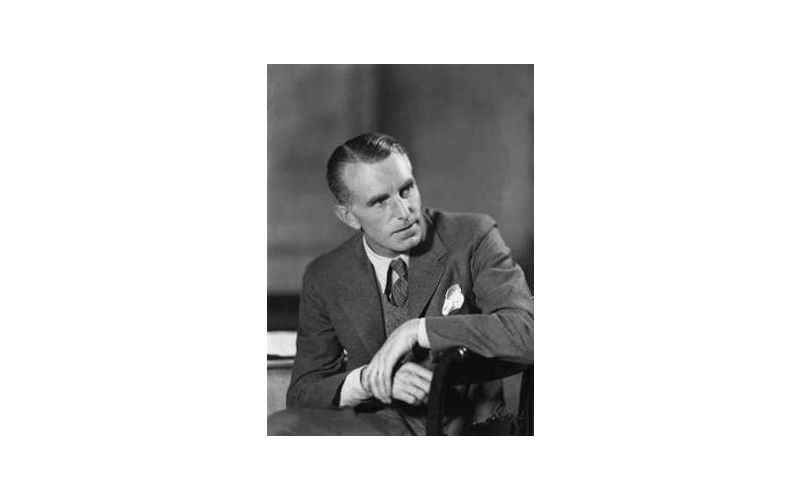 Joe Randolph "J. R." Ackerley was a British writer and editor.
Starting with the BBC the year after its founding in 1927, he was promoted to literary editor of The Listener, its weekly magazine, where he served for more than two decades.
He published many emerging poets and writers who became influential in Great Britain.
He was openly gay – a rarity in his time when homosexual activity was forbidden by law and socially ostracised.
Early life
Born in 1896, J.R. Ackerley was the son of a wealthy fruit merchant and an actress.
Educated at Rossall School in Lancashire – where he began to explore his attraction to other boys – Ackerley was known for being very good-looking.
With the onset of WWI, Ackerley joined the Army.
First World War
After the First World War broke out in August 1914, Ackerley was commissioned as a second lieutenant in September 1914. He was assigned to the 8th Battalion of the East Surrey Regiment, part of the 18th Division, then stationed in East Anglia. In June 1915, he was sent to France. On 1 July 1916, he was wounded at the Battle of the Somme. He was shot in the arm and suffered shards of a whisky bottle becoming imbedded in his side from an explosion. After lying wounded in a shell-hole for six hours, he was rescued and sent home for sick-leave.
He soon volunteered to go back to the front. He was promoted to captain, when his elder brother Peter, also an officer in the East Surrey Regiment, arrived in France in December 1916. At the time, Ackerley was his superior officer. In February 1917, Peter was wounded in action on a dangerous assignment. Though Peter got back to the British lines, Ackerley never saw him again, as he was killed on 7 August 1918, two months before the end of the war.
In May 1917, Ackerley led an attack in the Arras region where he was wounded, this time in the buttock and thigh. While he was waiting for help, the Germans arrived and took him prisoner. As an officer, he was assigned to an internment camp in neutral Switzerland, which was relatively comfortable. Here he began his play, The Prisoners of War, which expresses the cabin fever of captivity and his frustrated longings for another English prisoner. Ackerley was not repatriated to England until after the war ended. He relinquished his commission on completion of service, 24 April 1919.
Career
From the autumn of 1919, Ackerley attended Magdalene College, Cambridge. After graduation, he moved to London, where he enjoyed the cosmopolitan capital and continued to write. In 1923 his play The Prisoners of War was included in a collection of young British writers, so he began to receive some recognition.
He met E. M. Forster and other literary bright lights, but was lonely, despite numerous sexual partners. With his play having trouble finding a producer and feeling generally adrift and distant from his family, Ackerley turned to Forster for guidance. Forster, whom he knew from A Passage to India, arranged a position as secretary to the Maharaja of Chhatarpur.
Ackerley spent about five months in India, which was still under British rule. He developed a strong distaste for the several Anglo-Indians – British people living in India – he met. Ackerley's comic memoir Hindoo Holiday explores some of his experiences. The Maharaja was homosexual, and His Majesty's obsessions and dalliances, along with Ackerley's observations about Anglo-Indians, account for much of the humour of the work.
In England, Prisoners of War was finally produced in 1925, to some acclaim. Its run began at The Three Hundred Club on 5 July 1925, then transferred to the Playhouse Theatre on 31 August. Ackerley enjoyed his success, returning to London to carouse with its theatrical crowd.
In 1928 Ackerley joined the staff of the British Broadcasting Corporation. He worked in the Talks Department, which arranged radio lectures by prominent scholars and public figures. He helped to create the new department, which had an extensive influence on British literary and cultural life.
In 1935 Ackerley was appointed Literary Editor of the BBC's magazine The Listener. He served in this position until 1959, discovering and promoting many younger writers, including W. H. Auden, Christopher Isherwood, Philip Larkin, and Stephen Spender.
Later life and death
From 1943, Ackerley lived in a small flat at Putney overlooking the Thames. Almost all his significant work was produced during this period.
His sister Nancy found him dead in his bed on the morning of 4 June 1967. The cause of death was coronary thrombosis.
Sexuality
Ackerley was openly homosexual after his parents' deaths. Ackerley plumbed his sexuality in his writings. He belonged to a circle of notable literary homosexuals. They flouted convention, specifically the homophobia that kept gay men in the closet or exposed openly gay men to legal prosecution.
He had many long-term relationships. Ackerley was a "twank", a term used by sailors and guardsmen to describe a man who paid for their sexual services. He described the ritual of picking up and entertaining a young guardsman, sailor or labourer.
His memoir serves as a guide to the sexuality of a gay man of Ackerley's generation.