Life imitates art in The Breeding
A dark, erotic thriller.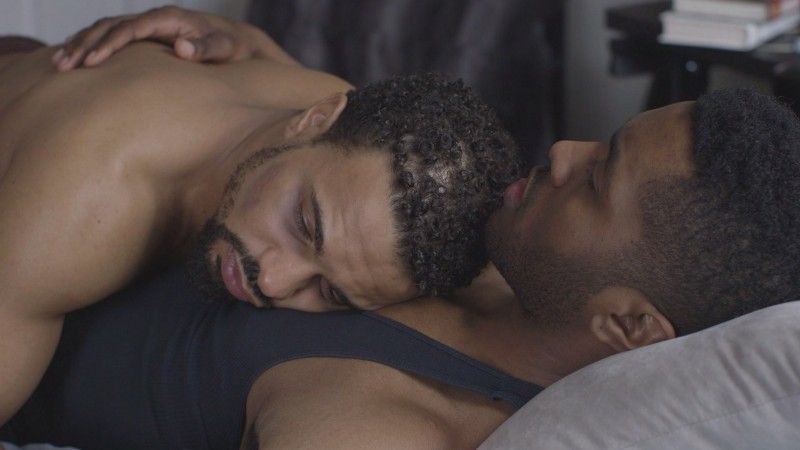 Written by Dane Joseph and directed by Daniel Armando, The Breeding is an erotic thriller that raises challenging questions about sex, relationships, and identity.
An added twist in the real-life story of this film is that shortly after filming had been completed, lead-actor Marcus Bellamy was arrested on suspicion of the murder of his boyfriend. Bellamy was subsequently convicted and sentenced to 20 years in prison.
I caught up writer Dane Joseph for a behind-the-scenes look at the film.
Given the context of the subsequent arrest of Marcus Bellamy, how do you feel when you reflect on this project?
The film is really a bittersweet and tough experience on our end. I knew Marcus since we were in high school - he was almost like a littler brother. On my first day ever in New York City, he guided me around and let me crash in the Julliard dorms. He was endlessly encouraging and was the reason I got into writing and creating content to begin with.
His work is so touching in the film. The film touches on so many themes that are relevant to today - race, identity, culture, greed - but done through an LGBTQ perspective. So, reflecting on the film now is a little tough because the tragedy that's on the screen has spilled into real life on various levels. We just hope that by sharing the film, it may prevent other tragedies from happening, and may help one person find a little peace within.
The initial inspiration of Harmen van den Bogaert is an intriguing starting point, were you surprised when your research led you into the world of racially-charged BDSM?
I was totally shocked at first, to be honest. My initial instinct is never to be judgemental or shame anyone's interests, but as an artist I can't help but ponder the "why" of it all. Given our country's problematic history with race relations on both ends, I just wanted to get to the root of why people involved on either end would be interested in it.
In the end, I think it just comes down to our basic human instincts and cravings for power, which drives so much of our behaviour - savoury or not. It's how we're brought up in America, how we're "bred" - to chase and idolise power, financial and otherwise. That's what drives much of the film, especially when that idolisation enters dark places.
The film explores a number of important themes, and there's a palpable darkness running through the film. Do you feel that the film adds to the conversation regarding racism in the US, or reflects the deep-seated complexity of it all?
I really hope the film adds an LGBTQ voice to the conversation. We rarely discuss race and identity in the queer world, but it's very much an issue - from people's discriminatory preferences to potentially problematic fetishes.
Going further, there's a duality in being gay and also whatever race you may be that colours your experience in this life - I feel sometimes that we often ignore that, as if the gay community is a generalised monolith. It's a bit more complex, difficult, and beautiful than that.
So, we do hope that the film adds to the dialogue about racism, which is really one we desperately need to have in this era.
What was the casting process?
I actually wrote the role and then when thinking of who would be great, my mind immediately went to Marcus because he's one of the most fearless performers I've ever known, and he does the work to get there. He's a trained and phenomenal dancer, but I just had a feeling he could get there for the film and he really did.
Once Marcus was cast, we went back to actors we've worked with over the years, actors who support us and who are phenomenally talents. We've done five micro-budget films, and not all talent is able to work at our budget level and in our style. We cherish people we've worked with several times over the years, like Linda Manning, David Cork, Patrick Kuzara, Ano Okera, and Dedrick Lee Anthony. Those were basically all the other leads and they all are friends and professional colleagues we've worked with for years.
The only big role to come through auditioning was Lee, played by Joe MacDougall. Only two guys showed up for the audition after reading the script and I couldn't blame them. It's tough! He was one of the two and we were lucky - he's a great actor.
The episodic narrative and the strong use of music are distinctive features of the film  -  what drew you to this structure to tell this story?
When something tragic happens, the first thing people always wonder is how could it have possibly happened. But if you breakdown any story in life in terms of steps or chapters, it starts to all make sense a bit more. That's what influences the structure of a lot of my films - they're a series of chapters that lead to a very unexpected end.
In terms of music, we love to feature music by gay artists who are under the radar and phenomenally talented. The themes in Mille Forte and William Scott's music are so timely and worked so well for this film - really helping bring it to life. Everyone should check them out immediately! We were blessed to have them.
What sort of response have you had so far to the film?
Surprisingly, the response has been positive and provoked a lot of discussion which is great. We were so scared because the film is so uncomfortable on so many levels. I'm happy that people can push through it and be open-minded.
What do you hope that people feel when they watch this film?
I just hope people can take a second to realise the humanity in each other, and start to question any actions or behaviours that may lead us to treat others as less than. It can have unfortunate, unintended consequences.
The Breeding is a production by Novo Novus
Follow Gareth Johnson on Twitter
---
Show your support for G-TV by grabbing a t-shirt.
Available in a range of sizes, colours, and styles.