"Like a pornographic National Geographic."
Kristen Bjorn on gay men and porn.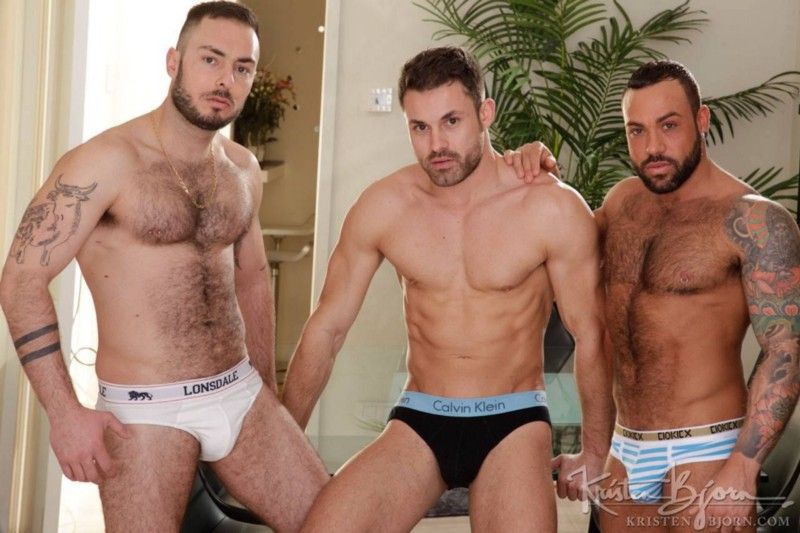 I caught up with filmmaker Kristen Bjorn to talk about gay men and their relationship with porn.
When you're filming porn, how do you go about creating porn that your audience will want to watch?
I take a number of things into consideration. One, if the models will be the right types for our viewers. Two, if the models have already been over-exposed or not. Three, if the combination of models will look good together. Four, if the models chosen for a scene will be compatible with each other.
How much planning or preparation goes into creating the context or set-up for each scene that you film?
With models that we've worked with in the past, it's easier to plan ahead because we know what we can expect of them. But, as we often have to work with models we don't know, a certain amount of flexibility is necessary. Sometimes we have to change the plans we set out with, and opt for something else that works better.
Do you watch you own porn?
I spend more time in the editing process than I do in the actual production of my videos. I review everything I do several times during the different stages of editing or DVD authoring. As a result, I spend most of my time watching the porn I shoot, but I don't watch it for entertainment.
It's a bit like making sausages - you can enjoy them more when you don't know how they're made.
What sort of feedback do you get from your audience?
Our main audience are our website members. KristenBjorn.com has been running online since 1998. There's always been a forum on the site, and there was a lot of community participation for many years. There was so much, I had a hard time keeping up with it. But that has dwindled greatly over these last years.
Half of our online traffic now comes from mobile phones, and most young people now no longer have or use computers. I suspect that this shift has affected communication in online forums and chat rooms in general.
The problem there is that there may be a small number of members who are very vocal, and may not share the same view as the majority.
Recently, one member posed a comment in our forum complaining that our models were too versatile. He said that he wanted to see more tops who never bottom - because, when they do, it ruins the fantasy for him. Or there was another who said that he wanted to see more solo scenes.
I found both of these comments surprising, and I asked if other members felt the same way, but no one replied. It's important to take our members' opinions into consideration. But it's also important to find out if those opinions are shared by many members, or by just one or two. That can be difficult.
How has the style of porn that you create evolved over the years?
I've been making porn for going on 30 years now - naturally, there have been changes along the way.
Before my time, there were some porn films made in the 1970s which played at 'art cinemas' in some of the larger cities in the United States. They were allowed to be explicit as long as there was some storyline, or artistic merit.
Commercial gay porn films for home use were silent 8mm reels, which were usually 15 minutes long. They were called loops, and were played on projectors. They were really quite primitive.
When VHS players became available in the early 1980s, studios started putting four loops on each VHS tape, because at that time the duration of the tapes was one hour. Later, with the invention of the camcorder, sound was introduced, and the loops turned into scenes.
Starting in the 1990s, gay porn films evolved a lot technically. Because they sold very well, studios were able to afford much larger budgets to make ever more elaborate films. This trend increased even more with the invention of the DVD, which allowed for even longer films to be made.
I started from my home base in Brazil, where I'd already been working as a photographer for a number of years. At that time, the only gay porn being made was coming out of California, and it had a distinct style. I wanted to make something different, with my own perspective about eroticism, as well as having a distinctive Brazilian flare.
My best-selling film is Carnaval in Rio from 1989 - the first hardcore film I shot.
I didn't expect to ever leave Brazil, but within a couple of years after I'd made my first hardcore film, social conditions there had deteriorated so much that I decided to leave, and take the show on the road.
I went to New York, and shot a film there, and then to the Dominican Republic, where I shot another film. Then I went to Australia, where I was based for a couple of years. Everywhere I went, I tried to create porn in a distinct way that would incorporate the visuals and the cultures of the countries I was in. Sort of like a pornographic National Geographic. I later when on to Quebec, and Hungary to shoot in the same way. In all of those places, I was the first person to ever make gay porn films.
During those years, I was still doing photo shoots for a group of American magazines. The way I found models was from the photo sessions. I didn't shoot films all at once, they were shot scene by scene as new models were found. I was only making two or three films per year.
In the mid 1990s, I settled in Miami for a number of years. With sales booming, I was able to create much more lavish films than ever before. Rather than concentrating on particular countries, I started working with mixtures of model types - mainly from Latin America and Eastern Europe. That came to an abrupt halt after 9/11.
After 2001, it became very difficult for my models to enter the US. At that point, I started shooting in the Caribbean, and Central America. But even that became more difficult - almost all the Caribbean-bound flights from South America and Europe went through Miami. Around 2003, foreign passengers were no longer able to fly through the USA in transit to other countries without US visas, which were difficult for my models to get. At that point, I decided to move to Spain where I could continue working with international casts without problems.
The first years of shooting in Spain went very well, and the films made during those years were the biggest, most lavish productions that I'd ever made. But that all changed by the end of 2008 with the worldwide financial crisis, as well as the increase of online piracy.
It was like the perfect storm, and it led to the demise of most of the large studios of the time, as well as large-budget porn films in general. Almost all of the big studios at that time went into bankruptcy.
Fortunately, my studio was always small with few employees, and we were able to downsize as the market got worse. Scenes that we used to shoot over five days now have to be shot in five hours. Working with one tenth of the budget we used to have, lavish locations had to go, and model fees dropped tremendously. DVD sales that used to account for ninety percent of our income have now dropped to about five percent.
The whole concept of porn has changed. Consumers aren't too interested in big production films anymore, they want short scenes they can watch on their phones. So, my style of work has had to change with the times. But I still try to keep production values as high as possible.
In a way, the porn industry has regressed back to era of the loop, but now they're called web scenes.
You've said previously that you don't have any shortage of guys wanting to appear in your films - that it almost seems as if everyone wants to be a porn star. Why do you think that is?
While the past ten years haven't been good for the porn industry, at the same time porn has never been so mainstream and socially acceptable.
Making porn no longer has the stigma it once had, and people have become much less ashamed of their sexuality.
I think that being a porn actor is no longer something taboo. To the contrary, in many people's eyes, it's now become an endorsement of your desirability.
Follow Kristen Bjorn on Twitter
Follow Gareth Johnson on Twitter
---
Show your support for G-TV by grabbing a t-shirt.
Available in a range of sizes, colours, and styles.