Little Mix are taking a break - but it's not a break-up
The talented women are taking a time-out.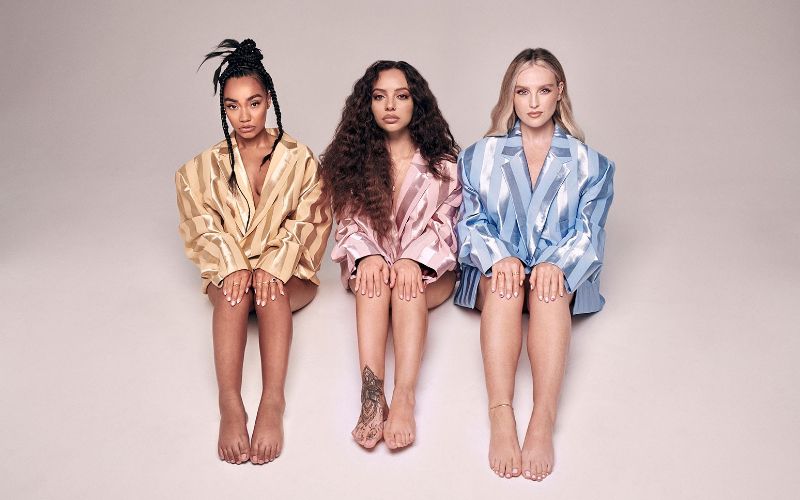 Little Mix still have a 2022 tour on the books, but the group have announced that after that's done then they'll be taking a break.
However, Little Mix have made a point to make it clear that it's not a permanent break-up.
"It's been 10 amazing years, a wonderful non-stop adventure, and we feel the time is right to take a break so we can recharge and work on some other projects…" the group explained in their social media posts. "We can't thank you enough for your love and never-ending support since the beginning. We love you all SO much."
"We've made so many incredible memories with you all, and we can't wait to make so many more…" continued Little Mix. "We're sisters and we'll always have each other and you, the fans, in our lives. Little Mix is forever."
The Megamix
Little Mix have been teasing their Megamix for some time, and it's finally here.
This is a seamless roll-call of some of their greatest tracks – a fantastic showcase of just how much good music Little Mix have brought us over the years.
No
Little Mix after Jesy
Little Mix began life as a four-piece group, but after Jesy Nelson decided to leave in order to focus on her personal well-being, remaining members – Leigh-Anne, Perrie, and Jade – are continuing on as Little Mix.
"I find the constant pressure of being in a girl group and living up to expectations very hard…" explained Jesy, as she confirmed that it was time to start a new chapter in her life.
"We know that Jesy leaving the group is going to be really upsetting news for our fans…" said Leigh-Anne, Perrie, and Jade. "We love her very much and agree that it is so important that she does what is right for her mental health and well-being."
Sweet Melody
Who are Little Mix?
Jade Thirlwall, Jesy Nelson, Leigh-Anne Pinnock, and Perrie Edwards won the UK reality talent show The X Factor in 2011.
From there, they blossomed to become one of the biggest and best girl groups of their era.
Along the way, Little Mix have established themselves as firm queer favourites. Favourites such as DNA, Move and Shout Out to My Ex became staples at gay bars and LGBTQ club nights across the UK.
Almost every girl group has some kind of queer appeal, but Little Mix's bond with their LGBTQ fans feels uncommonly strong.
Little Mix's story has resonated with queer fans
"I think initially what made them appeal to LGBTQ fans was their X Factor narrative…" says Mark from Derry. "They were underdogs who had to fight each week to be taken seriously, which I think is something a lot of us can relate to. Jesy's difficulty with cyber-bullying also resonated with a lot of us. As their career has gone from strength to strength, I'd say their music has definitely helped them gain more and more gay fans. Songs like DNA, Move, Power, they're more than just good pop songs – they're also a little strange, which is something I think LGBTQ fans are more receptive to."
Even if the group and their co-writers didn't intend it, Little Mix songs often have lyrics which feel relatable to the queer ear. Weird People is a total outsider's anthem. Touch's thirsty reference to a guy's "photograph with no T-shirt on" could have been written about gay Instagram.
Their songs have become anthems for LGBTQ fans
And it's not too much of a stretch to interpret Power's gender politics – "Baby, you're the man / But I got the power" – as a celebration of power-bottom sexuality.
But one Little Mix hit has been particularly embraced as a queer anthem.
"I think Secret Love Song was a big moment for the community…" says J from Newcastle. "Queer people were identifying with that song, and Jade kind of went out of her way to let people know that was something she liked. Jade for sure has done a lot to make LGBTQ fans feel welcome and appreciated. That's really spread across to the other girls too. I don't think there are many bands who are so outspoken and proud of their minority group fans in that way."
Jade Thirlwall is such a huge RuPaul's Drag Race fan that Little Mix have covered Sissy That Walk at live shows. They also cast fan faves Courtney Act, Alaska and Willam in their Power video. But crucially, the group haven't embraced the fun and fabulous elements of queer culture without acknowledging the community's struggles.
Thirlwall celebrated her 25th birthday with a drag-themed party featuring input from LGBTQ charity Stonewall. Guests were asked to make donations instead of buying presents, then left with party bags spotlighting gay and trans rights.
"While we celebrated equality, drag and all things LGBTQ on the night, unfortunately it is still not so easy for others…" Thirlwall wrote on Instagram. "Please visit their site to learn more and donate if you can for Christmas. Look forward to working with @stonewalluk more in the New Year."
"They're completely unabashed in their love of their LGBTQ followers…" says Anthony from Manchester. He says he identifies with Little Mix because "they embrace positivity in every guise – in terms of the LGBTQ community, women's rights, body image, sex appeal, everything."
"They're proper advocates who aren't worried about losing a fan…" Anthony continues. "I remember a few years ago, Jade handed their arse to someone on Twitter who dissed a drag queen."
They are the ultimate celebrity LGBTQ allies
In fact, it's no exaggeration to suggest that Little Mix are helping to raise the bar for what pop stars as LGBTQ allies can do.