Looking for a podcast that shares the stories of queer dads? Rainbow Dads is here for you.
Navigating a sometimes complex emotional landscape.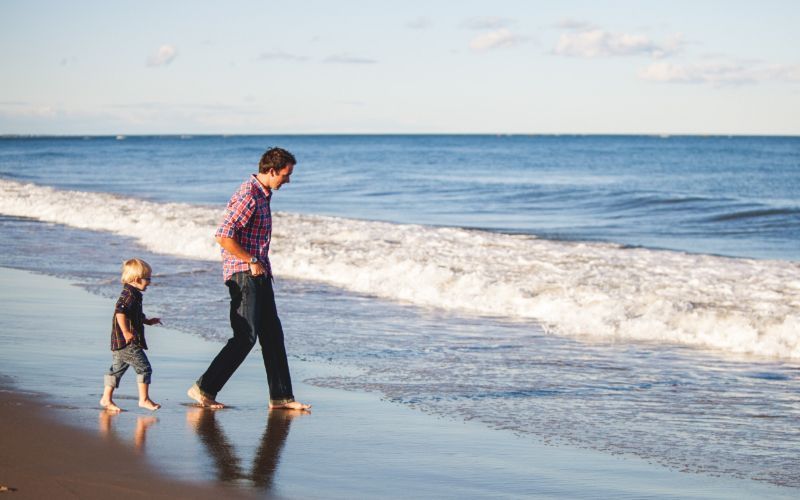 Rainbow Dads is a podcast that brings together a group of queer dads to talk about their experiences of family – it's hosted by Nicholas McInerny.
One of the contributors to the podcast is David Ledain, and we spoke about his perspective of being a gay dad.
The podcast covers similar territory to your book Gay Dad. Were there any surprises for you as the participants shared their stories?
What comes across so eloquently in the Rainbow Dads Podcast is the absolute diversity of the human condition and our individual stories – there are no stereotypes or clichés in being a gay dad.
It was such a privilege to sit with these five guys in the safe space of the recording studio, and talk openly and freely about our experiences. Such a unique and intimate experience as that is simply not possible to convey on the page in the same way as hearing it for the first time.
One listener has likened it to eavesdropping on a private conversation, and the arching structure of a play in which the different characters tell their stories and reveal themselves over the six episodes.
There are some jaw-dropping moments. But the surprise, if that is what it is, would be that we all married for absolutely the right reason – love. It just so happened they were women.
Is it a generational thing? Are we seeing less married men having to navigate that coming out process and explore their sexuality – are younger gay men perhaps not getting married in the way that they might have felt obliged to do in years past?
We think that because there are laws which allow same-sex marriage that it must be easier somehow to be true to oneself these days. But many, many gay men live in communities, and are surrounded by families and peer groups where homosexuals are not visible and where homosexuality is still regarded as a vile perversion, even if that is not explicitly expressed.
I married a woman knowing that I had homosexual feelings, but I did so, not to 'hide', but because I thought I could control those urges. For many young men going into marriage, I assume those same thoughts and feelings prevail. We uphold an idealised vision of love, that it will conquer all – even our sexuality.
I think what has changed in the last few years is the premise that you have to get married in order to hide your sexuality. Not so long ago, homosexual activity was illegal, and any suspicions of it had to be firmly and rigorously batted away.
What's the objective of the podcast? Is it a form of therapy for entertainment, or do you hope to reach men who might be grappling with some of these issues?
Being gay or bisexual is, for a very large number of men, very isolating – especially so if you're married. The purpose of the Rainbow Dads Podcast is to enable the opportunity to listen to other men's stories, quietly, reflectively, and safely –  perhaps on their way to work in the car or on the train.
We cover a wide range of topics – from stories about childhood, first crushes, first gay experiences, meeting and falling in love with our wives, to the years after and the realisation that we couldn't continue in those relationships, and so much more.
None of us are therapists – and I would urge anyone to seek professional help if they feel they need to – but our hope is that we reach some of those men who are struggling with their sexuality and the seemingly impossible situations they find themselves in, to show them that there is a way through.
What do you hope that people feel when listening to the podcast?
I hope they feel they are among friends, that there is a kindred connection between us and them, and that they find some courage through listening to the podcast to talk to someone about their sexuality, perhaps for the very first time.
Listen to the Rainbow Dads podcast
Follow Rainbow Dads on Twitter