Looking for a queer fitness class in London?
Work up a sweat with Spinder - the London spin class putting some fun into fit.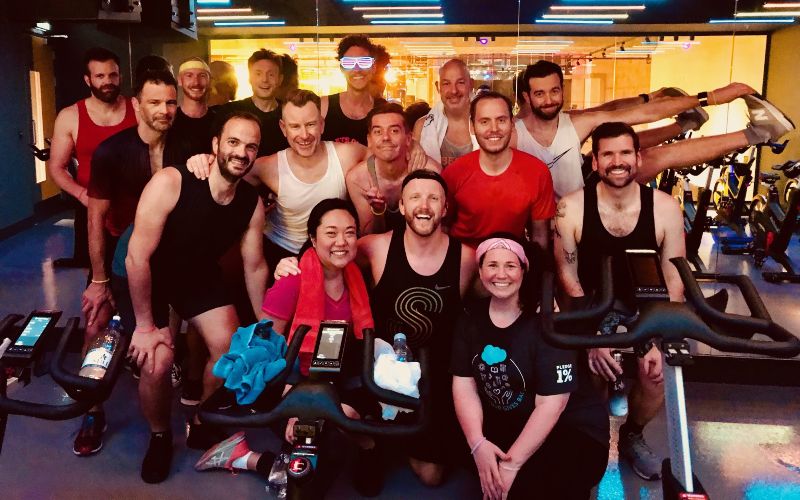 We caught up with Rich Allsop, founder of Spinder, to see whether a queer spin class is what we need to help stay motivated in this new-normal.
What was your initial inspiration for starting a spin group for queer guys?
After several years working in the London fitness industry as a Personal Trainer and Spin Instructor, I recognised that nothing as fun, simple and friendly as Spinder existed for the gay fitness community.
When we launched in Central London in January 2017, we had a clear mission – to make it easier for gay men of London to make new friends offline and get fit in a safe, positive, and healthy environment. All you had to do to take part was know how to pedal a bike.
It was so exciting to see how quickly our mission resonated. Within months, we expanded our timetable and we're now events every day of the week.
You are incorporating post-workout social opportunities with this group – why was that something that you wanted to focus on?
Making new gay friends in London can be a challenge. At Spinder, every class is followed by a friendly social gathering – like half-price tacos, or Friday night drinks. The need for more offline activities and friendships seems to be growing. Spinder helps make that a fun and fitness-boosting experience.
Spinder prides itself on being a welcoming, friendly, uplifting fitness class and social community – as well as the classes we run, we also hold monthly group social events.
How does the dynamic of a queer spin class differ from a regular class?
Spinder is not an average, stereotypical spin class. It's inclusive and attitude-free. We feel very proud of that. It's fun, it's friendly, it's for all fitness levels, and it also happens to be the perfect way for gay men to get fit, have fun, and boost their gay social circle.
We have four new playlists each month. The themes are certainly created with gay men in mind – Cher v Celine, Madonna v Kylie – but you don't have to be a gay man to enjoy them!
If you know how to pedal a bike, if you're up for probably the most fun 45 mins you can have on a spin bike, if you're open to making friends with some fab Spinderellas – the name we call ourselves – you are welcome at Spinder.
Do you have to have a certain level of fitness before joining a Spinder class?
All fitness levels and experience levels are catered for in a Spinder class. It's up to the individual to decide how hard to push themselves, or when to take extra breaks. If you want to take it easy and sing along to your favourite Britney bop, go ahead!
One thing that both regulars and newbies love – and it's firmly established as a Spinder tradition – are our armography dance breaks. About half-way through each spin class, we slow down the peddling to give our legs a break and perform a short and simple dance routine on the bike – to a slice of pop heaven, obviously.
It's all just for fun, but it's such a brilliant feeling when everyone in the class joins in, has a go, and mostly gets it right. Over the years, we've done routines to Madonna, Britney, Little Mix, Girls Aloud, Spice Girls, Britney, and Kylie.
What if I'm not into cycling?
Spinder now has a community of almost 1,200 people. We feel passionate about introducing other areas of fitness to both our Spinderellas and the gay community in general – we believe in making all kinds of fitness both fun and a social opportunity. So far, Spinder has run workshops on Yoga, Padwork, and Aquacamp.
Keep your eyes on Spinder – there's plenty more fun gay fitness events and socials to come.
What do you hope that people feel when taking part in a Spinder session?
Spinder brings you all the feels! We want each Spinderella to feel energised, motivated, excited, entertained, safe, included, more confident, and ultimately like you can be yourself. But don't just take my word for it, come along and try it for yourself.
Dive into the world of Spinder