Lucy Hutson is moving beyond a polarised discourse on gender
Bound is a performance that explores the concept of identity.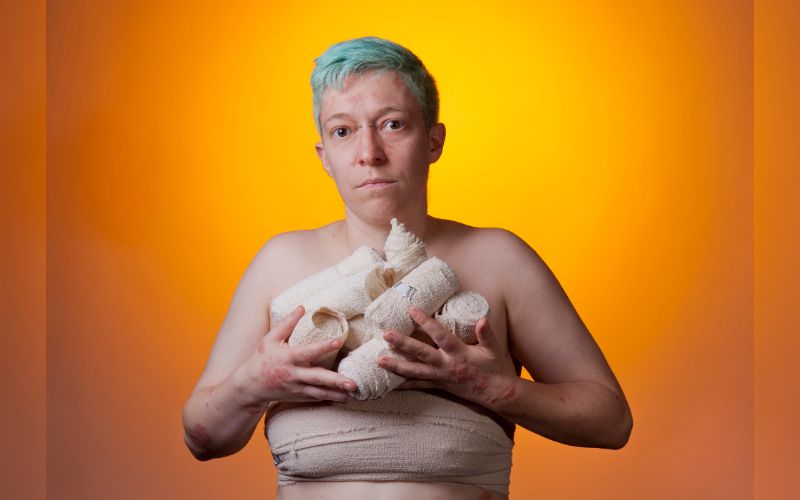 Lucy Hutson presents Bound.
Part-live performance and part-film installation, Bound is an exploration of Lucy's gender identity as it changes and develops.
We caught up with Lucy Hutson for a behind-the-scenes look at this production.
You describe this as a lifelong project, what's been the evolution of Bound?
This is the third incarnation of the show, it was shown originally in 2011.
I was frustrated with making autobiographical shows that had a short shelf-life because I would change my mind on what I wanted to communicate. I had the idea that I would put on camera how I saw my gender identity, so that I had a record to build on. I started off with a 20-minute show with one film in it, I now have a 40-minute show with three films.
This is definitely my most personal show – there are parts that, at the moment, I'm having trouble getting through without crying.
This show combines video installations with live performance – what's the creative process been to pull something like this together into a format that will work as a theatre production
The story of how this show came about is that I applied in a rush to do a residency with a fairly badly thought-out show, because I'd just finished a project and wanted to continue working as an artist.
Part of the deal was to spend the week in a rehearsal space with three showings of my work-in-progress at the end. The showing I made was terrible and I didn't want to have to perform it again, so I wrote an open letter – saying why I hated the showing I'd done the night before and what it was that I really wanted to say. For the next two nights, I read that letter out loud.
The letter became the basis of the first film I made. I think its beginnings set a candid approach to the storytelling within the show.
I love mixing film and live action as a solo performer, I find it a great way to add more layers.
I've always been interested in shows where there is more than one thing that attracts your attention onstage. I like the idea that the performance is slightly different for each audience member.
The three films and the live elements are edited together to complement each other, but there's still a choice about what to focus on – a bit like those books you used to get where you could make a choice and had to go to a different page.
With this work, you're showcasing and reflecting on your navigation of gender and identity. When you look back on that personal journey, what surprises you most about your own evolution and the evolution of the world around you?
It was only around six months ago that I realised how much I'd been holding back from myself. About ten years ago, I took it upon myself to read some books on gender theory. I'd grown up always wondering if the day would come where I would prefer to live as a man.
I remember reading about the transgendered men in the history books, who went undetected until death, just knowing if I had had to live in the strict gender binary of the past, I would definitely have followed in their footsteps. But I'm not – I'm here in the 21st century, and there is a lot I like about being in the category of a woman.
When I read about the concept of non-binary, I felt excited – like I had the answer to puzzle – I only told a couple of friends this.
Between then and now, I've been around people who hold no credit with the idea, so I just tucked it away – I didn't even notice I was doing that.
Let me be clear about this, those people who had a negative effect on me were by far the minority in my life and my contact with those with a more accepting approach to gender being a spectrum far outweighs them.
Even though these comments closed part of me down, they never stopped me accepting and celebrating in other people's gender ambiguity.
I still don't quite understand why someone who makes work about gender, who is often surrounded in a queer bubble was so affected by opinions I never believed in.
Who's your target audience for this piece?
I imagine those people who identify with having some uncertainty with their own gender would enjoy Bound.
What I'm keen to show is that I'm not sure I fully understand all the ideology that exists around gender, that I grapple with it, and that that's okay.
I think this show will be interesting to anyone who is interested in the discourse around gender, and hearing someone else's perspective on it.
What is it about film that it makes it such an attractive medium for you to work with in telling your story?
I'm not sure where my fascination for having films as part of my live shows comes from. In the past, I've filmed all the women in my family about what being a woman means to them, and woven that into a show.
I enjoy being able to bring different scenery onto the stage with ease. I can film wherever I want and have that environment with me just by pressing play. In Bound, I've done a lot of filming outside around nature.
What do you hope that people feel when watching Bound?
I think a lot of discourse around gender can be polarised – I don't want to be defined by what I'm in opposition to. My show is an open explanation of how I exist in the world.
Find out more about Lucy Hutson's work with Bound
All photos by Holly Revell