When is Madrid Pride?
It's a total fetish fest.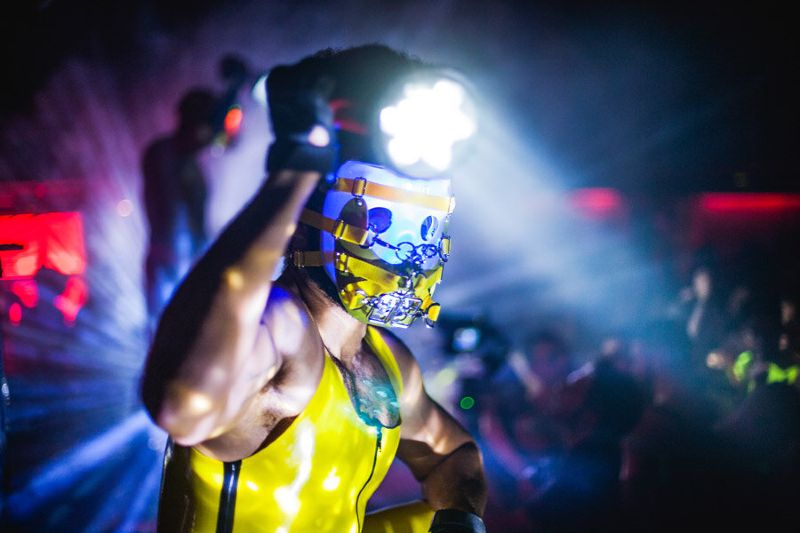 In 2023, Madrid Pride is scheduled to run from 23 June until 2 July.
Most of the action is centred around the Chueca neighbourhood – the queer district in the heart of the city. Throughout the festival there's concerts, parties, and a range of different events to take part in.
When is Madrid's LGBTQ Pride Parade?
In 2023 the main parade is scheduled to be held on Saturday 1 July.
About three million people are expected to take part.
Photos of Madrid Pride
Just to help make the case that this is an event worth attending, here's a quick round-up of some photos of LGBTQ Pride celebrations in Madrid.
Cruising for chicos in Madrid
We caught up with Jesus in Madrid – he's the guy behind the website Cruising Madrid. We hit him up for some advice on how to connect with local guys while visiting the capital of Spain.
How popular is cruising in Madrid?
Very popular!
There are more than 200 cruising areas around the city – parks, public restrooms, bus and metro stations, parking lots – anywhere that's good to have sex.
Plus, the weather in Madrid is good for most of the year – that makes it easier to get out and go cruising.
Where are some of the best places to go cruising and hook-up with guys?
The best places to go cruising are usually in the local parks. Madrid has a lot of parks.
Casa de Campo is the largest parkland area in Madrid, and contains at least five different cruising areas. It's close to the city centre, so easily accessible.
Another popular option is the park El Templo de Debod – this is also close to the city centre. On summer nights, you'll frequently find around 30 guys having sex in this park – in every combination you can imagine.
El Retiro Park is another popular area in Madrid where guys go to hook-up. It's a popular park for tourists to visit, but local guys are here for the sex.
What sort of guys go cruising for sex in Madrid?
All types of guys. In general, during the day you'll find the more mature guys cruising near the city centre or at the metro stations. The younger guys are generally out at night, and it's easier if you have a car to get to the best cruising spots.
Obviously, it's not just Spanish guys that you'll find out cruising. People from all over the world come to live in Spain. At cruising spots, you'll meet guys from Latin America, the Middle East, and Asia.
What sort of risks are involved in cruising for sex in Madrid?
There's not really any risks.
Cruising isn't a crime – as long as you're not doing anything illegal. If the police see you having sex, they could fine you. But generally there's no issues.
Over the years, there have been isolated incidents of violence at cruising spots, but the police work well with the LGBTQ community and the local media to crack down on any hate-crimes.
If someone was visiting Madrid, and wanted to go cruising to meet local guys, what hints or tips would you give them?
Learn some basic words in Spanish – Hola, Adios, Si, No, Activo, Pasivo, Versatil, Beso, and Sexo Seguro are all useful.
When you finish, especially if you're are in a park, collect your rubbish – lube packets, tissues, condoms – and deposit it in a trash can.
Leave anything of value in your hotel – just go with €10 and your phone. Make sure you keep your phone safe – don't try and take photos or videos.
Keep the geo-location function of your phone active, so you always know where you are and don't get lost.
If possible, go with a friend. Especially if it's your first time.
When you hook-up with a guy, make sure that they're at least 18 years old.
If you're cruising and something bad happens – any type of physical or verbal aggression, robbery, or extortion – make sure you report it to the police. You can file a police report at the nearest police station or tourist information service.
What's your ultimate cruising fantasy?
My biggest fantasy would be to organise a super-orgy in a cruising area during the day. Getting together with a big group of men all fucking, sucking. There would be gang-fucks and bukake. Totally hot.