ManCrush: Beau Sargent
Meet the queer aerialist who has our head spinning.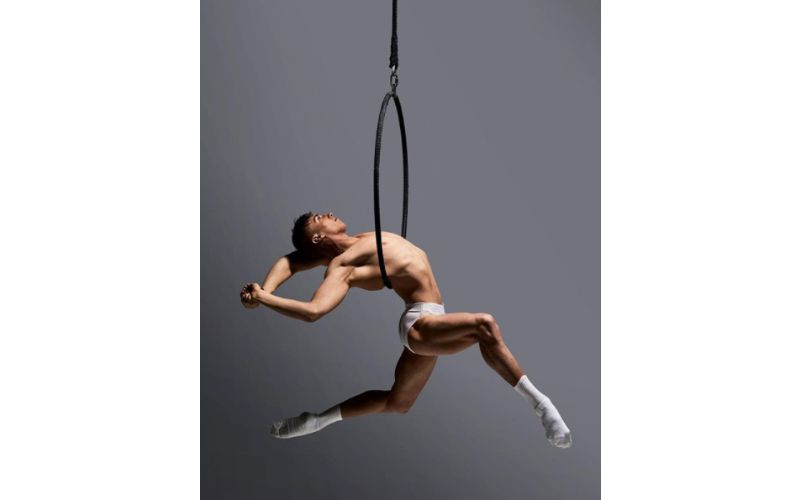 Contortionist and aerialist Beau Sargent is originally from Australia but is now based in London.
We caught up with Beau for a behind-the-scenes look at life in the circus.
What led you to make the move from ballet into acrobatics and circus?
I trained in both equally when I was younger. I moved from Perth to Melbourne to study at the Australian ballet school, but realised through my time there that false eyelashes and carnie folk were more my style.
Before I made the move to Melbourne, I had some aerial training but I wasn't at a professional level. When I was 18 years old, I took a year off and focused on circus. After that year was up, I was offered a contract with a circus company based in the US – I haven't looked back since.
What drew you to specialise in aerial performances?
Aerial has a similar technique to ballet, so it was the easiest apparatus to transition to. Aerial is all the things I love about ballet and acrobatics rolled into one art form.
Is circus a queer sport?
No, it's a very hetero-normative world. I find I get more work in the cabaret world as a queer artist.
Who are some of your circus heroes or inspirations?
I find a lot of my inspiration doesn't necessarily come from other circus artists, it comes more from the cabaret world and pop culture. Joey Arias and Parris Goebel being two examples – both are completely different but equally inspirational to me.
If someone was thinking about trying their hand at circus or considering circus performance as a career, what advice or guidance would you give them?
Follow your passion. Train hard when you're young. Don't compromise your integrity as an artist.
What do you hope that people feel when watching your performances?
Most of all I want people to feel entertained. Even if it's for the briefest moment, I hope the audience will be transported to a place where they can forget all the woes of everyday life.