ManCrush: Dale Michalowsky
Meet the cover model of Slut - new erotic fiction from Adam Norty.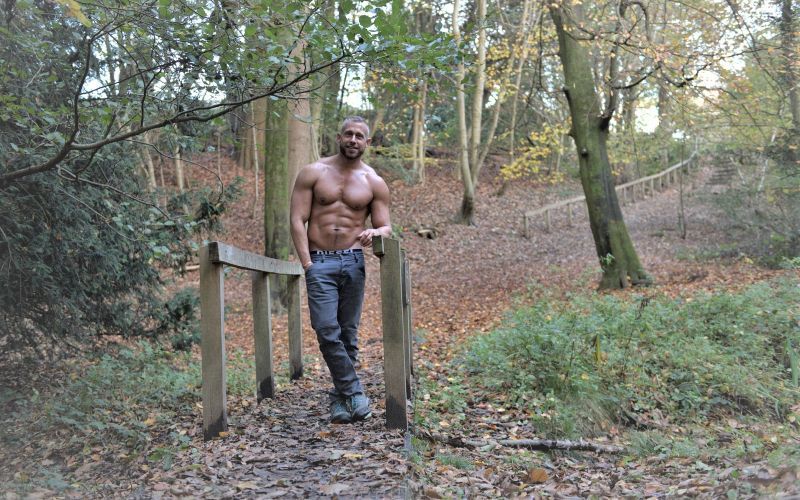 The latest erotic gay fiction release from Adam Norty is Slut. The model featured on the book's cover is Dale Michalowski.
Fox Emerson caught up with Dale to see whether the book's title is a term he identifies with.
How long have you lived in London?
I moved to London from Cape Town, South Africa. I just found myself bored in Cape Town and wanted some change. I'd always wanted to move, but couldn't quite muster up the courage to do so.
I've only been in London since March 2019. I live in East London, but for no particular rhyme or reason. It is just very central and close to my work.
I love how central London is to the rest of Europe. London is a cultural melting pot made up of people from literally every corner of the planet. Whether it's night or day, there is always so much to see and do in this city. It feels like the hub of the world. If you want to experience cultures and foods from all over the world, London is the place to be.
What do you miss most about home?
Biltong. Sunshine. My friends, family and dog.
How are you coping with the Pandemic?
Lockdown has been really tough for me. I went through an extremely nasty breakup just before it started. Being stuck indoors working from home is not an environment I thrive in. I work in IT as a network engineer. I definitely enjoy interacting with people on a face-to-face basis more than being isolated in my flat.
Things have improved for me now. I used lockdown to study and write some exams. I tried to make the most out of the time and be as productive as I could be.
I also bought some gym equipment for the flat which definitely helped me deal with the whole lockdown situation better.
Can we talk fitness?
I've been training since I was about 20 years old. I used to be really skinny. Some of the older guys at the gym would take the piss out of me occasionally which really affected me.
So, one day, I decided to change it all and become bigger and stronger than them.
Ironically it was their mockery of how small I was that drove me to where I am today. In many ways, I thank them for taking the piss out of me all those years ago.
It's all about diet and consistency. If you can master those two principles, you literally can't fail at achieving your gym goals.
I eat a lot of fish, chicken, vegetables, and brown rice. At least once or twice a month I'll have a cheat day, where I will literally eat whatever I want like a savage for the entire day!
I used to train seven days. Since moving to London, things have changed a bit, but I still manage to get six days in each week.
A typical day in the gym for me is a muscle group of my choice followed by at least one hour of cardio. I usually spend about two hours in the gym each day.
For me, it's not always about going heavy, but rather perfect form. The weights I use are probably a lot lighter than you'd think.
I usually train harder just before summer. It sounds vain, but in the gay world your body is everything.
The results keep me motivated. I'm never content with my body – I always see room for improvement. It can be quite a bad outlook to have, but it works for me.
What's your relationship like with social media?
Instagram provides instant gratification. When I post something thirsty, the comments and likes definitely improve my mood for the day. On the flip side, if a post doesn't generate substantial likes and comments, it can be a little deflating.
I think you need to find balance and come to terms with the fact that, in the grand scheme of things, none of it is real. I honestly don't know who 95 percent of my followers actually are.
Instagram is definitely playing a role in diminishing the ability of people to interact in real life. Friendships forged in the virtual world are but skin deep.
Instagram played a massive role in the demise of my previous relationship. Unfortunately, my ex was not faithful – he had a massive gay following on Instagram and used it as a platform to meet guys behind my back. It got to a point where watching him use his Instagram would feel like my heart was being shattered.
I also have a sizeable gay following on my Instagram which, admittedly, has thirsty pictures on it. However, I never want a boyfriend of mine to feel threatened by that in any way, shape or form. I made a promise to myself that when I find a new boyfriend, my Instagram will be deleted.
There's a couple of characters in Slut that are noteworthy. Gordon is one of the main characters – he's wholesome and gentle, loving and smart, entrepreneurial and loyal, and he's really into Hayden, who's the Slut. You're physically like Gordon. Do you think you could relate to him as a character?
I am definitely like Gordon. I am all about true love and monogamy. I have quite a strong outlook and opinions on certain aspects of the London gay scene.
I can also relate to Gordon in that I somehow manage to fall for the slutty type of guys. Gordon's dilemma of loving Hayden has an uncanny resemblance to that of my previous relationship.
At the end of the day you can never change people. If I could tell Gordon one thing, I'd say break it off and run for the fucking hills.
Follow Dale Michalowski on Instagram
"Oh my God!" the guy said even louder, and Hayden felt it tense that little bit more, and the man slowed – it was rhythmic, well timed and ready to erupt.
Hayden squeezed his arse tighter and the man exploded inside him. He groaned loudly; such a masculine and throaty, deep pleasured sound that filled the laneway. A voice that may have perhaps commanded troops in battle. Hayden suspected that normally when the man spoke, people snapped to attention.
His arse shuddered at the pleasure of the juices which had filled him.
Then the man slid out and as Hayden shuffled forward – a difficult action to do with his pants around his ankles, he saw the man whip his own trousers up. Even as he started to walk away, he zipped up and tucked his shirt back into his trousers.
Hayden felt the cum drip out of his arse, but he just couldn't tighten his muscles to hold it in.
He was still hungry.
Get your hands on Slut by Adam Norty
Comments