Mark Bingham - the gay man who was one of the heroes of 9/11
His legacy continues to be celebrated by gay rugby teams around the world.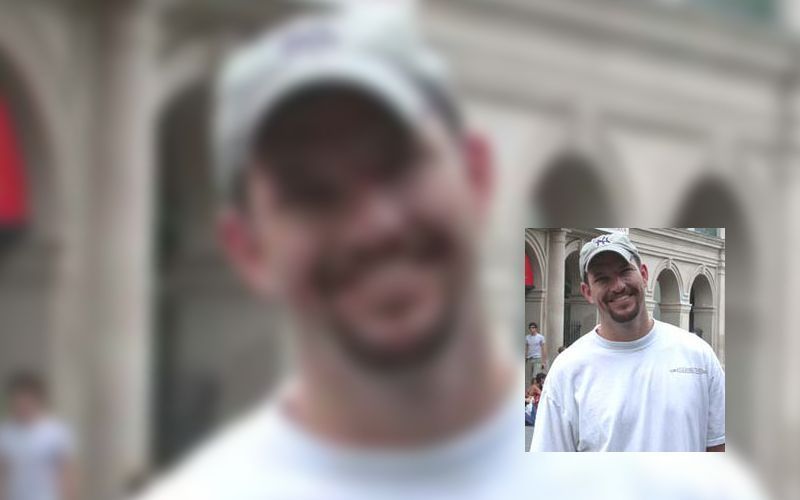 As we mark the anniversary of 9/11, let's take a look at the life and legacy of Mark Bingham.
September 11 of 2001 was a dark day for the world. The attacks against the US on that date killed 2,996 people, and injured over 6,000. The events of that day significantly influenced what happened next in geo-politics, and the attacks remain a deep scar on the American psyche.
One of the people killed on that day was Mark Bingham.
Mark Bingham was one of the 44 people that was killed when United Airlines Flight 93 crashed on 11 September 2001.
United Airlines Flight 93
United Airlines Flight 93 was a domestic scheduled passenger flight that was hijacked by four al-Qaeda terrorists on board, as part of the September 11 attacks.
The flight was United Airlines' daily scheduled morning flight from Newark International Airport in New Jersey to San Francisco International Airport in California.
The hijackers stormed the aircraft's cockpit 46 minutes after takeoff. The pilot and first officer took measures, such as de-activating the autopilot, to hinder the hijackers. Ziad Jarrah, who had trained as a pilot, took control of the aircraft and diverted it back toward the east coast, in the direction of Washington, D.C. Subsequent investigations confirmed that the intended target was the Capitol Building.
After the hijackers took control of the plane, several passengers and flight attendants learned from phone calls that suicide attacks had already been made by hijacked airliners on the World Trade Center in New York City and the Pentagon in Arlington County, Virginia. Passengers on the flight attempted to regain control of the aircraft from the hijackers. During the struggle, the plane crashed into a field to the northwest of Washington, D.C.
Along with Todd Beamer, Tom Burnett, and Jeremy Glick, Mark Bingham led the effort that resulted in the crash of the plane, ensuring that United Airlines Flight 93 was the only aircraft taken that day that did not reach its hijackers' intended target.
The life of Mark Bingham
Mark Bingham was born in Florida on 22 May 1970. He grew up in California, where he was captain of his school's rugby team.
As an undergraduate at the University of California, Berkeley, Bingham played on national-championship-winning rugby teams in the early 1990s. He also joined the Chi Psi fraternity, eventually becoming its president. Upon graduation at the age of twenty-one, Bingham came out as gay to his family and friends.
With his college rugby days behind him, in October 2000, Bingham helped to establish the San Francisco Fog  -  a gay rugby team.
With his public relations firm opening a satellite office in New York City, Bingham also played a key role in establishing the Gotham Knights  –  a gay rugby team for New York.
Mark Bingham was 31 at the time of his death.
The legacy of Mark Bingham
In 2002, the San Francisco Fog established The Bingham Cup to honour the memory of Mark Bingham.
The Bingham Cup is now a biennial tournament that brings together gay rugby teams from around the world.
Planning ahead for the next Bingham Cup
The Bingham Cup was held in 2022 in Ottawa.
The bidding process to host the 2024 event is currently underway. The shortlisted host clubs are the Brisbane Hustlers in Australia, and the Liberia Rugby Club from Rome, Italy.
The voting to determine the host club for the 2024 event will be completed in November 2022.
What's the history of the Bingham Cup?
Bingham Cup tournaments have so far been held in:
2002 San Francisco, USA
2004 London, UK
2006 New York, USA
2008 Dublin, Ireland
2010 Minneapolis, USA
2012 Manchester, UK
2014 Sydney, Australia
2016 Nashville, USA
2018 Amsterdam, The Netherlands
2020 - event cancelled
2022 - Ottawa, Canada
What sort of gay guys play rugby?
"The wonderful thing is there's a role for everybody…" explains Marc Paul Stufkens – Chairman of the Amsterdam Lowlanders. "Each position has its own requirements – whatever your body type, personality or background, rugby has something for everyone. I think gay guys are attracted to the physical and mental challenge of the sport, and the camaraderie that comes from doing battle with your squad –  each week, and in any weather."
"Not every gay guy feels inclined to even consider team sports growing up…" adds Stufkens. "It's often a lack of self-confidence that scares them away from trying to be athletic in front of others. Joining a gay sports club as an adult can be an easy step towards playing the team sport you always wanted to try. Gay rugby clubs provide an opportunity to join even the roughest of team sports. Of course, we can join regular rugby clubs, and these clubs certainly welcome all who want to invest in the sport. But gay rugby clubs really let us find our own tribe."
"No doubt, some guys have a cheap porn script in their head when they join, but they find out soon enough that rugby is an actual sport – and an incredibly demanding one physically and mentally…" continues Stufkens. "Gay rugby is serious business – guys who aren't really committed tend to drop out very quickly."
Penis size versus international rugby rankings
For the most recent Rugby World Cup, we ranked the qualified teams based on national average penis size (when erect) to see whether that was going to be any guide to their performance in the tournament. We took our penis measurements from published reports – favouring independent measurements by health professionals over self-reported measurements.
It's fair to say that the results suggest that penis size isn't a great predictor of performance. Number one on our predictions was Georgia, and number two was Italy – neither of those teams made it to the Quarter Finals. However, our third-ranked team was South Africa, and they went on to win the whole thing, so we're not writing off our extensive research just yet.
We've listed the teams by national average penis size so you can see how that correlates to their standing in the world of rugby.
1.Georgia: 16 cm. / 6.299 in.
Current world rugby ranking: 14
2. Italy: 15.74 cm. / 6.197 in.
Current world rugby ranking: 12
3. South Africa: 15.29 cm. / 6.020 in.
Current world rugby ranking: 1
4. Namibia: 15.29 cm. / 6.020 in.
Current world rugby ranking: 23
5. Uruguay: 15.14 cm. / 5.961 in.
Current world rugby ranking: 18
6. Argentina: 14.88 cm. / 5.858 in.
Current world rugby ranking: 10
7. Scotland: 14.3 cm. / 5.63 in.
Current world rugby ranking: 9
8. New Zealand: 13.99 cm. / 5.508 in.
Current world rugby ranking: 2
9. Fiji: 13.99 cm. / 5.508 in.
Current world rugby ranking: 11
10. Wales: 13.97 cm. / 5.5 in.
Current world rugby ranking: 4
11. England: 13.97 cm. / 5.5 in.
Current world rugby ranking: 3
12. Canada: 13.92 cm/ 5.480 in.
Current world rugby ranking: 22
13. France: 13.53 cm. / 5.327 in.
Current world rugby ranking: 7
14. Australia: 13.31 cm. / 5.240 in.
Current world rugby ranking: 6
15. Russia: 13.21 cm. / 5.201 in.
Current world rugby ranking: 20
16. Samoa: 12.90 cm. / 5.079 in.
Current world rugby ranking: 15
17. Tonga: 12.90 cm. / 5.79 in.
Current world rugby ranking: 13
18. United States: 12.90 cm. / 5.079 in.
Current world rugby ranking: 17
19. Ireland: 12.78 cm. / 5.031 in.
Current world rugby ranking: 5
20. Japan: 10.92 cm. / 4.299 in.
Current world rugby ranking: 8