Meet the Bad Aunts with something to say
Subverting the chat-show format and challenging misconceptions about women.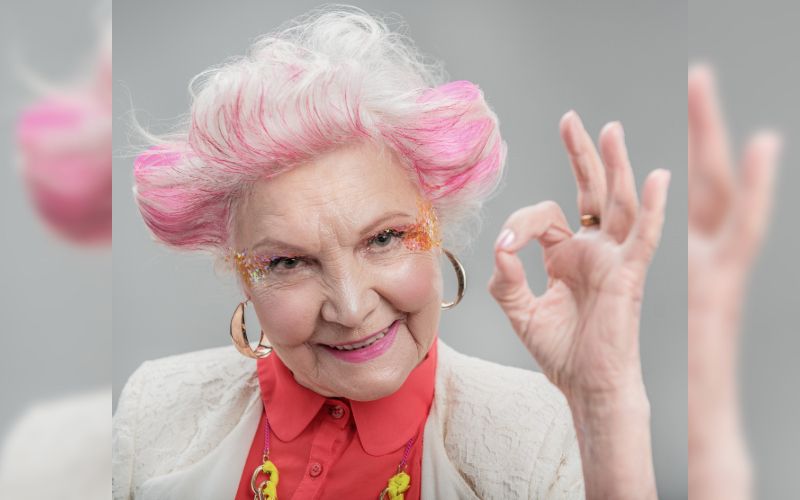 Chat show hosts Maz, Jo and Dee are three women on the wrong side of forty – or so they're told. Friends and neighbours from all walks of life join to offload their agonies on the sofa of the Bad Aunts.
This is a theatre experience about the power of inter-generational collaboration, smashing prejudice through sharing ideas and information. During their shows, the Aunts also play host to surprise guests, and stand-up comedians.
I caught up with the Bad Aunts for a behind-the-scenes look at their show.
What was the inspiration for Bad Aunts?
We were inspired by sitcoms and chat shows we grew up watching – but we wanted to make something with a twist. The majority of chat show hosts are male, so we thought we'd change this up a bit!
We were also inspired by the older people in our lives. We both grew up having close relationships with lots of older people and have seen how they gradually feel sidelined by society, particularly the women. This is one reason why we are so excited to make a show like this, making space for something in reaction to the youth-obsessed culture we live in.The show celebrates the importance of community and combats ageism through comedy. We have an inter-generational cast and crew and are trying a new way of working with scripted comedy, devised work in rehearsals, improvisation and audience participation!
The chat-show format is a great way to explore themes and ideas. Are you drawing on any specific chat shows for inspiration or characterisation?
We were definitely inspired by sitcoms and chat shows we grew up watching, like The Graham Norton Show. But we wanted to make something with a twist to be a bit more of a comment on the genre, like The Mrs Merton Show. The majority of Saturday night chat show hosts are male, so we thought we'd change this up a bit!
The format gives us lots of scope to explore the main theme of the show, which is how important it is to chat to the people around you. Laughter, now more than ever, is an important force to bring people together – not in spite of their differences, but because of them. Bad Aunts celebrates community through comedy.
Who is your target audience for this show?
Our target audience is quite wide, because the show is such a mash-up of genres. Incorporating improvisation as well as scripted comedy, we hope the show will attract audiences who enjoy TV chat shows, live comedy audiences and traditional theatre-goers. We were so thrilled by the diversity of our Brighton audiences, not only in terms of age, and we hope this will continue at the Fringe.
Bad Aunts will have special guest every night who is a random member of the audience; and different stand-up comedians will make guest appearances. The surprise element of the show is part of our intergenerational, community ethos, as it embraces all the things that can go wrong on stage and in life.
We wanted to look at the idea of Agony Aunts from another angle – rather than solving problems, they're having them! The fact that the Aunts are older is also a reflection on age and wisdom, exploring that it's okay to still be finding out who you are when you're sixty-something, seventy-something, eighty-something! The message about integenerational collaboration is for everyone and anyone to understand, because everyone has a responsibility to tackle prejudice.
Who are some women who are 'on the wrong side of forty' but who you admire for challenging perceptions and prejudices about older women?
There are so, so many! Scores in the entertainment industry, like Judi Dench, Olivia Colman, Oprah Winfrey. But then lots in politics, too – Nicola Sturgeon isn't even 50! Barbara Peters – who is the oldest ballerina in the UK, and also American scientist Valerie Thomas. There are so many! Not to mention mums, teachers, managers, policewomen – the list goes on.
The shows will also be available as podcasts?
We have been recording podcasts with community groups of women which are available on Soundcloud, and we've got one with the Aunts to come, which will have some tasters of the show. The Badness has just begun.
What do you hope that people feel when watching Bad Aunts?
Bad Aunts is the perfect mixture of going out and staying in. We hope people will laugh, cry and cry with laughter, and leave feeling happy and optimistic. Maybe with a couple of new friends.