Meet the man who keeps the masc men of XXL moving to the music.
Paul Morrell: "I just want people to be entertained".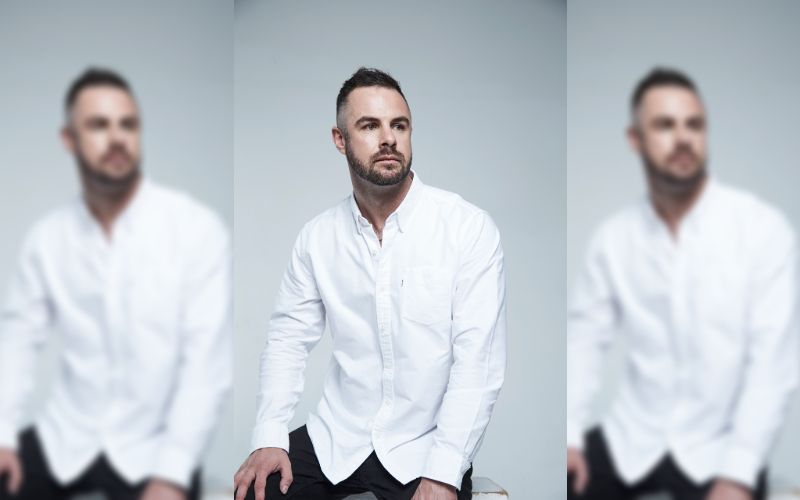 Paul Morrell began his career in music in Coventry in the mid-90s, and has gone on to become one of the UK's leading DJs.
I caught up with Paul Morrell to talk about Pride and the importance of keeping people entertained.
Are you playing a lot of Pride festivals over the summer?
I've just played on the main stage at Birmingham Pride – alongside Faithless, and Human League – and am also involved with Bear Pride and London Pride, so I have a fair few things confirmed so far.
Pride is always one of the highlights of the clubbing calendar, and Birmingham Pride in particular has become important to me as it was the first major Pride event that I played at. I've now played on the main stage at Birmingham's event for the last six years, which has been a huge platform for me on the Midlands gay scene.
Pride itself is just a fantastic way of raising awareness of LGBTQ people in society, and also celebrating everything about the scene in a massively-inclusive, fun, festival environment.
When you were starting out in Coventry, what gave you the confidence that you knew what you were doing, and that music was the passion that you wanted to pursue?
I'd always been hugely interested in music, and when all of my friends at school were playing football, I was busy buying music and hunting down rare vinyls in the local charity and record shops. I had my first set of decks for my 15th birthday, and learnt to beat-match and mix quite quickly.
From then on, I knew that I wanted to be a DJ, and began approaching local bars and clubs. I was very young and naive at the time, but DJing is something more and more young people aspire to do as a career now. It's fantastic to see such a huge amount of young talent coming into the scene, and it's made it more diverse and varied.
I've worked in the industry now for just over 20 years – long before being a DJ was 'cool' – and had to work my way up. The thing that gave me the confidence to do this was the respect and mentoring of the older DJs on the scene that were really encouraging and supportive.
Over the years that you've been in the industry, what have been some of the key changes in queer nightlife?
Over the last few years, there's been a huge shift towards the more feminine and flamboyant side of the scene, and young guys seem to be obsessed with RuPaul's Drag Race and all things camp. The clubs that I and my friends were into – such as Trade and Wild Fruit – which catered for the more masculine side of the gay scene, have long since gone, and have been replaced by the more camp disco venues, which is not where I fit in at all.
I'm absolutely honoured to be the resident DJ for XXL, which holds events across the UK, and which is one of the only clubs catering for the Bear/Masculine scene guys left in Britain. XXL has really cornered the market for the masc side of the gay scene, and its men only policy is what attracts huge numbers of guys to the London venue weekly.
If someone was interested in exploring a career as a DJ, what advice or guidance would you give them?
Work hard, know your music, and try and be unique. It is so easy to think – "I want to be the next Mark Knight or David Guetta" – but, in reality, if you're just copying someone else, you'll never be truly authentic or groundbreaking.
I incorporate various styles and genres within my DJ sets, which I think is something people are often afraid to do, as it's seen as 'commercial' or not the norm. At the end of the day, you're a DJ and your job is to make people dance. If you play two hours of music people don't recognise, you wont be doing a great job!
Also, don't be afraid to ask people for help – there are a lot of extremely experienced DJs on the scene that are lovely and would be willing to help you with advice. I worked extremely closely with a DJ/producer called Rob Searle when I first started in Coventry, and he gave me loads of invaluable advice and words of wisdom.
What are some of your goals and aspirations for the months ahead?
I have some great tracks and productions coming up. My next big release is a track called Damage – featuring the vocals of Maria Nayler – who you may remember from Robert Miles' international hit One & One.
I was also extremely honoured to gain the approval of legendary DJ Kevin Saunderson for my remix of Inner City's Pennies From Heaven. The track is landmark within the House Music genre, and will be released shortly through Kevin's official Inner City label.
As well as this, I have my regular gigs at Ministry of Sound, and both my London and Birmingham residencies for XXL, plus several guest spots confirmed too.
What do you hope that people feel when they're listening to the music that you're playing?
I really don't pigeonhole myself into one specific genre, my sets are always eclectic and highly charged. That said, I always incorporate a mixture of brand new underground tracks as well as classics, obscure mixes and my own productions. It always seems to work well with the crowds and keeps sets interesting. So, I guess I just want people to be entertained when they come to one of my gigs!
Follow Paul Morrell on Twitter
Main Image: Photo by Joseph Sinclair