Meet the queer music artists who are bringing the beat
Music Out Loud showcases the latest releases from LGBTQ musicians.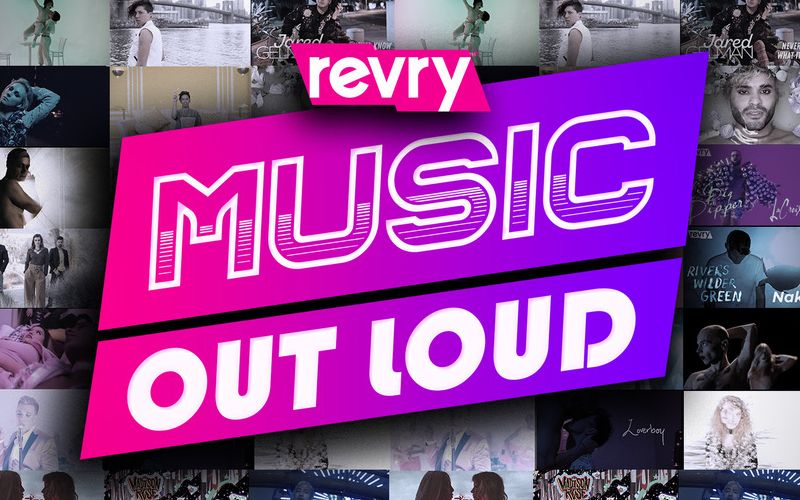 If you're wanting to keep up-to-date with the latest music from queer artists, check out Music Out Loud on LGBTQ streaming network, Revry.
I caught up with some of the artists featured for a behind-the-scenes look at their music.
Pursuing the passion
"Music has been a part of me ever since I can remember…" says Ryan Amador, when we talk about what kick-started the ambition to be a musician. "I was nine years old when I wrote my first song. I was heavily influenced by MTV – watching TRL and also Making The Video every chance I got. In middle school, I started writing at the piano, playing the same chords over and over again so I could belt out my feelings when I got home from school. By the time I graduated from high school, I'd written hundreds of songs and finally started working on my first EP. I became addicted to the process of creating new songs and albums with producers."
"For me, it was watching it be done by other artists…" says Aina Brei'Yon. "Artists that I look up to, and that helped me to have faith in myself."
"It's not an exaggeration to say that pop music literally saved my life…" says Chris Jacobx. "Living in chronic fear as a closeted young boy, I fell in love with the colourful universes of late-nineties pop stars like Britney Spears and the Spice Girls. They saved me from the daily despair of feeling scared to be my true self. I've always seen pop stars as super-heroes on a stage, and their ability to be confident and daring in their sexuality and artistry was so inspiring for me. It reminds me now that we still exist at a time where young people all over the world are afraid to be who they are, so much so that suicide rates for young adults and teens in the US are the highest ever on record. We're living at a time where young people all over the world fear that they will never be loved. If I can help even just one person with my music, it will have all been worth it."
"It was never about 'making it' for me…" explains INA of KingQueen. "Music was an outlet, therapy and a safe space growing up. It was my ticket to escape the reality of being bullied and the abuse that took place at home. Later on, I started performing and it just became part of me, who I was and what I do. Fast-forward, and I'm living in Los Angeles, playing in a band, performed the AMA's and was considered for a Grammy nomination. I guess the passion is the feeling of release that it gives me and I'm lucky I'm able to pursue it. It's truly my everything to me and it saved my life."
"I was initially drawn to music out a pure joy and love for the sounds that I was exposed to as a child…" says Davy Boi. "I became passionate about pursuing music when I realised that I was good at making music and that I had a voice."
"I grew up learning the piano since the age of four, training to be a concert musician…" says Mark Tennyson. "At the age of nine, I started singing professionally and travel.ing around the world with The Philadelphia Boy Choir. By 18, the pressure to succeed as a musician was too much and I turned away from that path. It wasn't until I turned 30 that I realised my passion for music was directly tied to my life's purpose. This form of expression is where I feel the most at home. This is where I feel the most connected to myself and where I have the most opportunity to share my message and story. That age is often a turning point for many. For me, music returned to the forefront of my life – on my own terms – and led to a lot of personal growth and healing. I'm taking that momentum in music and carrying it into all aspects of my life."
"I've always loved music as a kid…" says Jesse Montana. "My dad would spend the weekends with us, playing old Beatles songs on his guitar, and we would karaoke for fun at home. As I got older, and that guitar was passed down to me, I started songwriting through my feelings. No matter what, I will always have music as my therapy."
Heroes and Inspirations
"There are so many!" exclaims INA of KingQueen, when we talk heroes and inspirations. "But, of course, Joan Jett for being the first bad-ass female rock-star to go against all odds. I love Madonna for the fight she put up when no one else did. For musicality and arrangement I think Guns N' Roses is everything music should be. Obviously, we also have Freddy Mercury with the most powerful vocals and lyrics."
"P!nk has been my hero from a very early age…" says Ryan Amador. "I saw her open for NSYNC when I was 10, and I remember I started crying because I knew I wanted to do what she was doing – with that same power and brass emotion. When her second album came out, which was all about its personal songwriting, she became my early example of the kind of pop artist I wanted to become. These days, I'm super-impressed by Alessia Cara and how she's managed to create authentic journal-entry-esque pop music for radio. I love her stuff. Kendrick Lamar and James Blake are also big musical heroes to me."
"My heroes are TuPac, J. Cole, Kendrick Lamar, Da Brat, Lil Kim, Nas, and Jay-Z…" says Aina Brei'Yon.
"I love Lady Gaga…" says Chris Jacobx. "She's an artist who stands for something, and consistently uses her voice and her music to make that known. I believe that pop music is the perfect platform for gay politics. We can use our music to heal and to transform hearts and minds and build advocacy for the causes near and dear to our hearts. I also love Miley Cyrus, because she's fearless in her artistic spirit and sexual expression. Both Lady Gaga and Miley Cyrus are amazing philanthropists and use their massive platforms to help people and give back to the LGBTQ community, which is so essential. My favourite gay male artist at the moment is Todrick Hall. I think he knows who he is and isn't afraid to let his light shine. We need more queer artists of colour who are willing to accept that mantle and wave the flag in the fullness of their power and authenticity."
"Early on, I was inspired by as wide a range as Aretha Franklin, Yolanda Adams, and Backstreet Boys…" says Davy Boi. "My first music purchases were from Missy Elliot, and Britney Spears. When I was starting high school, musical theatre composers Rodgers and Hammerstein also influenced me, as well as Mika."
"I wouldn't say that I have a hero in music…" says Mark Tennyson. "I'm inspired daily by a lot of individuals, whether that's a song that comes across my Spotify playlist or a friend I see live who kills it! The most inspiring performance I saw recently was Oscar and The Wolf's live set at Tomorrowland this past summer. The scale of the performance and his connection to what he was saying made me feel every damn feeling. Other big references for me are Rüfüs du Sol, Bob Moses, and SG Lewis. In my immediate sphere, indie artists Gess and Annabelle Maginnis are friends and big inspirations."
"I love a lot of classic stuff…" says Jesse Montana. "I grew up listening to Pink Floyd, Queen, The Beatles, and Elton John. But it was pop from the 90s and 2000s that has had a huge influence on my music today – the careers and music of NSYNC, Britney Spears, and Lady Gaga definitely inspired me today."
Audience
"I think my music tends to be for the over-emotional and slightly-theatrical…" says Ryan Amador. "I have a strong LGBTQ fan base, but also a super-strong fan-base in the dance community."
"I write according to what I'm feeling at the moment, so I honestly don't target a particular audience…" says Aina Brei'Yon. "My music connects more with real people that feel."
"My music is for anyone and everyone…" says Chris Jacobx. "I want people to watch my music videos and see my shows and walk away with the feeling that they too can follow their dreams. I'm just a boy with a big heart and a dream to spread love on this planet. I am un-apologetically pop, and though my music might not be for everyone, my message of love is universal."
"I can sit here and say it's for this or that person, but really my music is for everyone…" says INA of KingQueen. "Each song has a message and each song has a solution to it's problem, and that's always been important to me. I sing the truth, and about the past, but it always ends on a 'it will get better' note. We all go through things and we all need that one song that helps us through it – no matter what it is that's going on in your life."
"I've started off close to home in my community, being a queer artist making R&B music and pop…" says Davy Boi. "My community has recognised me first and showed amazing early support of my releases. Currently, a lot of female fans of vocal pop and r&b are discovering me – I love that because the audience is growing, and I think my songs connect with a wide variety of folks."
"My target audience is anyone who is curious about their own personal growth…" says Mark Tennyson. "All of my music is about becoming friends with your emotional self and connecting with our shared emotional experience. It isn't about numbing out but tuning in and turning on. Because I'm a queer person who's also an artist, I think an obvious target audience is the LGBTQ community. In terms of promotion, playlisting opportunities and general support, the queer community is definitely my greatest resource. That being said, I have encountered people of all ages and walks of life that vocally identify with my music."
"Music is a universal love language…" says Jesse Montana. "My lyrics can resonate with anyone no matter your gender, sexuality, or the colour of your skin. I write my songs to share my stories with whoever wants to listen, but I definitely want to make a huge impact in our LGBTQ community. Growing up, there wasn't many out musicians I could aspire to be, and to be that for a young queer fan looking for validation, acceptance and strength to be who they are, that's something I want to be."
The challenges for LGBTQ artists
"I've never seen my sexuality as a challenge in the industry…" says Ryan Amador. "Right from the start, it was something that helped me stand out. Nowadays, it seems like every popular artist is queer in some way, and I think that's so awesome. I actually think my biggest challenge so far has been the one I have with myself – trying to decide if I need to make political work or just plainly personal work. The latter tends to resonate more, but there's a voice in my head that says 'you have to be an activist – make sure every song is political.'
"My sexuality is always put in front of my gift…" says Aina Brei'Yon. "I'm an artist and I've always been. Even before I discovered my sexuality. It's hard for your gifts to be seen, if my sexuality is placed right in front of everything I do."
"I think LGBTQ artists are seen as novelty acts sometimes, and the music mainstream wants to put us in our box…" says Chris Jacobx. "I've felt the sting of not being taken seriously before by the industry because, after all, the template for 'a gay, fabulous Filipino pop star who dresses in fur jackets and bodysuits and loves Jesus' isn't a thing most people understand how to market and sell. I love every proud LGBTQ artist on the Top 40 right now because they're pioneers of the queer music movement. That being said, the glass ceiling doesn't stop with Sam Smith, Troye Sivan, Frank Ocean and others. We need to proliferate the market with an army of LGBTQ acts that can authentically represent our culture and our stories of love to the world."
"When I was younger, I was writing an album with a bunch of producers…" remembers INA of KingQueen. "I was given a song called Summer Love which wasn't written by me but the label wanted me to record it. In the song, I'm singing about a boyfriend and I didn't really want to record the song because it didn't represent me or my situation at all. But I felt like I should be grateful for having the chance of recording and having a record deal. It was a very weird time in my life because none of what I was doing was me, and I was young and unsure of which fights were worth battling for. You can easily feel pressured –  especially being surrounded by older A&R reps, producers and songwriters who have been doing it for years and you're new in the whole industry situation. That was one of many reasons that I ended up breaking my contract and going independent. I just felt like I've survived so many things in life, it didn't make sense to perform something that wasn't my truth or had zero meaning to it. I wanted to make a difference in this world."
"I think it used to be a question of which pronouns you'd use in your songs, back when I first began to think about recording, but it's all changed super-rapidly…" says Davy Boi. "Frank Ocean, Sam Smith, Troye Sivan, Hayley Kiyoko, Lil Nas X, and others have moved the ball forward a long way in a short period of time. Now the question is finding an audience that's going to support you on the road. Are queer music fans more drawn to straight female artists, and if so where do you focus as a male queer artist? Also, why aren't major labels or major indies throwing support behind a wave of queer artist signings? There's work to be done and a lot territory to carve out and infrastructure to build."
"For me, the challenges have been mostly internal…" says Mark Tennyson. "I've gone back and forth about how I 'present' as an artist – am I a queer artist or am I an artist who happens to be queer? On a macro level, there's the fear of being pigeon-holed into the queer category and then having to find a bridge into the mainstream music scene. On a micro-level – within the queer community – I've struggled with frustrations over how to represent myself, even within our community. I've often felt like I'm not queer enough to register with some of the big LGBTQ outlets. For example, if I'm not expressing my sexuality, talking about sex life, using my body to share my physical preferences, then it's not clickable or shareable. But also, because I'm a queer person, I think my music is inherently queer even if my message isn't directed specifically to our community."
"When I first started writing music and singing covers on YouTube, I definitely struggled with pronouns and what I thought people wanted me to use for pronouns…" explains Jesse Montana. "When I was in the closet, I would change 'he' to 'she' because I was still struggling with my own sexuality. As society has changed over the years, and the acceptance and tolerance of our community has grown, the music industry has as well. It feels good to know that we're in a better place today to be able to create art and music and be un-apologetically who we are with no shame anymore."
The message in the music
"I hope that people can relate to the certain ache that comes with being human…" says Ryan Amador, talking about he hopes that people feel when listening to his music. "I hope my voice brings that out in every song."
"I hope that people feel alive, and not alone in their struggles and thoughts…" says Aina Brei'Yon.
"I released a song recently and one of my friends texted me the night it came out and told me he liked it so much he was going to have sex to it – that made me laugh and feel good…" says Chris Jacobx. "I just want people to feel my emotions when I sing and perform, whether it's the elation of being in love or the emotional nakedness of baring your heart and soul to someone. For me, pop music can be extremely vulnerable. Even though most of pop radio is feel-good, I've always had a visceral response to these songs."
"I want people to feel that they can do anything and be anything they want…" says INA of KingQueen. "I want my music to be someone's therapy. I want our shows to be your drink after that long day at work, school or whatever stressful things going on in your life."
"When people listen to my music, I hope they feel the energy I felt when I created that track…" says Davy Boi. "My goal is to capture lighting in a bottle, so to speak, and have my fans feel that same electric pulse each time they press play."
"My primary objective is to inspire vulnerability on a large scale…" says Mark Tennyson. "I hope people who listen to my music are encouraged to be more vulnerable with themselves and with the world. There's so much power in vulnerability and so much healing that can be done."
"I just want people to feel…" says Jesse Montana. "Whether they connect more with the beats of my music, the lyrics, the story, the message – if my listeners are feeling an ounce of any kind of emotion, then I'm happy. I want to connect with my listeners through all their senses. Through the music and live performances we can just celebrate the love and heart I've put into this music to grow our family bigger and bigger. I'm finding my people through my music and it's the biggest reward to build a community like this through music."
Goals and aspirations
"I'm on a little bit of a break with my own songs and albums at the moment…" says Ryan Amador, when we talk about plans for the months ahead. "I'm letting some time pass so I'm sure I have something to say. In the meantime, I've been working on a musical theatre project called Q2 which is in development right now on the East coast, and I'm writing a lot of material for LA-based artist Blake McGrath with producer Daniel Weidlein."
"I just want to keep pumping out music, doing what I love to do…" says Aina Brei'Yon.
"My current goal is to make the best possible record and visuals I can and always push myself to speak to the deepest part of my soul as an artist…" says Chris Jacobx. "Back in 2018, I signed a record deal and got my first album fully funded. Since then, I've been just been pouring my heart into the studio. I co-wrote my album with an amazing artist and songwriter in Los Angeles named Brooke Tomlinson. Working with her has really pushed me to be more emotionally upfront. Right as I was about to start recording, I fell in love last year and wrote the soundtrack to my experiences of heaven and heartbreak, and everything in between. I'm proud to be seen and finally tell the story of my own version of love to the world. The album will be out in 2020. This is my childhood dream realised."
"I just want to continue doing what I do – Write. Record. Perform. Repeat!" says INA of KingQueen. "A super-cool thing coming up is that I was asked to write and record a song for my home-town's professional soccer team, Helsingborg IF, and that song will be released early spring 2020 – I get to perform it in their stadium! So that will be epic and I can't wait to give back to my city."
"In the months ahead, I'll be partnering with brands to work on building out those long lasting relationships that'll contribute to my artist story…" says Davy Boi. "I'd like to find a strong professional team – currently I'm without management or an agent. Outside of those things, creatively I'm focusing on writing down my thoughts and feelings, and finding a community of producers to work with on my next releases. Video content is a massive priority, as well as hopefully playing a ton of shows for new fans, and grabbing an opening slot on a tour."
"Having just released my first EP and an accompanying book of poetry, I'm really excited to start a new growth cycle…" says Mark Tennyson. "I'm being called to be a student in every area of my life. I'm taking piano and music theory lessons and I'm learning Ableton. Some big goals for me are to start playing the piano in my live shows, put out a few collaborations with peers, and start touring outside of LA. I have several releases lined up for the rest of the year, but mostly I'm really excited to just explore my sound and experiment with connecting with my growing audience. There is so much to be inspired by right now. I'm soaking that up wherever I can!"
"My producer and I are working on a really awesome concept for the release of my forthcoming EP, Ponyboy…" says Jesse Montana. "I'm excited to package all the songs everyone's heard into a body of work that will take the listeners on a journey of falling head over heels in love to, being in that relationship, and ultimately experiencing the demise of it. We're hoping to pair it with a unique visual experience, and I'm already three songs into the next project, so expect a lot of new goodies over the next couple of months."
Music Out Loud is available via LGBTQ streaming network, Revry