Meet the story-teller drag queen who farts glitter
Mama G is taking her family-friendly life lessons on a tour of the UK.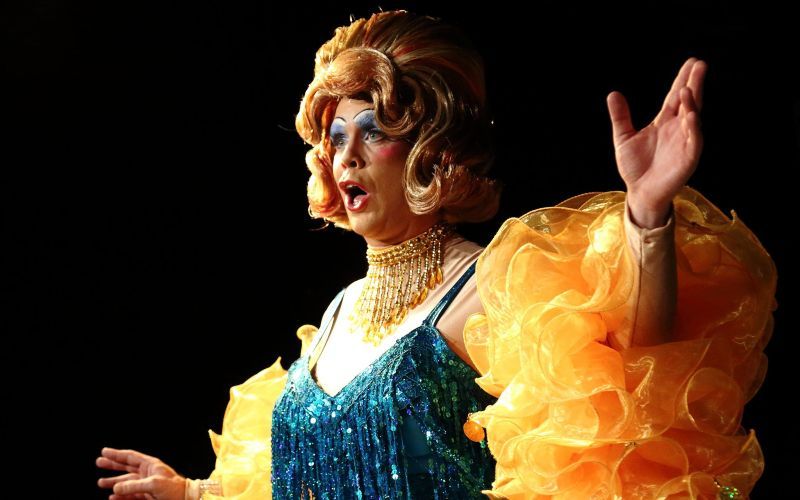 If you're looking for some family-friendly fun with a message of love and a celebration of diversity, then Petite Pantos brings you Mama G – a drag queen storyteller with tales about being who you are and loving who you want.
Mama G is currently broadcasting family-friendly readings of stories via social media.
I caught up with writer/director Robert Pearce – the man behind Mama G – for a behind-the-scenes look at Story-time.
What was the creative process that led to the emergence of the character of Mama G?
My company, Petite Pantos, creates pantomime with a social conscience and that try to introduce social and political ideas in a way that the whole family can engage with. Last year, we were presenting Mother Goose – which has Donald Trump as the baddy – at the Brighton Fringe, and the idea for Mama G popped into my head. Historically, Mother Goose is a storytelling character and, given the recent popularity of drag queen story-times, I realised that a an updated pantomime dame version of Mother Goose would be the ideal way to keep spreading Petite Pantos' message throughout the year.
Has Mama G always been a positive, upbeat, and family-friendly character, or is that something being channelled specifically for this show?
Mama G is effectively a panto dame, so she was created with families at the forefront. She is very motherly and glamorous, so children are comfortable with her and love hearing her stories – especially when she talks about
farting glitter! Because she's a panto dame, there are also lots of jokes that only the adults will understand. It's so lovely to watch families laughing and engaging with Mama G, but quite often laughing for very different reasons!
Is this show a creative response to the drama in primary schools in Birmingham where parents are unhappy about children being taught about the existence of LGBTQ people?
The show was created before the events in Birmingham took place, but they have only bolstered our belief that Mama G is vital and that her stories are important and need to be heard.
Mama G's tagline is – "stories about being who you are and loving who you want." While that has a particular resonance with the LGBTQ community, it's actually something that we all need to hear and deserve to understand, no matter our
race, gender, sexuality or religion. Everybody has the right to be who they are and we have a responsibility to teach others that every single one of us is different, and that's what makes this such a remarkable world to live in.
There's been a number of examples of drag queens in schools and libraries reading stories to children. That inevitably seems to attract some negative feedback. How does that relate to the work of Mama G?
For the most part the response to Mama G has been overwhelmingly positive. She was the target of a religious protest at a library in North Wales, but the show continued with the full support of the audience and the venue that had booked her. We really wish they had decided to come in, because at least they would have had a context for their protest – as a company, we actively look to communicate with people who have ideas different to ours.
What we learnt from this incident is that, actually, more people want their children to hear stories about being who you are, than not – and that it's incredibly important to have those stories told by people who are being exactly who they want. Also, panto can and should be political!
What do you hope that people feel when watching Mama G's Story-time Roadshow?
Ultimately, we want people to feel everything! Audiences will hopefully laugh, have their hearts filled with joy, and leave wanting to share the love. But also, there are moments where the audience may want to reflect on their own experiences or their own treatment of others and this can come with tears.
Mama G is a conduit for how you want the world to be – so how people experience her stories can vary, but we want everyone to know that they are fabulous and they can be whoever they want to be!
Mama G is currently offering family-friendly Facebook Live readings of stories – check the website for details