Michael Fabiano - the tenor with a crescendo of a career
A new documentary showcases why his voice is in demand around the world as his career hits the high notes.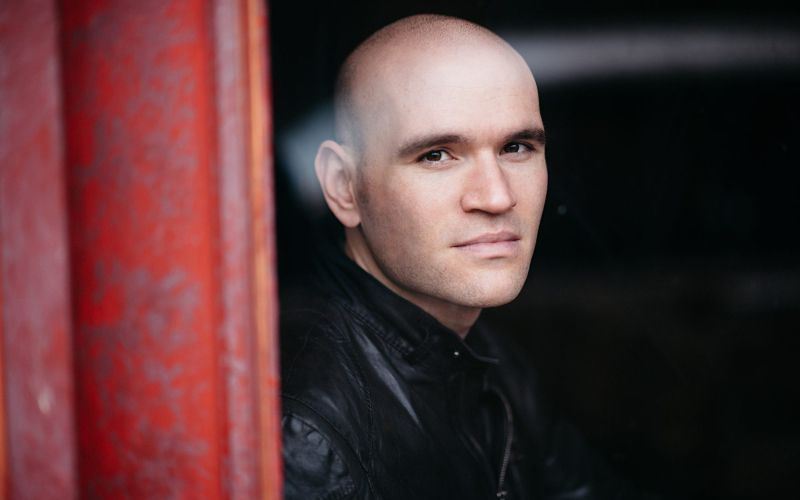 Michael Fabiano is one of the biggest names in opera. The tenor is in demand around the world, and his life and career is being showcased in a new documentary. The film – Crescendo – has been produced by streaming service, Quibi.
What's surprising is that when starting out, Fabiano was advised to conceal his sexuality – on the basis that publicly identifying as a gay man could harm his career.
Fabiano grew up in New Jersey. He made his stage debut in 2007.
Ten years into his career, and firmly established as one of the stars of the opera world, Fabiano married Bryan McCalister. News of the couple's wedding was really the first public discussion that centred around Fabiano's sexuality.
Fabiano on Faust
We caught up with Michael Fabiano for a behind-the-scenes look at how he approaches his performances in Faust.
What's Faust all about?
The really basic story of Faust is that it's about an older man, who has lived life for maybe ninety years and has had a number of successes – scientific successes, mathematical successes. But, he's coming to the end of his life – his body doesn't work, he can barely walk, he can barely talk, and he's nearly blind.
He says to God, 'I don't want my life. I don't want to live any longer. what's there to live for?' And then he hears voices – it's opera, so there's always crazy stuff that happens. He hears voices in his head and decides that God is talking and telling him don't do this. But he decides that instead of listening to God, what if I called Satan and asked him for something? He asks for youth. He wants his youth back, and so Satan gives him back his youth.
Embracing his youthful life, Faust enjoys having a relationship with a woman, going to orgies, drinking, partying – basically sloshing around and having a great time – until he ends up killing a man. That's something you do when you're with the devil.
Faust realises that being young isn't the answer to his problems – that the real answer is that he should have been living in the moment all his life. That's the whole moral of the story – as much as great successes are important, and you move on to other ones, living one's life and enjoying the moment is super-important .
I'm Faust. I'm the guy.
How do you get into the role of Faust?
First of all, I think of the character in sections, and sectionalise it. I think of him as an old man and prepare for how does my body feel like if I'm old. What happens when I'm old? My shoulders are up and contracted, I might have some tremors, I might be really exhausted and tired. So I prepare for that – I prepare for the physicality of being old. It's hard to sing while being very old and aged, so that's a lot of work.
Then, because I sectionalise it, I think about a young guy, younger than me, maybe 25, and what's it like to go to sex parties. What's it like to drink crazy and do drugs? None of these things I've ever done, to be frank, but I have to go there and I have to think about what the excitement is if I can just go crazy and slosh around and inject lots of drugs into my body and drink until my heart's content.
I really have to internalise that kind of proposition in order to embody that role on stage. I can't just play it – I can't play drunk or on drugs, or 'I've just finished having sex with lots of people'. It's got to be something that I get in my head and I have to think about it. It requires research, it requires watching films. I have to think about it in order to be able to demonstrate that I've gotten there.
Then, there are moments where he's a docile man. He finds this beautiful, pure woman and – in order to convince the woman that he's a good person, he's got to be very light, genuine, and kind. There are lots of layers in order to make this kind of character come forward, and then – at the end when I realise I've done horrendous things – what's it like to really let someone down? What does that feel like when you really disappoint someone? That's where I go. I think about when I've let someone down.
You started your career at quite a young age, is stage-fright something you still experience?
I think it manifests for every performer in a different way. For me, when I'm on stage I don't really have much of it, it doesn't really plague me. The only time I sense any sort of nerves or anxiety is the lead-up to when I have to perform, because I'm kind of thinking very carefully about all the things I need to land – that's the only moment.
Do you think you're a good role model for queer people wanting to get into Opera?
I'm not the warrior with the sword. I'm not the first.
There are lots of great singers who aren't or who are queer. The question is, how did those people make it to the top? The Arts has to always remain a democratic institution. The best people, regardless of who they are – colour, creed, sexuality, or gender – always have to rise to the top. The Arts world has to to do the best to promote those people.
For any young person that is unable to sleep because they're nervous because they're gay – that was me for a very long time – the Arts world should be a generous and open world. Even if your real blood family might be difficult to share your sexuality with, the Arts world will embrace you, and that can function as family.
Being gay doesn't define me. As an artist, it has nothing to do with the fact that I'm an artist. I am Michael Fabiano, an important tenor in the world of opera. I'm a philanthropist. I'm a pilot. So that's it, you know? It's not a stain or an identifier.
What does the future hold for Michael Fabiano?
I think there's going to become a time where my opera career reaches its natural end. I'm the type of person who believes when you've climbed a mountain, when you've reached the peak, in terms of your career, you go out at the top of the mountain, you don't go out at the bottom.
I have a foundation that I run that's dedicated to providing free music lessons to lots of under-served children in the United States – it's called Artsmart. My biggest passion is to serve the greater good – Artsmart is part of my bigger vision for the future. We're teaching about 40,000 free voice lessons to children. It's having a transformative effect.
Photo: Jiyang Chen
Photo: Jiyang Chen