Miss Rosewood wants your attention
A documentary that traces the journey of a formidable performance artist in New York City.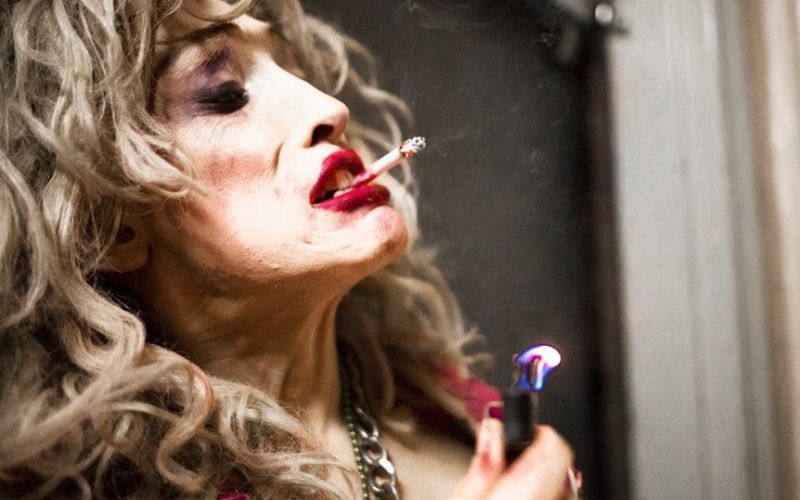 Self-appointed transgender-terrorist on the New York hardcore performance scene, Miss Rosewood is a notorious and fearless queer entertainer.
Filmmaker Helle Jensen's camera followed the evolution of Miss Rosewood, and the result is a documentary that takes us backstage into the life of Rose and the creative process of Miss Rosewood.
I caught up with Miss Rosewood for a behind-the-scenes look at the documentary.
Did you have any hesitation about agreeing to be the subject of a documentary?
I had no hesitation. I was aware that there was no way to know the outcome, but I'd been filmed for other documentaries of differing lengths and qualities, and had enjoyed the process.
How did you find the experience of being filmed over an extended period of time, and through some fairly major points of your life?
When I agreed to be documented, there was no way to know how long the process would continue for, as none of us knows what the future will bring, as it didn't have a closure date. I was happy to share the process, and all of the events of that period.
When you watched the documentary for the first time, were you surprised by what the camera had captured?
Watching the documentary for the first time was a blast! I'd seen pieces, but not had the full experience on a big screen. I really went through it – laughed, cried, and cried some more. I didn't see it as 'me' as much as I saw a portrayal – I experienced the character's journey separately from my own.
Part of the fun and the art of the film-maker were the little moments of interaction with the world, that really gave a context to what I saw. It's hard to imagine what it was like to be that character without seeing how people reacted and interacted.
Do you feel part of the trans community in New York City?
The trans community, the trans community. There's not really a trans community as I knew it. There was a time when there were fewer of us, and only a few places to gather. That's changed to a great extent. The internet and YouTube have created an online political community, that's something of a jungle.
People in other cities – who are not connected to the history of my tribe – are making proclamations about what is and isn't okay for us to think or say. The trans people of my generation just go on living our activism.
Are you still enjoying performing?
I love performance and performing. I can give a spirit, an energy, and a magic, that can't be transmitted in discourse or discussion. You can't argue with what you experienced. It just goes in. I just love it.
I'm working to expand into a theatre setting. I think I'll be able to share subject and art experiences that can get lost in a cabaret or club setting. I'll have more variables to play with, and I think it will help me develop as an artist.
What do you hope that people feel when watching this documentary about you?
My deepest desire for people watching the film would be that they decide to follow their hearts, rather than what society or anyone else tells them. Love your life – just go for things. We can't know what's right and wrong, you just have to follow your heart.
At a practical level, carry a purse – you'll be able to have a roll of toilet paper with you whenever you need it.
Miss Rosewood can be viewed via LGBTQ streaming network, Revry