Moment of Grace - exploring Princess Diana's role in tackling HIV stigma
A one-act play that immerses us in the events of 1987.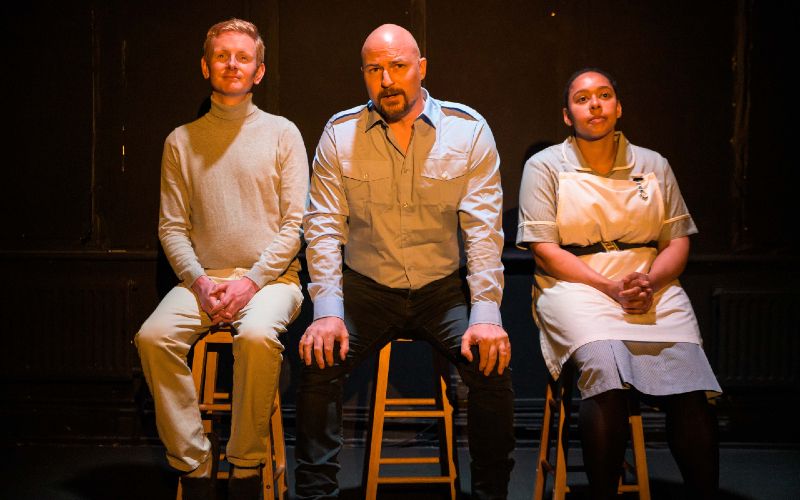 In the UK, one of the turning points in the public perception of the HIV pandemic was in 1987 when Princess Diana visited London's Middlesex Hospital. Diana was there to open the hospital's HIV/AIDS unit – it was the first in the UK. During the visit, Diana met with patients that had AIDS.
The visit was filmed and the images of Diana shaking hands and speaking warmly with people who had AIDS helped to begin to crack the devastating stigma that had quickly arisen surrounding the transmission of HIV.
Bren Gosling's play – Moment of Grace – tells the story of Princess Diana's visit to Middlesex Hospital.
Based on personal testimonies, the play explores the impact of Diana's visit on three people – Andrew, a patient, Jude, a nurse, and Donnie, a fireman estranged from his son.
Directed by Su Gilroy, this is a compelling one-act play that deftly weaves together three monologues, building an intertwining narrative and effectively bringing to life the time, the place, and the emotions that surrounded this point in history.
Given the intimacy of the space at the theatre, it's a credit to the cast – Richard Costello, Narisha Lawson, and James Taylore-Thomas – that they never lose focus on embodying these characters and telling their stories. These are authentic and affectionate performances.
The collective trauma associated with this time period makes this an unavoidably poignant play, but what really shines through in Moment of Grace is the humanity of the people involved – their strengths, their flaws, and the emotional rollercoaster that has to be navigated when living through a pandemic.
Ahead of the play's run at the Hope Theatre, I caught up with Bren for a behind-the-scenes look at the production.
What was your initial inspiration to turn Diana's visit to Middlesex Hospital into a play?
The theme of the Bloomsbury 2018 Festival was women activists and agents of change. I wanted to pitch something and had this idea for a play about Diana and AIDS. Her handshake with an AIDS patient was so iconic – a game-changer in the way the public, press and media perceived people with HIV/AIDS, and the image of Diana's AIDS handshake remains embedded in my memory.
How could it not be? I was a young, gay man living in London in the 1980s, when AIDS raged all around. It stoked fear, loathing, and hostility both from within our own community as well as from outside it. AIDS was a new pandemic disease impacting disproportionately on gay men. It was tantamount to a death sentence and no one much cared that gay men, young men were dying. We were terrified.
The moment Diana Princess of Wales very publicly, on purpose, touched a person with AIDS, it brought attention to our plight. Her act of kindness provoked shockwaves around the world. If we'd have had the likes of Instagram and Twitter in 1987, it would have caused a storm. Nevertheless, it covered the news and was the headline story across the globe for weeks.
This single event engaged public debate. It was a game-changer. Yet, the moment is often unknown by younger and current generation queer people. This is a travesty. I had to write about it. Many stories about the British AIDS pandemic have been forgotten. There isn't a great deal of coverage by British theatre of the forgotten stories. Some have been portrayed but this one has not. I wanted, needed to write about this one.
You've talked about how you're living with HIV. Was the creative process of developing this play therapeutic in some way? Did it somehow help you get your head around what living with HIV means for you?
Well, it certainly threw up a lot of stuff, emotionally. Things I'd buried.
In the process of my extensive research, I talked with people who were there on the day of Diana's visit to Britain's first AIDS Unit. Other individuals too, who had powerful and moving testimonies to share with me about the early days of AIDS in London, patients who remarkably, against all the odds, survived – most did not – doctors and nurses who did care.
I was fortunate to come across The National HIV Story Trust, a remarkable charity that documents an archive of filmed testimonials.
I suppose writing Moment of Grace has facilitated a desire and motivation to give my own AIDS story to the NHIVT archive. I've still to do this but intend to do it shortly. For years, I've put it all to one side in order to carry on with my life.
As Jude, one of the characters in my play, says: 'If I thought about it too much, I'd go mad.'
These days, with modern highly active anti-retroviral medication, most people with HIV are enabled to live long and fulfilling lives. But for a lost generation, particularly my generation, there still exists a legacy of trauma. A post-traumatic stress. I know this is something I carry with me and always will because of what I have witnessed.
There is today an awkward silence about living with HIV into older age. Maybe it has something to do with survivor guilt or that sex is a main transmission route – or was, prior to PrEP – and there is a reticence to associate sex with older people. I'd like to explore this further in my writing, have done so in my play Invisible Me with a 60-year-old HIV positive widower putting himself out there on the singles market again.
The period that the play is dealing with – 1987 – was such an awful time in terms of our community's experience with HIV. How do you cope – emotionally – with immersing yourself within that trauma in each performance of Moment of Grace?
When I remember how terrible things were, it makes me sad. I cry. I know I will cry sometimes during this production of the play. But. I also hold on to the sense of pride I feel in being able to bring these stories into the theatre and into a wider public view.
I also pause to celebrate the incredible advances in medicine, legal and civil rights that have occurred for our community since the turbulence of the 1980s.
For me, telling these stories is like passing on an Olympic baton. Many advances in other medical treatments would not have been possible but for the sacrifices made by HIV positive people and the suffering endured by early AIDS patients, who embraced a gamut of experimental drugs and treatments. Often these were health detrimental, but some led the way to medical advances which have become routine treatments for other medical conditions today, including Covid-19.
We're obviously now in a very different place with HIV in terms of treatment and prevention compared to 1987, and audiences must come to see Moment of Grace with a huge variation of their knowledge/understanding/experience of those early years of the virus. How does that personal perspective of an audience member shape how they connect to the play and the performance?
I very much would want audience to come and experience Moment of Grace with an open mind. The play is more about the characters who remain unseen and do not speak. The Diana handshake moment is a conduit allowing these voices to be heard.
During my research for the play, I uncovered a story of tremendous bravery and inspiration that mirrored and if anything exceeded Diana's example. If I say more, it will be a plot spoiler. But another real-life hero, now forgotten, long dead and buried, also emerges from that day.
Please, come and see Moment of Grace. You will, I guarantee, be moved, shocked, surprised, and most of all, you will be uplifted!
You're performing Moment of Grace at the Hope Theatre until mid-July – are there any plans for the play beyond that?
Yes. There is something big and extremely exciting planned for the Autumn. But at this point I'm not allowed to give anything away. Just watch this space.
What do you hope that people feel when watching this production of Moment of Grace?
I want people to learn about the past and see how it relates to now. How small acts of kindness can have a huge, positive effect on all of us and how we relate to one another and how our perceptions of other people whose experience differs from our own can be shifted in a good way.
Moment of Grace covers such important ground hitherto not explored to any degree. Come. Please come, just see it.
Moment of Grace will run at the Hope Theatre in London, until 16 July
Image credit: Gerri Keniger