Naked in front of a room full of strangers
We join a life drawing class in London.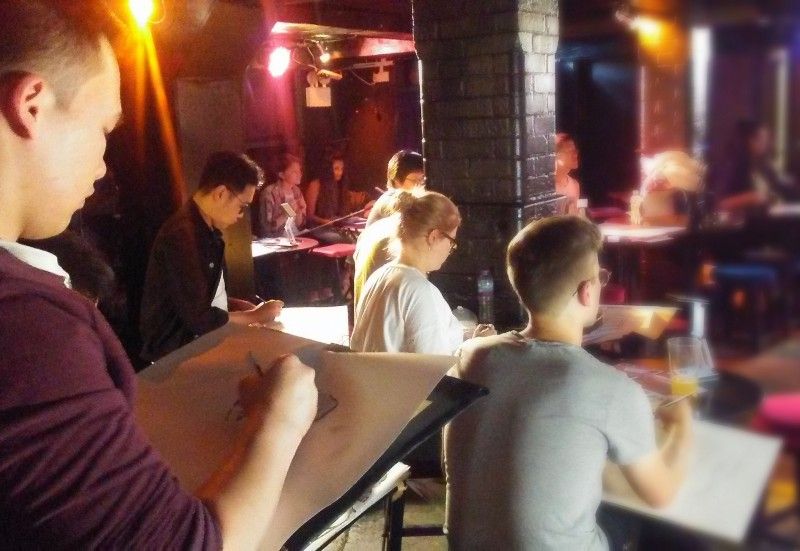 The basement of The Glory, on East London's Kingsland Road, is a dark space normally reserved for cabaret and fringe theatre. However, on a Tuesday night in June, it had been transformed by the Figuration team into an energetic and vibrant art studio — the venue for a life drawing class.
Figuration's life drawing classes are a regular thing at The Glory, although this particular session was part of a special season of events celebrating Pride in London, so it was busier than normal — twenty-three artists, mostly in their 20s and 30s, had turned up on a Tuesday night to get creative.
Roy Joseph Butler from Figuration was in charge of proceedings.
"I only recognise a couple of faces…" he shrugged. "Most people are here for the first time."
"How many people have done life drawing before?" asked Roy, as the artists were taking their seats. Only three people raised their hands. "Excellent…" grinned Roy. "This isn't a formal class, more of a taster for everyone, a chance to test out your artistic skills."
An added element of interest was that the two models for the session — Rachel and Ben — were first time models. The Figuration team run the Starkers Academy, helping to train future life drawing models, giving people a chance to give it a try.
The artists were arranged in a semi-circle around the small stage, shuffling their chairs to ensure a clear sight-line. A rainbow flag created the backdrop.
The first model up was Rachel. Roy was in charge of the time-limits for each pose, and Rachel confidently moved between positions — a series of short poses that gave the artists plenty of variety to work with. Rachel looked strong, athletic, powerful.
The artists were working quickly — tackling a variety of different techniques and styles. Mediums being used included charcoal, pencil, water colours, and ink. Careful sketching contrasting with bold strokes and expressive lines.
"It's not a library…" announced Roy. "We've got music playing, it's very relaxed. Feel free to wander around and find different positions to draw from…"
Once she'd finished her allotted time, Rachel stepped off the stage looking relaxed and almost triumphant.
I asked why she'd decided to give life modelling a try:
"I've had an eating disorder for 17 years — from my late teens until just a few years ago…" explained Rachel, speaking firmly and directly. "My body-image and my relationship with my body is really skewed. The eating disorder made me sort of forget the purpose of my body, it became something for other people to judge, it became not mine. Here, my body can't be right or wrong, it just is, they just draw it."
Rachel struck me as a particularly organised kind of person. I wondered what sort of preparation she'd done for her first taste of life modelling.
"In my normal life, I present a lot at conferences. For those events I wear a lot of armour — the heels, the hair, the power suits. I'm playing a role. For this, I don't have my armour — although I have had a manicure and a pedicure, and I'm wearing a lot of make-up. I think next time I wouldn't even do that, just be stripped totally bare."
Watching Rachel as she'd been waiting to go on stage to begin the session, she'd seemed nervous and tense. I asked what she'd been feeling before stepping on stage.
"I was terrified. I like to get things right. I like to really nail things. But once I got up there, it was okay. I normally operate with a very high level of general anxiety…" she explained. "Most days, just being in the world feels fucking hideous. Being naked on stage in front of a room full of strangers felt no more hideous than just being in the world."
"I do yoga, and I meditate, so I'd practised some poses. Although it was more from the perspective of whether I could hold them, I wasn't really thinking about how they would look to the artists — I tried to ensure that they weren't too porny."
I asked Rachel if she'd been able to enjoy the experience at all.
"I enjoyed it intellectually…" smiled Rachel. "I was playing little games with myself, trying to guess the time. But I found it hard to stay silent — I'm used to communicating verbally."
"I was conscious of people looking at me, but it wasn't as if they were judging me, it felt more like a scientific approach — checking how long my leg was or something. At one point, someone giggled, and I immediately thought that they were laughing at me, but I rationalised it, they were probably just laughing at their own drawing."
"I don't know if it was empowering, perhaps more liberating. What was going through my head was — 'This is what I look like and I don't give a shit what you think!'"
"I'm not sure if I want to look at how people have drawn me. I have no concept of what my own body looks like. I'm expecting it to look disgusting…" Rachel shuddered, her body-image issues obviously still plaguing her.
After a short break, it was Ben's turn to get naked and take to the stage. The atmosphere in the room was calm, relaxed, studious.
"It's important for models to be 'present' — not just standing there, but really aware of the artists around them…" explained Roy. "They need to be aware of what they're giving to the artists during the session."
"Some people just want to get up there and do it. Through these Academy sessions we talk with new models about how to hold poses, and what to do with props — that kind of thing."
"It's possible to pick up injuries if you're not careful. I was doing this long pose with my arms above my head, and I lost all feeling in my shoulders…" explained Roy, demonstrating the pose that had caused the trouble. "Eventually I got movement back in my arms, but it was a good lesson to learn."
Ben's poses were more upright and elongated than Rachel's — his lean body stretching from floor to ceiling of the basement space. As Roy called the time limits, Ben moved smoothly through each pose — providing different angles, shapes, and perspectives for the artists to tackle.
After Ben had quickly dressed, I asked why he'd decided to give modelling for a life drawing class a try.
"I thought it would be something different, a bit of a challenge. I'd come to one of the classes to draw, and Roy had mentioned that they offered the Academy sessions for new models, so I thought I'd give it a try."
"In the lesson with Roy, he showed me some of the poses that I could do, and the techniques for how to survive the long poses."
Ben seemed to be a particularly relaxed kind of guy. I asked how he'd felt before going on stage.
"I was excited. It was a chance to get naked in front of strangers. I'm a bit of an exhibitionist."
"I was watching Rachel to get ideas. I felt very confident going into it, but possibly I was a bit over-confident. I'd planned my first three poses, then I thought that I'd just let the rest flow."
"It was much harder than I'd expected, physically hard to keep focus and hold the position. I made the mistake of taking my glasses off — I thought it would be good to not really be able to see anyone, but because I wasn't able to focus on anything I had to concentrate really hard on not falling asleep. That became a bit of a challenge, I tried listing all the states in the US, as a journey from Washington State — I got stuck on what came after Nevada."
"I like to be naked. To me, it's the natural way to be — there's something good about it."
The fundamentals of life drawing
Observe — before making any mark, look again at the figure.
Draw the whole figure the whole of the time — relate the head to the foot, elbows to knees, shoulders to hips.
Think actions — twisting, stretching, resting, rather than arm, leg, or head.
Simplify — try drawing with as few lines or shapes as possible.
Place the figure in space — simple shapes and lines around the figure can give depth and contrast, as well as help with proportions.
Find tension in opposites — dark versus light, straight versus curve, positive shapes versus negative.
Add dynamism by avoiding parallel lines and symmetry.
Explore your creative side with Figuration