Naked Justice and Space Cadet are the sexed-up super-heroes we need right now
Issue #3 of The Legacy from Class Comics is the erotic gay fiction you're probably looking for.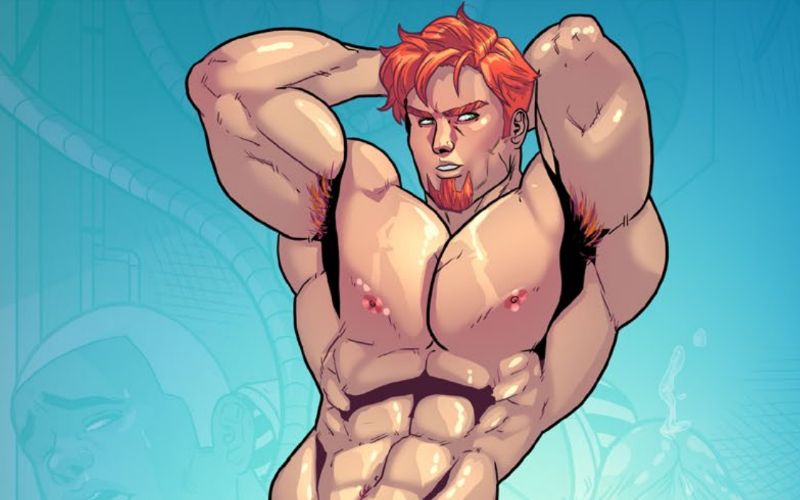 One of the iconic characters from the Class Comics universe is Naked Justice, and The Legacy #3 is a great instalment in the continuing adventures of Felix Himner and the gang.
Written by Patrick Fillion and illustrated by Tom Cray, Issue #3 in this story kicks off with the imprisonment of Emil Durand – he's the father of Space Cadet. Emil is being held captive by the evil Brainbender, who is forcing him to work on some sort of powerful machine.
While Space Cadet is waiting for Naked Justice – so that they can mount a rescue mission for Emil – Naked Justice gets sidetracked by the mysterious King Cock-a-Tut.
King Cock-a-Tut seems to be some sort of mystical being – he's the one that transformed Felix Himner into Naked Justice. Revealing catastrophic visions of a potential future, King Cock-a-Tut presents our hero with a new mission and an urgent quest to save the world.
Sure, on the face of it, this all sounds a bit far-fetched, but that's what comic book super-heroes are all about – fantastic adventures that can fire up your imagination and conjure worlds and characters that are far more exciting than our everyday lives.
If you've ever found yourself emotionally invested in what's happening in a Marvel movie blockbuster, then you're going to find a lot to enjoy when you read super-hero comics.
The beauty of the comics published by Class Comics is that they deliver on old-school super-hero adventure, but also bring to life the sexual fantasies every young gay boy projected onto our lycra-clad comic-book heroes.
In The Legacy #3, the lycra comes off and we get to admire every inch of these muscle-bound gods as they battle the forces of evil and bond with each other.
Grab some popcorn – you're going to want to take your time and really immerse yourself in the wall-to-wall action, adventure, and alpha-males of The Legacy #3.
Get your hands on The Legacy #3 from Class Comics