Navigating the emotional mine-field of life, death, and family - Mark Tennyson shares his story with the world
Boy Untitled is a visual feast of music and poetry.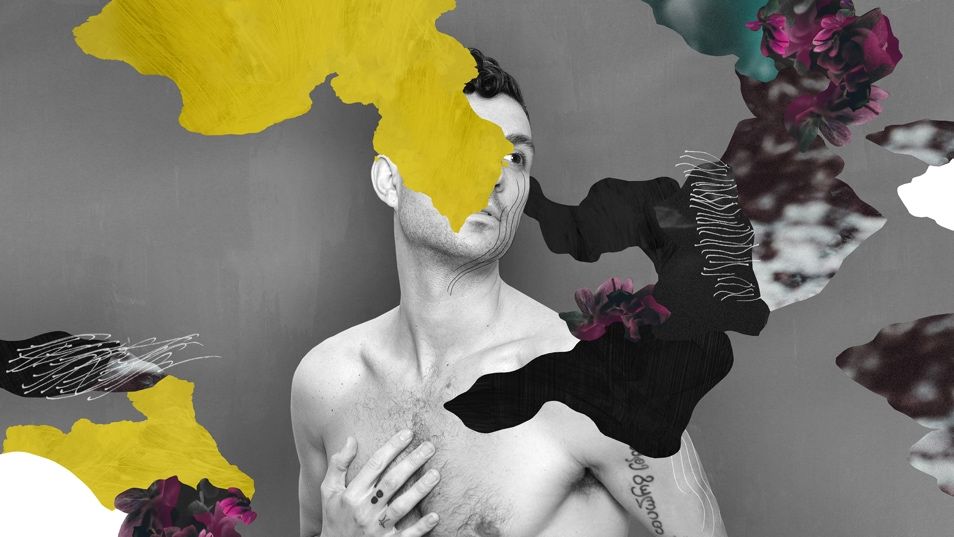 Mark Tennyson's new album is Boy Untitled – it's accompanied by illustrated book of poetry, A Wanderer's Love Letter to the Universe.
Created during a period of intense personal change, Tennyson delivers a tale of heart-ache, transformation and rebirth.
I caught up with Mark Tennyson for a behind-the-scenes look at the project.
You've followed such an intensely personal journey to bring these works together. Looking back on the process, has it ended where you thought it would?
I really had no idea what I was in for when creating this project. The EP's Executive Producer, Rush Davis, warned me about the intense process I would undertake when I told him that I wanted to write about my own process of emotional evolution. Because the book was crafted from free-writing excerpts, it was very much shaped in my subconscious. In fact, I'm now convinced that much of those words were channelled from a higher source because I'm only now – two years later – beginning to really know and understand their meaning. Regardless of my understanding, the EP was crafted around these concepts.
In a lot of ways, I tried to intellectualise an emotional experience. Once the notes and words were down on paper, I thought the work was done. Rush gently reminded me that the work hadn't even started. This project would not be done until I had fully lived the emotional journey that I had written about – he was 100 percent right.
In the time between writing Boy Untitled and releasing it, I have become a completely different person. A person shaped by a decades-long conflict with my family that didn't accept me because of my sexuality, and the death of my father whose illness propelled an unexpected state of forgiveness. It wasn't until his funeral that the full vision and meaning behind Boy Untitled came alive, even to me. I had preemptively written these words to guide myself through the arc of my family's struggle, his death, and my absolution. Realising that was wild.
Why was the format of this project the right way to tell your story of love and loss and rebirth?
I knew when I started this project that I wanted to create an entire world around these ideas and concepts, but it definitely evolved from moment to moment. I didn't know how to write music, so I wrote poetry. I didn't know how to create a visual language, so I made mood boards and a Tumblr of ideas. I then found artists that inspired me and worked with them to help translate my vision through their mediums – illustration, music production, filmmaking. So much of this project is a reflection of the amazing community I have around me.
The subjects that you're dealing with are intimate and personal. Were your family okay with you sharing everything with the wider world?
I don't think my family ever knew exactly what I was doing or what I was specifically writing about. When I started this project, I wasn't on regular speaking terms with them, or if I was, it was dotted with periods of silence and frustration.
"Easy" is the most specific song, in that it speaks directly to my upbringing and troubled relationship with my family. When my dad was in hospice in March, I was fortunate enough to be with him for a week. In that time, I told him that I forgave him and it sparked a waterfall of acceptance in our whole family.
The week after his funeral, I received the Boy Untitled master and listened to the EP for the first time as a finished piece. I was so struck by the words and stories that the songs told – that they so accurately reflected my journey of emotional evolution and resolution with my family over the last three years – that I immediately wrote my family a letter explaining to them the true meaning of "Easy" and the EP. It was a huge watershed moment for me because it was the first time that I feel like I was really able to share this emotional side of myself and it be truly received. I had been missing that for almost ten years.
In the time since, my mother and I have become incredible friends again. We both keep commenting on how much we missed having the other. This has been true of the rest of my family. They've shown love and respect for my journey and my processing. While "it was painful to read" the true meaning behind the songs, I think it's ultimately created a base level of honesty in our relationship that has set us up for this next part of our life together.
You're launching this with a multimedia event in Los Angeles. How are you feeling about presenting your work to an audience that hasn't necessarily been with you on the journey that you've been undertaking to create this work?
I'm really excited about it. I've found that people connect the most with my words and work when they see me live. This first project – I've learned – is mostly for me. It's been about accepting myself as a capable artist, as an emotional being, as someone who is fully committed to creating more and creating space for others to do the same.
Because it is so deeply personal, it's really difficult for me to distil that journey into something easily digested on paper or on a screen. So I'm really excited about this event because it means I don't have to explain everything. I can just perform and allow people to feel however they are going to feel about it. I don't have to worry if they got all of the little personal details of my life in every single lyric. That isn't why I create art.
For me, art is meant to inspire thought and to be transferable to an individual's own experiences. It isn't my job for people to feel like they are me having X experience. If I am able to do that, that's a great bonus. Feeling validated by others and sharing in experience always feels good, but that sense of personal reciprocity isn't my end goal.
The illustrations by Diego Eduardo in Wanderer's Love Letter are beautiful. What was the creative process to bring the words and images together?
Diego and I had a lot of discussions about how to bring the story to life. While the words of the book were non-linear, I wanted the images to tell a cohesive, visual story that would anchor the reader in a specific world and journey.
I started first by collecting images from my life, social media, camping trips, adventures, fashion, iconography – anything that inspired me – and shared the collection with Diego. He created the first set of images that defined the aesthetic of the world. Then, I went back into the text and wrote a second story. This story was about The Wanderer and his journey from the sea to the desert to the forest, the mountain and eventually the universe. Diego then illustrated that story.
There were often days where I would deliver pages to Diego but he had already drawn his own interpretation and our visions synced up exactly. It was beautiful and bizarre. We really fed off of each other's energy during this process.
What do you hope that people feel when experiencing Boy Untitled and A Wanderer's Love Letter to the Universe?
I hope that people feel a sense of empowerment in their own ability to create the life that they want and the world that they want to live in. I hope that they hear my story and think – "I can do this. I can work really hard and change everything that I want to change." I hope that they feel a sense of necessity in loving themselves unconditionally so that they can share that love with the world around them. I want people to realise the importance of investing in themselves, and once that work is done, investing in the world around them.
Boy Untitled by Mark Tennyson is now available
The launch of event of Boy Untitled is presented by online content platform Revry