Neil Friedlander is letting go and moving on
The calm and soothing voice that we all need right now.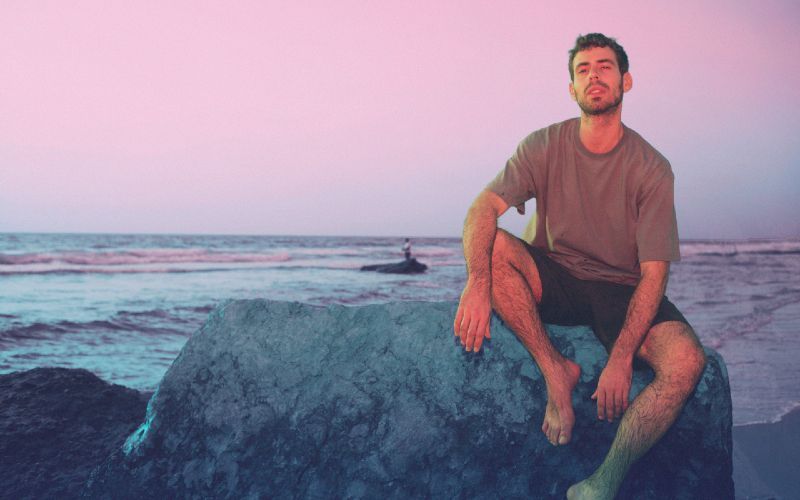 Neil Friedlander was born in Jerusalem, Israel. They started writing songs when they were nine years old, and continued to hone their craft throughout High School and their service in the Navy.
Their first album, Movements Into Language, was produced by Aviv Meshulam and recorded at MRTF studios, and released in January 2018. The album was a collection of letters to former lovers, explorations of loss, addiction, sexuality and desire.
Neil and Aviv toured with the album in Italy and Israel, and returned to the studio to begin working on their next project. After backpacking in India, Neil moved to Brooklyn, New York.
The new album is called Love is a Ripple on a Lake.
The album reflects the dawn of a new chapter in Neil's life, and revolves around the themes of acceptance and freedom, ego, and falling in love. Neil continues to use music to express the changes and life transitions they go through – letting go of their orthodox religious education, deepening their understanding of love and of themselves, and moving towards a new form of spirituality.
I caught up with Neil for a behind-the-scenes look at the new album.
What's the creative process been like for you?
Most of the work on the album was completed over a pretty short period of time – a few months back in 2018. Completing the album took a while because I travel.ed to India and then moved to Brooklyn. Me and Aviv kept working on it over the past year during my visits back to Jaffa. In retrospect, that sort of drawn-out process of completing the album was really healthy for it, as it gave a lot of space to breathe and reflect and to make changes.
The creative process for me has always begun with writing the songs. I'll go for a long walk on the beach or outside and sort of just listen to what's going on with me at the moment. When it flows the most naturally, the basic lyrics or the core idea will come immediately with the melody, and then I work with that. I'll play Aviv a song and he'll sometimes want to reconstruct something. There have been a few times when he tells me, "this song needs a C-part" – or something like that. There have also been more and more instances when Aviv will bring in something really interesting melodically and I'll write for that. And then we build the song together with layer after layer of sound and instrumentation. Working with him is a true collaboration and I feel lucky to have found someone like that.
The album is reflecting a new chapter in your life. Was the move to Brooklyn the beginning of that new chapter?
I'm not sure when exactly this new chapter started, because it's been building for a while, but I think you're right that deciding to move to a new country was part of it.
The album talks a lot about letting go and embracing life, and holds that tension at times. There are still moments like that, where part of me wants to keep holding onto the past forever, but the part in me that's getting stronger and stronger is the one that will not stop until I'm completely free.
I've experienced a lot of that this past year in Brooklyn. I got a few tattoos, wrote some nice songs, quit a job where I wasn't able to be my best self – and learned a lot through that, and started studying acting here in New York, which is something I've always wanted to do.
It was a year that really taught me to re-focus my energies on art and on connecting with other people.
Have you been in lock-down in Brooklyn while New York grapples with Covid-19?
I have! I'm thankful that I'm not risking other people and that I'm not at high risk myself. But on the other side of that, quarantine has made me a little batty.
I was initially very motivated and doing yoga every day, but have since kind of lost touch and I'm all over the place mentally. I get sad and lonely sometimes, but we all do, and it's nice to realise that and be honest about it with other people.
Social distancing has given me some nice moments alone and with friends and strangers, and even a brief sort of mostly text-message-based love affair with a guy. It was beautiful, but this is a weird time.
Also, it's nice to experience some solidarity with the city, like at 7 PM when someone plays Alicia Keys' New York and we all bang on pots and pans.
Have you had any thoughts about touring to support the release of the new album?
I wish I could be performing right now! It's a strange feeling to release this album without singing all these songs and sharing them with people live.
It may become an option later on, and I'm keeping that open, but nothing is concrete for now. I can't really stress over it, so we'll have to wait and see.
What do you hope that people feel when listening to your new album?
If people hear something in the album that helps them process or release some weight they've been holding onto, nothing would make me happier. I've been told by a few people that my music is calming and that my voice is soothing to listen to, and I really love that. I hope I can help spread some calm and soothing in this crazy time.
Follow Neil Friedlander on Instagram