New music from Darlin! The Band - the single is Breathe
Good times with the glam-pop gang from Brooklyn.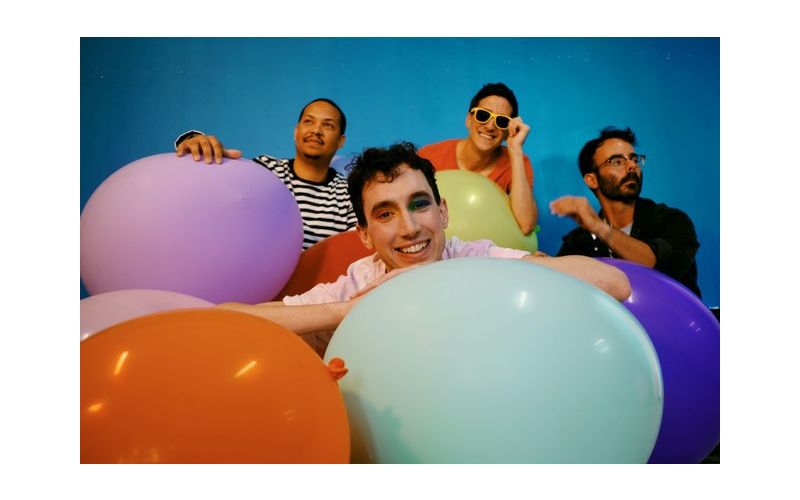 Michael Doshier (Vocals), Wesley Estrella (Keys & Bass), Can Guler (Drums) and Ben Moureau (Guitar) form the New York quartet whose plans of bringing purposeful pop to the forefront begins with the single, Breathe.
Written about living at the intersection of having a Grindr account and an anxiety disorder, Breathe takes us on a voyage to connection – from connecting with strangers online to trying to eliminate long-held fears of intimacy and craft a valuable relationship.
I caught up with Michael Doshier for a behind-the-scenes look at the latest release.
With Breathe, you're tackling a fairly quintessential part of the gay experience for most queer men – balancing that need for intimacy with the anxiety of putting yourself out there. If you had been able to listen to a track like this when you were younger, would that have made the prospect of online dating easier for you?
To be honest, I really do. I think that portrayals of gay intimacy – whether that be sex, dating, going out, falling in love – tend to draw on the tropes of closeted versus out. The former being a mode of repression and depression, the latter being a mode of liberation and fulfillment.
I think that tracks like Breathe, which agree that, yes, "it gets better," but acknowledge that there are growing pains – and it can be really scary, even into adulthood – would've helped me understand there wasn't something "wrong with me" as I struggled to find comfort and satisfaction in dating.
I hope that this song provides that specific little bit of comfort to even one person!
In the music video, you're immersing yourself in a work-out fantasy. Are you channeling your inner Olivia Newton-John?
Of course! We are channeling ALL of our exercise queens!
In addition to Physical, both Olivia Newton-John's and Dua Lipa's, we watched a LOT of Jane Fonda – whose poise, grace, and beauty whilst working out, truly inspired us all to reconsider our lapsed gym memberships.
Who are some of your musical heroes or inspirations?
All four of us come from very different musical backgrounds, so our influences range from pop to musical theatre to metal to industrial to atmospheric music.
The common denominator between all of us seems to be artists that like to push the envelope. Whether that's David Bowie, Trent Reznor, Lady Gaga, Prince, or Madonna.
We usually introduce each other to new artists, and exchange playlists.
Inspiration also sometimes comes from colour palettes, visual arts, and poetry. We'll take it from anything that helps evoke a feeling inside of us!
What's in the pipeline for the band beyond the release of Breathe?
We have been very busy as of late – we just released four new songs in the span of two months – check us out on Spotify, Apple Music, or wherever you stream your tunes!
We continue to evolve our sound and have a few more new songs in the pipeline we are premiering at Dave's Lesbian Bar in Queens!
Our favourite time of the year for playing out is summer, especially around June for Pride. If you're in the NYC area, come see us at one of our shows – which we announce on Instagram – we'd be honoured to have you.
This summer, we're also shooting an indie LGBTQ romantic comedy about Brooklyn musicians called Throuple.
We're excited to have a very busy summer of performing, interacting with our fans, and releasing more visual media!
How do you want people to feel when they're listening to Breathe?
We want them to feel seen. We want them to hear that if they are struggling in any way to connect with other people around them – whether that be romantically, or otherwise – they are not alone.
At the same time, we want to give them a boost of confidence – sonic courage, if you will!
This song gives off warm, sunny vibes. We want everyone to be able to punch out the anxiety clock and just let go. Dance, and have a good time. And, most importantly, go out there and get what you want!