New stage production of The Night Watch celebrates the lives and loves of women
An adaptation of the beloved novel by Sarah Waters is touring the UK.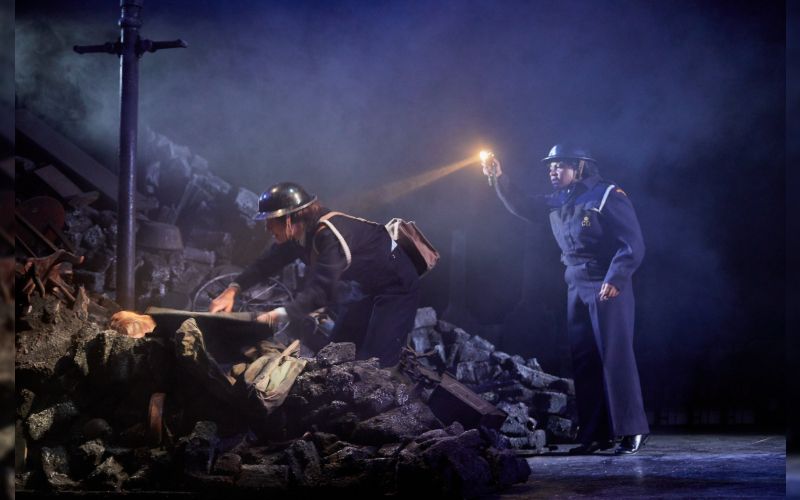 One of the theatre highlights of the year has been the revival of The Night Watch, adapted from the novel by Sarah Waters.
Set in London in the 1940s, the story follows the lives and loves up women in an era of immense change as the world slowly recovers from war.
It's also a story that explores the secrets, shame and scandal of being a lesbian in that time, and portrays a beautiful love story with women at the core.
During the production's tour, I caught up with the director, Alastair Whatley and Izabella Urbanowicz who plays the role of Julia.
First encounters
"I read Hattie Naylor's beautiful adaptation before I read Sarah's novel…" explains Alastair Whatley, when I ask him about his first encounter with the story of The Night Watch. "Having worked on stage adaptations of novels previously I feel strongly that the adaptation has to work on its own merits. It shouldn't exclude people who come to the theatre completely fresh to the material. Hattie manages to take a complex tale which unfolds backwards and has honed it into a lyrical, faithful and original piece of work in its own right and on its own terms. Obviously, I've developed a huge affection for the novel and think it a quiet masterpiece, but for me the play came first."
"I hadn't read the novel but had seen the BBC TV version of The Night Watch about 10 years ago…" adds Izabella Urbanowicz, who plays the role of Julia. "I did buy the novel and used it sometimes as a reference point but I didn't read it in rehearsals because I wanted to approach the play as the story in front of me in the form of a script."
The challenge of a revival
"I work with a simple methodology of working with the play itself…" says Whatley, talking about his approach when it comes to staging a revival. "I let everything come from what Hattie has set down on paper. She and I met a few times before we started rehearsals and continued crafting the play for this new production. I hope we've found a fresh approach simply by bringing a different group of people together to collaborate on the making of it."
"The Night Watch is a best-selling and much loved novel, but at the end of the day you can't set out to tick boxes and try and please everyone…" continues Whatley. "When you read a novel you become the director of your reading of it – you build the characters in your mind and your imagination brings everything to life. On stage, we take some of that responsibility off your shoulders and in return give you people you previously imagined in your mind appearing live and in the flesh, conjured out from the mind and onto the stage. Unlike on screen, theatre still allows audiences the chance to flex their imaginations as we spirit locations and people out of thin air and blackness. We all become collaborators – actor, director and audience alike. When it comes together, it's thrilling and like nothing else."
"It took a long time to cast The Night Watch…" confirms Whatley. "Ellie Collyer Bristow – our brilliant casting director and I – met a huge range of people over almost a five-month period. We refused to compromise at any point, which meant we cast the final role within days of starting the rehearsal process. We needed exceptional actors willing to work in a tight ensemble who could all contribute to the making of the play. The end product is as much theirs as it is mine."
Finding the character
"I play two characters…" explains Urbanowicz, talking about the research that went into her performance.  "Mrs Leonard, a Christian Scientist, and Julia Standing who works with her father – who's an architect – though later she becomes a writer."
"Researching the role, I did read a lot about Christian Science and I went to a mass…" continues Urbanowicz. "I didn't know anything about it before this play, so it was useful for me to understand what it was based on and the history of its creation."
"For Julia, I researched what she would be doing with her father – going into derelict bombed out buildings after raids…" says Urbanowicz. "This was rather an important job in a way, as so many buildings were destroyed or damaged. They developed a coding system to decide which buildings were salvageable and which were beyond repair. I thought a lot about what it would be like to walk around these buildings so soon after they'd been hit by a bomb, the devastation someone like her would see and so close up, but she'd need to be methodical and focused on assessing the structural damage rather than the personal loss of people's homes."
"Researching in general about the role of women during WWII was fascinating…" added Urbanowicz. "So many of the 'normal' societal restrictions were lifted in that period because women were needed to do things they hadn't previously been asked to do."
Telling a story backwards
"David Woodhead – our designer – and I battled with how to create the world of The Night Watch on stage, and the logic of how the play moves forwards but by going backwards…" remembers Whatley, talking about the challenges of a play that tells its story in reverse. "When you spend too much thinking about it, it can get very complex. Time remains an enduringly fascinating concept – to see lives entangling but in reverse means that as we head backwards through time, relationships build a bittersweet momentum as the audience becomes aware of where they are headed. You can feel joy in the moment of two people falling in love but then heartbreak because you have seen how it all ends up."
"In rehearsals, we almost treated each of the three sections – 1947, 1944, and 1941 – as three different plays. People change hugely over seven years, especially through these years of global upheaval – in rehearsal, we effectively approached each section as a new piece and spent many hours researching specifics of the period. Only in the last week did we really start threading these sections into a cohesive unit."
"I hope this play will appeal to anyone…" says Urbanowicz, as we discuss whether the queerness of the characters limits the broader appeal of the play. "It's essentially about people finding the best way to live their lives in the circumstances they find themselves in. The audiences so far have been varied and have appreciated the story, whether or not they themselves identify as LGBTQ. It is quite rare to experience a play set in WWII time where there are so many relationships that are not hetro-conformative, so I hope it would appeal to the LGBTQ community but not exclusively."
"I hope people come away with a whole mesh of differing emotions and leave feeling a bit like they have jumped back in time into a different world and lived through something unique with these amazing characters that Sarah created…" says Whatley. "There is humour and great sadness, sex and passion, life and death – all life passes through this play. It's a snapshot of life, simultaneously both familiar yet alien. I hope people feel like they have experienced something a little bit special."
"We're living in a time of uncertainty and dissatisfaction, though many of us may not be directly 'upheaved' right now, there are many around us who are…" adds Urbanowicz. "These women, and men, are trying to find some stability in an ever-changing environment which may mean they cling on to each other a little harder – an act that requires bravery and an openness to taking a risk. Personally, that feels relevant to me today."