Opinion: Can London's LGBTQ Pride celebrations rise from the ashes?
There's no easy answers, but it seems crazy that the UK capital can't host an inclusive celebration for its queer community.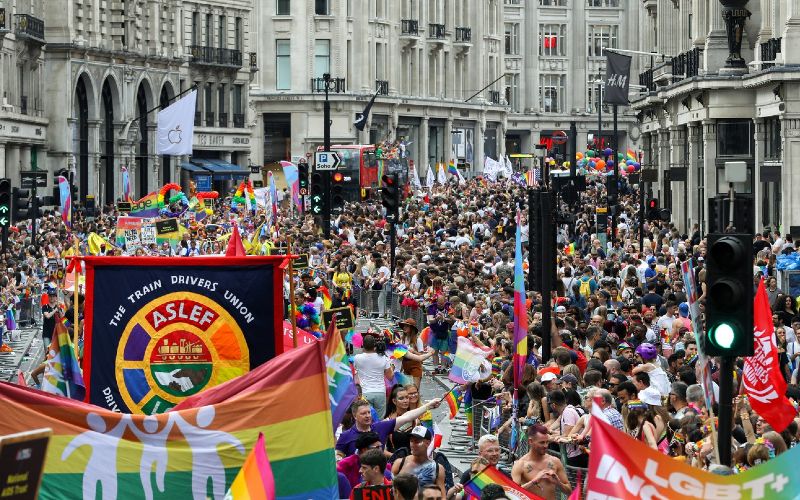 It's fairly self-evident that Pride celebrations are a big deal for LGBTQ communities in many parts of the world.
It's a tradition that began in New York City in 1970. Pride celebrations are now an important cultural and emotional touchpoint that brings us together – locally as well as globally.
There's never been anything easy about organising Pride events – wherever you are in the world. Pride began as a protest – marking the anniversary of the police raid on the Stonewall Inn. Systemic homophobia often led to bureaucratic and law enforcement barriers – trying to prevent or minimise our presence and impact. It's only in relatively recent years that governments, local authorities, and tourist boards have begun to recognise the economic benefits that Pride celebrations can generate.
In today's context, where Pride celebrations seem to work well is in cities where there's a cohesive LGBTQ community, a functioning organising committee, and city authorities that understand the benefits of Pride and work collaboratively to make the event a success.
So, what's gone wrong in London?
I'm not involved with the organisation that runs London's Pride celebrations, but – if we take at face-value the publicly available information – there's been a spate of high-profile resignations alleging that black and brown volunteers within the organisation encountered a hostile environment and a leadership unwilling or unable to hear and understand the concerns being raised.
We know that racism and unconscious bias is a major issue that our community is continuing to grapple with. By its own admission, it seems that London's Pride organisation failed to find a way to include and represent people who have direct experience of the systemic racism that we need to dismantle.
It's not the first time that there's been a crisis in the organisation of London's annual Pride event. More often than not, London's Pride has seemed to be a bit of a shit-show.
The dust is still settling on this current crisis, but it seems as if the intention is to keep the current organisational framework in place and bring in new leadership to try and find a way forward.
But what are the options available? What changes can be made to make London's Pride celebrations inclusive and also a functioning event that works?
There's no easy answers, but here's my initial thoughts on where we can start.
Funding
The Greater London Authority provides the core funding for Pride in London. This is a five-year funding agreement – the current cycle will end in 2022 – that allocates £100K per year to the event. Additional funding is potentially available from the Greater London Authority's budget for Major Events.
In a normal year, it's estimated that it costs around £600K to put on London's Pride event. The major costs include security, policing, and production costs.
The gap between funding and costs creates an immediate need to secure corporate sponsorships, with all the compromises that come with that.
As we look to life beyond Covid-19, it's clear that our new-normal isn't going to include additional public funding, so how do we reduce the event's cost overheads?
Maybe we need to look at the location and the format of the day?
Corporate Partnerships
We all understand why it's been necessary to secure corporate sponsorship of Pride, and it's clear that sponsors get plenty of benefit out of associating their brand with the event.
However, the commercialisation of Pride has been a consistent issue raised by the community.
Changing the funding requirements is one way of minimising the commercial impact of sponsorships, but we can also ask businesses who wish to partner with Pride to take a more inclusive approach. Providing financial support doesn't have to mean that your brand gets plastered everywhere. Encouraging your employees to take part in the event doesn't mean that you have to have the biggest float and the biggest branding.
Pride is not a marketing exercise.
Police
We need the police to help the event function and to help keep us all safe. It's great that police authorities have evolved to the point where they want to take an active role in supporting Pride.
However, there's still a lot of work to be done in terms of building trust between the police and our community, and discrimination fuelled by systemic racism remains an issue that many within our community continue to experience.
Recognising the work that still needs to be done, we could do without uniformed police marching in the parade. Police officers would be welcome to take part in the event, but out of uniform.
We need to work together to dismantle systemic racism. Pinkwashing is not the answer.
Inclusivity
We need to avoid anything that creates potential barriers for anyone within our community from taking part and connecting with the event. It might be tempting to move to ticketed events but that immediately means that some people don't get to take part.
We need to find ways to bring Pride alive in the streets and communities within which we live – street parties, dance stages, everyone outdoors and enjoying the warm weather and good vibes.
We don't need big name performers with big production values. We just need good music and a relaxed atmosphere.
I really like the Distortion festival in Copenhagen. It's dance festival – not a Pride event – but it describes itself as a festival tsunami. Each day, a different part of the city is involved. For example, if we held Pride in London over a bank holiday weekend, we could kick things off in East London on the Friday night, Saturday could be all about Clapham, Sunday could be Black Pride, Monday could be Soho. That kind of thing.
A tsunami of Pride that lifts and includes everyone. That would be something worth celebrating.
Organisers have announced a date for Pride in London 2021 – it's 11 September.
There appear to be plans for a parade, but also a lot of online activity. There's still quite a bit of uncertainty around what Covid-19 restrictions may still need to be navigated, which must make planning anything almost impossible.