Our wish-list for a queer honeymoon
Romantic. Stylish. Effortless.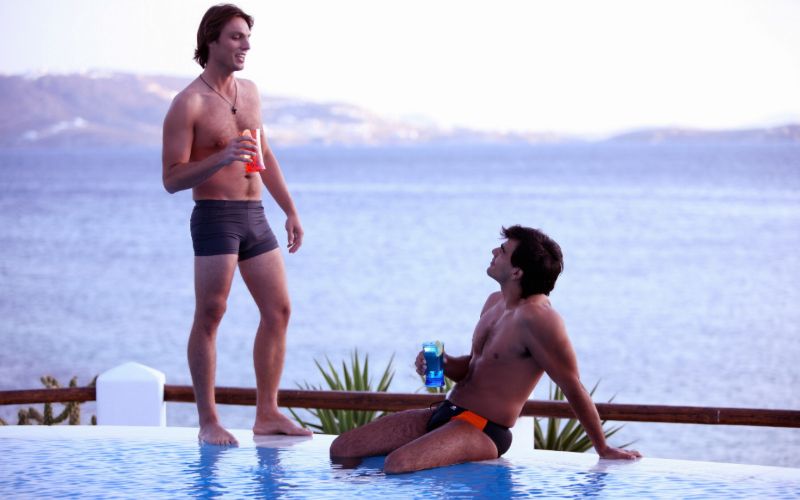 Apart from upgrading your home appliances and finally getting a matching set of crockery, one of the best things about getting married has to be the opportunity to plan an unforgettably romantic honeymoon.
Your honeymoon is an important occasion  –  nothing like the make-or-break of a first weekend away together, but you want your honeymoon to signal the kind of life that you're embarking on together. You're probably looking for something that's a bit romantic, stylish, and effortless.
Ground rules
We've never personally been on a honeymoon, so we're not claiming to have any specific expertise or experience on this topic, but we've watched a lot of romantic comedies and have the following general guidance to share.
Getting married is an amazing milestone, but it's a fairly intense experience that can get a bit overwhelming and exhausting. If you're going straight from the wedding celebration to your honeymoon, plan to start fairly low-key. We don't like to use the word 'pamper' but you're probably both going to need a little pampering. Couples massage? Cocktails by the pool? Meditation retreat? That kind of thing.
Plan a trip that you're both going to enjoy. If one of you likes relaxing by the pool and the other wants activity and adventure, then find a destination or itinerary that gives you both. You don't have to do everything together, but plan a trip that provides opportunities for you both to indulge your passions.
Go somewhere that neither of you have been before. Honeymoons are about new beginnings – start that journey by discovering somewhere new together.
Make it special. You may have blown all your savings on the Vera Wang, but try and make your honeymoon as easy and hassle-free as possible. You might be a champagne-and-first-class kind of couple, but equally you could fly a budget airline and have a fantastic adventure – just try and avoid hanging around in airports or sharing dormitory-style accommodation.
Destination wish-list
Your choice of honeymoon destination might be narrowed down by a whole range of factors, including the obvious things such as budget and location – you don't want to have to sell the wedding gifts to pay for it, and you need to be able to get to it easily.
While we don't personally have any imminent wedding plans, we are well-advanced in planning the honeymoon. Here's our shortlist so far.
Driving a camper-van around New Zealand
Something we've always wanted to do is to take a couple of weeks out and explore New Zealand. The wineries of the Marlborough region, the whales of Kaikoura, maybe a couple of nights of luxury at Blanket Bay, Milford Sound, the glaciers, and watching the sunrise from Stewart Island.
For a small country, there's so much to see and do in New Zealand, and we like the idea of tootling around quietly in a camper van and stopping wherever we fancy.
We'd start off in Auckland, work our way south, eventually flying back out of Queenstown.
Relaxing in the Aland Islands
Ostensibly part of Finland but governed autonomously, this is an archipelago of thousands of small islands and rocky outcrops stretching from the edge of Finland to the Swedish coast.
By all accounts there's not much to do apart from relax, enjoy the food and the beer, and hop from one island to the next. Sounds idyllic.
Easiest access is from Helsinki.
Swimming with turtles off the coast of Borneo
Borneo has always seemed like a bit of a wild, untamed place, but we're hearing really great things about adventure travel options that enable you to explore the island.
We love scuba diving and snorkelling, and apparently you can happily float around in the warm waters while small inquisitive turtles check you out  –  although you do have to be a little wary of the monitor lizards.
Easiest access is to fly in from Kuala Lumpur, Malaysia.
Driving through California
Pick up a convertible from San Francisco, explore the dramatic Yosemite National Park, out through Death Valley, gaze in awe at the Grand Canyon, a wild couple of nights in Las Vegas, and then back to Los Angeles to fly back to the real world.
We've seen it done in movies  – it looks a lot of fun.
Learning to sea-kayak around Okinawa
While the bright and bustling neon metropolis of Tokyo is compelling, at the other end of Japan the island of Okinawa offers a completely different experience .
With a more tropical climate, Okinawa is a bit of an outdoorsy paradise that offers trail-running, cycling, and coasteering. Sea-kayaking isn't something we've ever done before, but it sounds like an amazing way to explore the coast of this part of the world. How hard can it be?
Easiest access is to fly into Tokyo and then transfer on an internal flight to Naha.
Drinking Chianti in Tuscany
This iconic region of Italy offers stunning landscapes, great food, and it's easy to get to.
There are some top-drawer accommodation options in this region – we really like Villa Bianca which is near Gambassi Terme, but you might want to go for something a bit more upmarket.
When you need a change of scene, take a day trip to explore Florence, San Gimignano, Sienna, or Lucca. Gorgeous.
Fly to Pisa, hire a car, and you're there in no time.
Snorkelling through coral at Port Douglas
Tropical paradise ticks a lot of people's boxes when thinking about honeymoons, and Port Douglas on the north-east coast of Australia is pretty spectacular.
You have the Great Barrier Reef, the Daintree Rainforest, and the kind of weather that just encourages you to lie around the pool drinking cocktails.
We really like Thala Beach Lodge – a quiet eco lodge which is the perfect escape from the rest of the world.
Fly into Cairns and then hire a car.
Speak the language of love in Aix-en-Provence
The south of France offers lavender, rolling fields, and sun-kissed landscapes – there's nothing more romantic than feeling like you're honeymooning in a Cezanne painting.
We really like Le Pigonnet, which is effortlessly French. You might want to splash out on something a bit more boutique for your honeymoon, but the joy of this place is wandering through the old town and driving out to explore the villages across the countryside.
Fly or train to Marseille and then hire a car.
Villa it up on Koh Samui
One of Thailand's most popular islands, Koh Samui delivers the kind of great weather and amazing beaches that makes this region a top honeymoon destination.
You can avoid the crowds by opting for a private villa – check out Suralai, we've spent a blissful week here. We're a huge fan of anywhere that encourages you to linger over breakfast and then discuss with the chef what the menu should be for the rest of the day.
Easiest to fly to Bangkok and then take an internal flight to Koh Samui.