Out.bg is amplifying the voice of LGBTQ people in Bulgaria
A new platform for the queer community.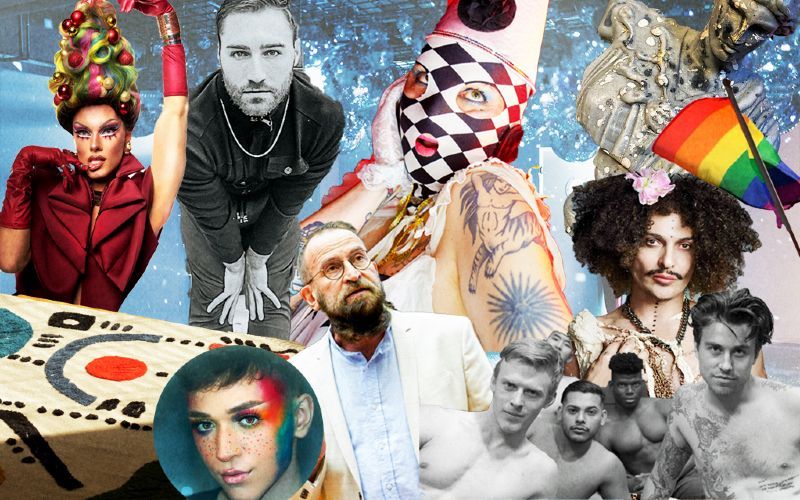 Kosta Karakashyan is the editor-in-chief of Out.bg – a new media platform in Bulgaria, amplifying the voice of the country's LGBTQ community and exploring the queer experience.
What's been the process for launching Out.bg?
The idea for Out.bg came to us last year, during the slow months of the summer lockdown.
I'd been partnering with Single Step Foundation, which is an NGO that supports and empowers LGBTQ+ youth, but we felt like we were missing a digital space where the Bulgarian queer community can come together and find joy and excitement.
Queer Bulgarians still face institutionalised homophobia and discrimination every day – there is only very limited protection for us.
My background is in media and the arts. For me, a big part of the problem is the negative stereotypes and lack of empathy in media representation.
We started talking and decided to create an outlet that is by and for the LGBTQ+ community and their allies in Bulgaria, so that we can both celebrate our authentic selves and set a positive example of how mainstream media should talk about us.
How would you describe the LGBTQ community in Bulgaria?
The community is vibrant – very active and resilient.
We've had the Sofia Pride Parade since 2008 – it's been attracting a steady crowd in the last few years but there are still dangerous counter-protests. It takes some courage to be out and proud.
As a community, we are still learning about the complexities of supporting each other – How do you understand inter-sectionalism? How can you be gay and still be transphobic? How can you be sex-positive but still respect the boundaries of others? How do you find your chosen family? We need some time to find the nuanced answers here in Bulgaria.
Unfortunately, within the gay community, there is still a lot of internalised homophobia and shame. When you combine that with sexual desire, it creates some dynamics in the community that are not so great. It will take some time before we create that community that is very secure in itself and the choices of others.
One thing that's very cool is a drag contest here in Bulgaria called Benediction Drag Race – it's been running for the past three years. It's a big production with celebrity judges and a live show. Our little drag scene is thriving and setting a positive example for the rest of the community.
How has Covid-19 impacted the LGBTQ community in Bulgaria?
Two Bulgarian NGOs – GLAS Foundation and Bilitis – surveyed the community during the pandemic. Most of the problems identified are similar to what we've heard online – particularly for young people that had to quarantine with their family when a lot of them aren't out.
It was difficult psychologically but, luckily, most of the queer people in the survey didn't lose their homes or jobs.
We didn't get to have an in-person Sofia Pride in 2020 – which is a big deal for visibility here – though the online edition made up for it.
In general, Bulgarians are very resilient – we can only go up from here!
What are the key issues that Bulgaria's LGBTQ community is currently focusing on?
We just had our parliamentary elections. There were a few right-wing parties who focused their platforms on their anti-LGBTQ+ stance and the protection of "traditional family values". We're still waiting to see if there will be a second round of elections, but it's a dangerous time to be queer in Bulgaria. There are no political parties that openly support and recognise our needs – that creates a whole new set of problems.
Currently, Victor Lilov is the only LGBTQ+ politician who is out and proud, and it's difficult for one candidate to represent the whole community.
Here at Out.bg, we sent out questions to the six leading political parties before this election, and we got only one response that was a personal position by the party's frontrunner, but did not reflect the views of the whole party. Supporting LGBTQ+ rights isn't seen as a brave or lucrative platform but rather as a hazard that could turn off the bulk of voters. We are still fighting for a paradigm shift so that Bulgarians understand that LGBTQ+ rights are human rights.
Every time I have an interview or go on TV, I try to bring awareness to my life as a gay man and to set a positive example that our lives and needs are the same as everyone else.
I spent most of my teenage years and early 20s travelling the world and working as a director and choreographer in New York, Norway, Germany, Vietnam, and Japan – I want to bring back the sense of freedom I felt around the world to my home country. Everyone deserves to feel safe and fabulous!
What's the best way to meet local guys when visiting Bulgaria?
It depends what you're looking for!
There is a fun little club called Tell Me. Very soon, a community space called The Steps will open – this will be a brunch spot during the day and a fun night club with go-go dancers at night.
To be honest, it can be a bit hard to find your tribe in Sofia.
If anyone is visiting, they can find me on Instagram at @kostakarakashyan. I will be more than happy to chat and connect!
What do you hope that people feel when reading Out.bg?
We want our readers to feel empowered and part of the community.
Out.bg is a platform not just for gay men, but for every letter of the LGBTQ+ community.
We aim to create a safe space for expression, where our readers also join the conversation.
The editorial team is very creative and driven and most of our writers are millennials and even Gen Z, so the pieces are punchy. We cover art, culture, wellness, fashion, politics and entertainment. Even if someone isn't part of the community, they can still learn something fun and educate themselves on how to support us.