Outrageous. Kinky. Dangerous. Degrading.
Twinking explores the perils of gay dating in the modern world.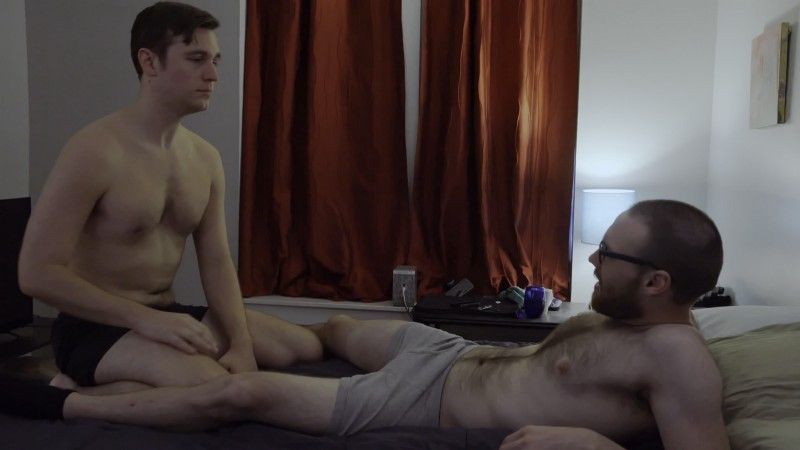 In his web-series Twinking, filmmaker Steven Townsend Briggs is exploring isolation, intimacy, and sexual identity in the gay community. It's a NSFW comedy.
I caught up with Steven Townsend Briggs for a behind-the-scenes look at Twinking.
What was your inspiration for Twinking?
My own life, I guess. I've always struggled to fit in with the gay community. I came out of the closet right before apps like Grindr and Scruff came on the market. At age 19, I was just developing emotionally and sexually, and most of my experiences with the gay community revolved around random hookups, or going to a club or a bar. It all felt so superficial and intimidating.
These encounters were usually outrageous, overly kinky, potentially dangerous, or down right degrading, depending on your point of view. But I knew that other gay men, especially young gay men, were dealing with the same issues. Yet, it was hard to get anyone to talk about them.
Most of the gay men I encountered would tell you that they just loved getting laid all the time, but there had to be more to the story. I'm using the show as a vehicle to talk about these issues, even if I can't quite make sense of them myself, and to share my experiences with the world.
So, you're drawing on personal experience for these characters and their dilemmas?
Yes, all the episodes are based on either a real-life experience I've had or dreamed of having. Building an identity as a gay man can be challenging or confusing when most of your encounters revolve around sex or alcohol.
Like most people in their 20s, I've had a hard time deciding what I want sexually and what kind of relationship I want to be in. Without any real gay role model in my life, I've run into a lot of awkward situations over the years when meeting other gay men.
But, again, this is a common dilemma for gay people when they're just coming out of the closet and learning how to be an adult and have a sex life for the first time. We tend to get a late start when it comes to having sex, dating, relationships, and even just having an identity at all. It's really just about making a connection and feeling that you belong to a place.
What was your production process?
I've known for about five years that I had to make a show like this. I've been carrying these issues around for almost a decade now, so when it came time to actually sit down and write the scripts, they just poured out of me. It took me roughly two hours or so to write each script, revising them here and there.
Each episode was only one day of shooting — one as long as 14 hours, and some as short as six. We shot episode two in June of 2017, two more on a weekend in August, another in October, and two more on a weekend in December, so shooting was fairly sporadic. I had to have enough money for food, transportation, and to pay the actor. Luckily, my friends have some great equipment and they're willing to work for free.
Editing took about two months, with another month of colour correcting, mixing, final exports, and getting some marketing materials together.
What was your casting process like?
I used Backstage for all the roles and I really lucked out. I asked some of the actors to self-tape sides from one of the scenes or just hired them on the spot. I didn't have a producer or a casting director, so the whole process had to be expedited. I had a lot on my plate. But everyone showed up ready to work. I did one rehearsal with one of the actors and we worked out some of the kinks. For the most part, we would just hit the ground running.
What does this series say about dating for gay men in today's world?
Having a lot of different options can be overwhelming. It forces a person to rely more on their instincts and values when they can have just about any kind of sexual or social encounter with all kinds of different people. As exciting as these options can be, there's also this perception that you need to have sex to fit in. In 2018, many gay men — at least in cities like New York — can lead any kind of lifestyle they want, but that can lead to a lot of confusion, frustration, and even isolation.
Are things get easier or better for gay men?
I might not be the best person to ask, but I have to believe that things are getting better, depending on which country you live in or which house you grow up in. LGBTQ acceptance is at an all-time high, especially among younger generations, but that's not the case in many countries all over the world.
In terms of my experience — as a white cis gender male living in New York — I'm grateful to have the freedom to do as I please, but learning how to become an adult gay man can still be messy and confusing, especially when we rely so heavily on dating and hook-up apps and social media which can distort our perception of reality.
Is Twinking a universal story, or is it fairly specific to white guys in the US?
These are my experiences and I am a white gay dude living in the US, so they are specific in that sense. But the show does explore universal themes. We're all looking to make a connection and feel accepted by the world.
What do you hope that people feel when watching Twinking?
I hope they laugh! If they're gay or going through a similar experience, hopefully they feel a little less alone. I just hope people watch.
Follow Gareth Johnson on Twitter
---
Show your support for G-TV by grabbing a t-shirt.
Available in a range of sizes, colours, and styles.