Payday for a boy who knows how to hustle
Erotic comics at their finest.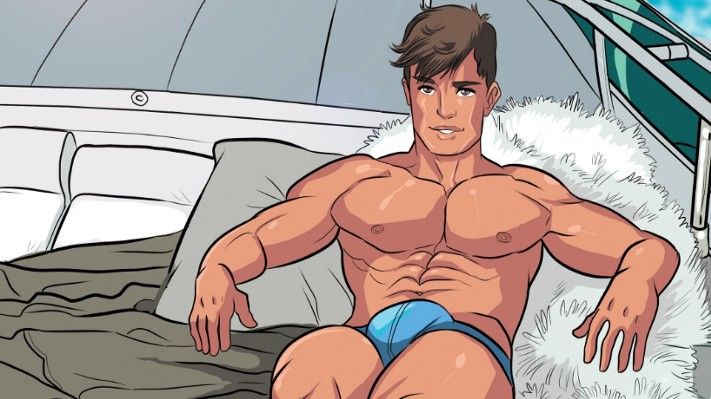 I caught up with Sunny Victor to talk about Payday — his latest publication for Class Comics.
What was your inspiration for this story?
I think all of us have seen Pretty Woman at least once in our life. The performance of Julia Roberts as an escort is so powerful and well done that it made the movie part of cinema history. I can't deny that I had Pretty Woman in mind when I first sat to write down my thoughts.
Are you drawing on any personal experiences to help shape these characters?
Sometimes it's looking at a movie or a TV show that gives me an idea for a book. But this was actually a fantasy I started to have about Dolph Lambert. He's my all-time favourite porn star — nobody will ever top that for me. Seeing him in BelAmi's beautiful scenery, surrounded by other boys, makes my imagination fly. Someone so beautiful and heavenly to look at, and yet untouchable by others — it's not hard to imagine that a wealthy man might spend millions of dollars to be with him.
Adrian is a reflection of what Dolph and BelAmi always represent to me. But my pretty boy has a price — if you can afford him, he's yours to enjoy.
Class Comic is a perfect place for me to set my ideas to work, and get help and support. I thank Patrick Fillion and Robert Fraser for building this safe haven for gay artists to create what they love. I'm always honoured to see my name on Class Comics books.
What's your creative process for something like Payday?
Every comic book starts with a script, and then an artist draws the illustrations. But it's a bit different in erotic comics. Our readers like to see sexual acts and situations that you most likely don't experience in reality, but they still want a good narrative — they want to be immersed in the world we create. Because our readers grow to love the characters we create, that makes it more excited to see them naked and hard.
For this comic, Payday, I began by writing down my initial ideas and then expanding on that. I started with the character of Adrian — a successful escort who's into older guys but also likes having sex with guys his own age. Adrian is classy, and well-dressed, and he uses all of this to his advantage so he can lead a luxurious life.
Once I had the initial outline, I started sketching different situations for him, creating opportunities for him to have sexual encounters — on a private yacht, flying first class, or on a trek in the jungles of India.
Creating a story in this way, it helps to be good at drawing and illustration — that helps make the story more appealing to readers.
Who are some of your heroes or inspirations in terms of gay erotica?
When I started drawing gay erotica, Patrick Fillion and Joe Phillips inspired me a lot — I've always loved their work. I also love Glen Hanson, Jacob Mott, and more recently Silverjow. These are some of the best.
What do you hope that people feel when reading Payday?
I always want my audience to enjoy every scene. Whether it's a hot and steamy sexual act, or just a simple scene like a background painting. I don't have a huge fan base, as I've only been doing this for a few years. I really appreciate reading a good review or seeing a good comment. Getting positive feedback from readers pushes me to do more and more.
Are there more adventures in store for Adrian the rent-boy?
Adrian's story was supposed to be a loop — a one-part story as I wasn't sure if readers would be interested in the story of an escort. But I really enjoy telling Adrian's story, and I have some more ideas that I could explore with Adrian. Hopefully there's enough demand from readers to make it possible to create some more stories featuring Adrian the escort.