Pete Buttigieg confirmed as Secretary of Transportation for the Biden-Harris administration
He's the first gay man confirmed by the Senate to a cabinet post.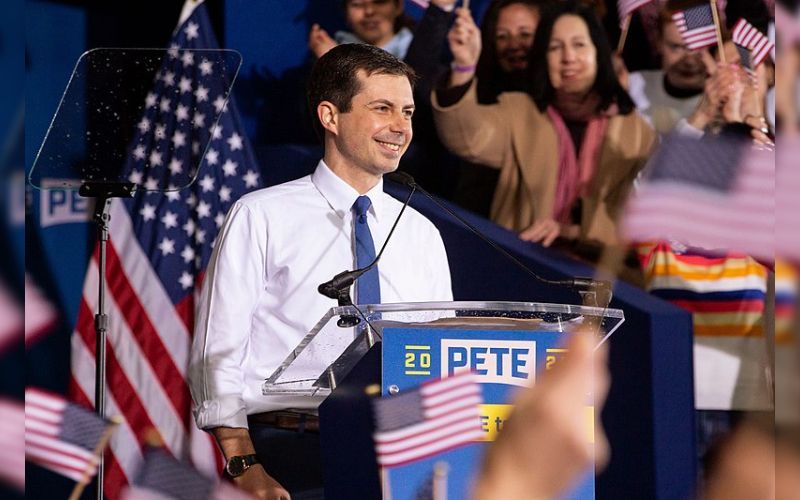 As the Biden-Harris administration begins to get to grips with running the country, one of the key steps in that process is the Senate confirmations of the cabinet positions for the government.
Having been one of the leading contenders to become the Democratic Party's nominee for President, former mayor of South Bend, Indiana, Pete Buttigieg has been one of the names we've been keeping an eye on.
Selected by President Biden to take up the role of Secretary of Transportation, Buttigieg has now received the required Senate confirmation that enables him to take up the role.
Biden said in a statement that Buttigieg was a "patriot and a problem-solver who speaks to the best of who we are as a nation".
"I am nominating him for secretary of transportation because this position stands at the nexus of so many of the interlocking challenges and opportunities ahead of us…" said Biden. "Jobs, infrastructure, equity, and climate all come together at the DOT, the site of some of our most ambitious plans to build back better."
"Americans have given this administration a mandate to build back better and step one in building back better, literally, is to build…" Buttigieg said in his speech accepting the nomination. "Americans shouldn't settle for less than our peers in the developed world when it comes to our roads and bridges, railways, and transit systems. The U.S should lead the way. I know that in this administration, we will."
"I want to take this chance to thank Chasten for everything that he gives and everything that he sacrifices to support me in public service…" added Buttigieg, referring to his husband.
"I'm also mindful that the eyes of history are on this appointment, knowing that this is the first time an American president has ever sent an openly LGBTQ cabinet member to the Senate for confirmation…" continued Buttigieg. "I can remember watching the news, 17 years old in Indiana, and seeing a story on an appointee of President Clinton, named to be an ambassador attacked and denied a vote in the Senate because he was gay ultimately able to serve, only by a recess appointment. At the time I had no aspirations of being appointed by a president to anything — at that age, I was hoping to be an airline pilot. And I was a long way from coming out, even to myself, but still, I watched that story and learned something about some of the limits that exist in this country when it comes to who is allowed to belong. But just as important, I saw how those limits could be challenged. So, two decades later, I can't help but think of a 17-year-old somewhere who might be watching us right now. Somebody who wonders whether and where they belong in the world or even in their own family and I'm thinking about the message today's announcement is sending to them."
The successful completion of the confirmation process makes Buttigieg the first gay man to be confirmed by the Senate to a cabinet post.
Who is Pete Buttigieg?
Buttigieg became the Mayor of the city of South Bend in Indiana in 2012. He's a graduate from Harvard, a Rhodes Scholar, and a military veteran who served in Afghanistan.
Buttigieg is married – he and his husband Chasten Glezman were married in 2018.
How's his Gaydar?
Buttigieg has confessed that he has a bad 'gaydar'.
The Advocate reported that Buttigieg said – "My gaydar is not great to begin with and definitely doesn't work over long stretches of time…" Buttigieg was responding to speculation as to whether James Buchanan – President of the US from 1857-1861 – was actually the first gay President.
When people refer to their 'gaydar' they're talking about a sixth-sense that supposedly helps to determine whether a guy is queer or not.
Here at Means Happy, we're proud to be part of the Gaydar family. Gaydar are online dating specialists that have been helping the LGBTQ community connect for over 20 years. Having a finely-honed 'gaydar' is useful to increase your chances that if you approach a guy to start a conversation, that it might lead to something more – it helps you to be fairly confident that you're both on the same team when it comes to sexuality.