Putting the refugee crisis centre-stage with a dramatic new work at London's Royal Opera House
Ben Clifford: "We have to remember the sacrifices that ordinary people make to find safety and a new life."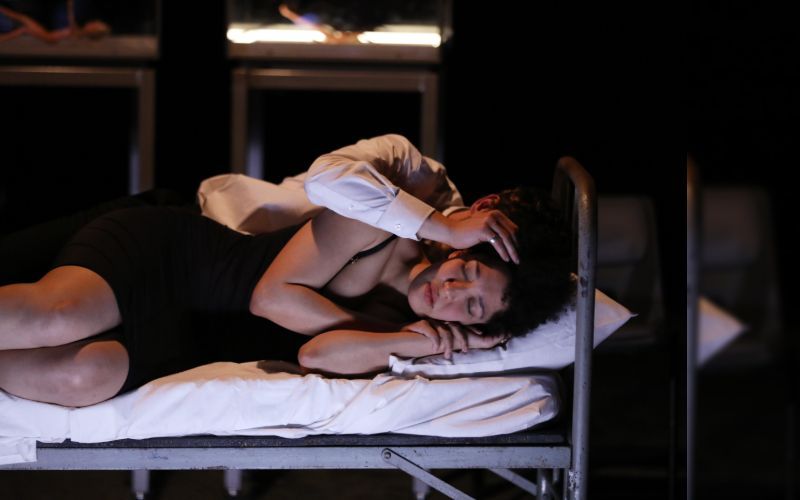 Zauberland is a new dramatic work, directed by Katie Mitchell, that will be performed at London's Royal Opera House in October.
As the Middle East blazes in conflict, a young woman (performed by American soprano Julia Bullock) waits at a European border, hoping to cross over to Zauberland – a magic land of peace and security. But when she falls asleep, she dreams of the burnt-out city she has been forced to leave behind.
With text by Heinrich Heine and Martin Crimp, and music by Robert Schumann and Bernard Foccroulle, this is a production that puts the refugee crisis centre-stage.
Zauberland is a vibrant re-imagination of Schumann's Dichterliebe, which shows how the themes of love and loss explored by the 19th-century Romantics remain relevant in today's conflicted society with the timeless clash between violence and peace.
I caught up with Ben Clifford, one of the actors in Zauberland, for a behind-the-scenes look at the production.
Do we get to hear you sing in Zauberland?
Absolutely not! The only singing you'll hear is from Julia Bullock, a quite extraordinary soprano. I'm an actor who can sing, but definitely not opera – I'm more panto.
The four actors in the production have a physical track through the show, creating the world – real and imagined – around the refugee singer. For us, it's almost a choreography.
Can you remember your first opera experience?
I was a 16-year-old supernumerary in Parsifal at the Edinburgh International Festival. I was completely blown away by the power and beauty of the voices, which I almost had to remind myself were human.
Zauberland takes its inspiration from the refugee experience – is the objective of Zauberland to encourage people to be more sympathetic to the plight of refugees?
It's a very important part of the piece. The character of the singer in Zauberland has travelled over land and sea from Syria and is rebuilding her life and career in a new country, in a new language. We have to remember the sacrifices that ordinary people make to find safety and a new life.
Formally, the objective of the show is to undermine the traditional format of a piano and voice recital, and what better way to do that than with this famous song cycle.
I think theatre can be a great medium for fostering empathy and understanding of the human experience, through telling a compelling story.
In the past few years you've had a major knee injury to contend with – has that experience shaped your approach to acting?
I am grateful for my health, which I perhaps took more for granted before the injury, and I won't easily forget what it's like to be unable to work. During my recovery I felt very vulnerable, and being so limited in what I could do physically took a toll on my mental health. Coming back to acting work has been a joy.
If someone hadn't had much experience to opera but was keen to give it a try, is Zauberland a good starting point?
Why not? It's not a traditional opera, but a rare mix of classical and modern. You get to hear Schumann's beautiful music alongside that of Bernard Foucroulle, with new lyrics from playwright Martin Crimp.
What do you hope that people feel when watching your performance in Zauberland?
I hope people are touched by the music, and taken in by the story.
Zauberland will be performed at London's Royal Opera House on 15-18 October